About the author: Andrew Penner is a freelance journalist based in Calgary, Alberta. He visited during the 2023 Jasper in January festival and here shares the memorable experience he had with his two teenage sons.
───────────────────────────────────────────────
Our timing was perfect. Just as we rolled around a corner and reached the banks of the Athabasca River the sun burned through the clouds and warm, low-angled light lit the scene. To the north, the ice-scoured ramparts of Pyramid Mountain towered against a baby-blue sky. A thin swath of glacier-fed water splashed through the ice beside us. The impulse was overwhelming. So I jumped off my fat bike and hollered at my guide. "Hold on a second, Elissa! I need a picture!" Indeed, on our Jasper in January weekend, photo "interruptions" seemed to be par for the course.
Jasper in January. Hmm. Yes, that probably conjures up a few images in your mind, doesn't it? If you're thinking endless rows of perfect, pearl-white peaks, impossibly deep canyons draped with hanging ice, and high alpine bowls speckled with happy skiers, well, your mind is going in the right direction.
But Jasper in January isn't just pretty. It's a whole thing. That's right, this is Jasper's biggest and best winter festival. And, considering it wraps up on January 29th, time is ticking. There is only one more weekend left. But rest assured, this month-long festival is going to go out with a bang!
(And, certainly, if you can't make it this weekend, "Jasper during the rest of the winter" is definitely something you'll want to consider!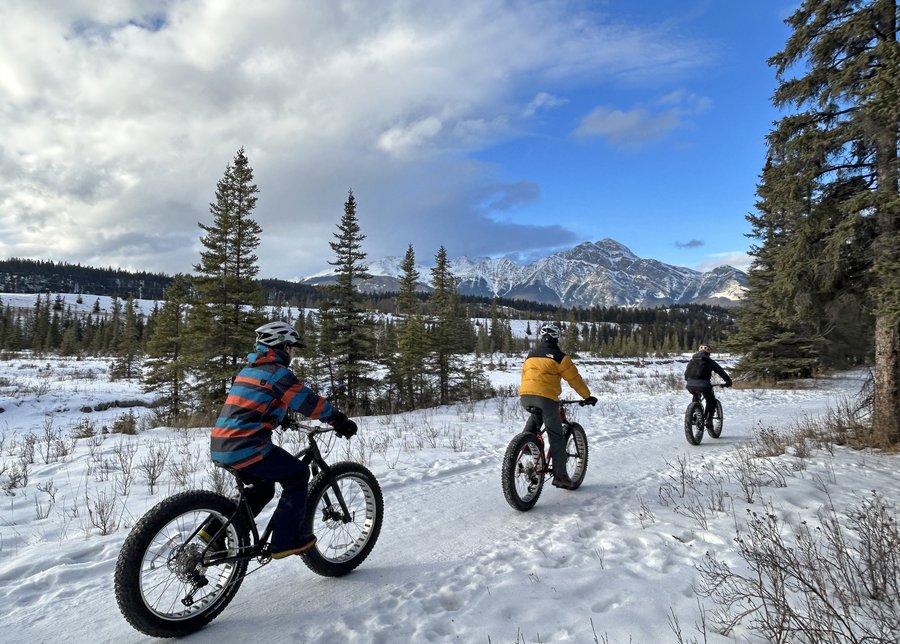 Fat bike Tour
On our father/sons Jasper in January weekend — two of my boys, Aemon, 20, and Nick, 16, accompanied me — fat biking was definitely a highlight. Our one-hour tour with Elissa Cummings, owner and lead guide with Journey Bike Guides, was a gorgeous riverside roll with numerous photos ops. The Athabasca River, Pyramid Mountain, Mildred Lake, and Lac Beauvert were highlights. And near the end of our ride we even saw a massive lone elk crossing the ice!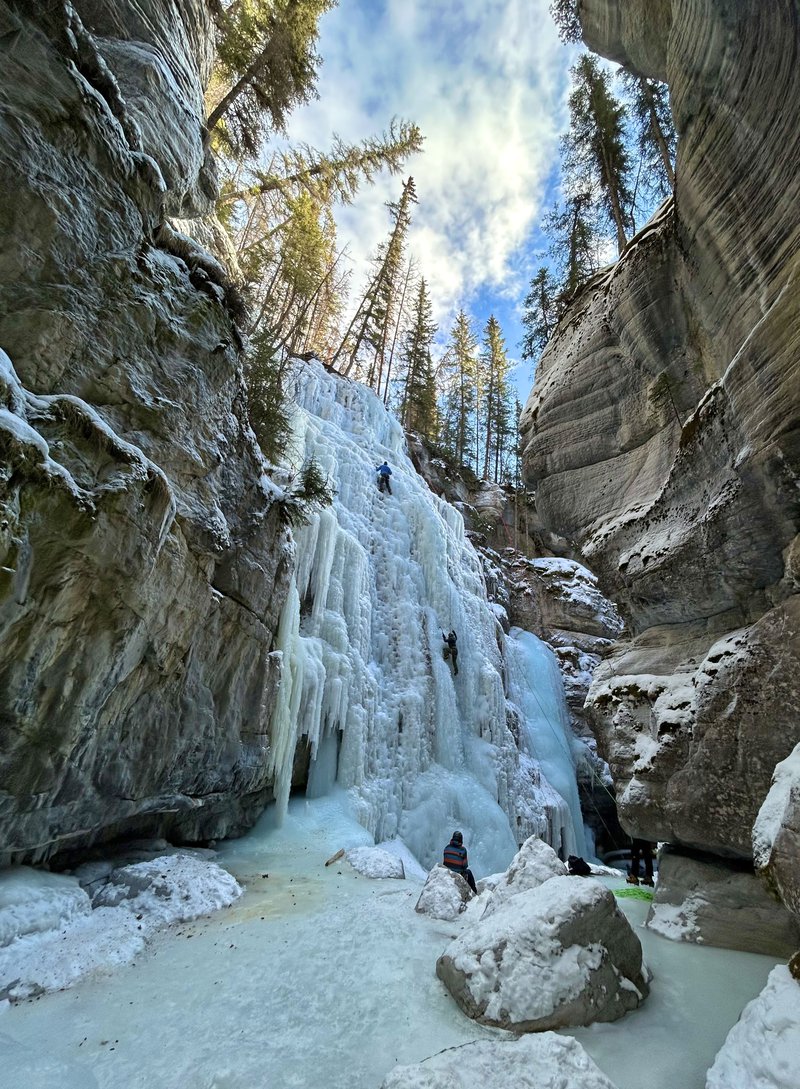 Maligne Canyon
Unquestionably, "ice" is the dominant theme when you head into the otherworldly confines of Maligne Canyon. One of the deepest slot canyons in the Rocky Mountains (it's over 50-metres deep!), Maligne Canyon is a magical place. And it's ideal if you want to try the phenomenal sport of ice-climbing.
Our six-hour adventure with Rockaboo Mountain Adventures was a memory-making endeavour that my boys and I will not forget. Safe and secure on the icewall, harnessed and roped to my accomplished mountain guide, Maarten Van Haeren, the task of moving upwards, driving my crampons and ice-picks into the frozen water, was definitely challenging and exhausting. But, crawling slowly up the ice like a fly on a wall, when I finally made it to the top of the 100-foot cascade, a victorious feeling overwhelmed me. I did it! This is definitely an activity I'd recommend to anyone with a sense of adventure.
Travellers note: Maligne Canyon is one of Jasper National Park's most otherworldly landmarks. Featuring dramatic waterfalls, cavernous channels, and a series of scenic bridges, this geological wonder is magical all year round.Learn more about exploring Maligne Canyon in the winter.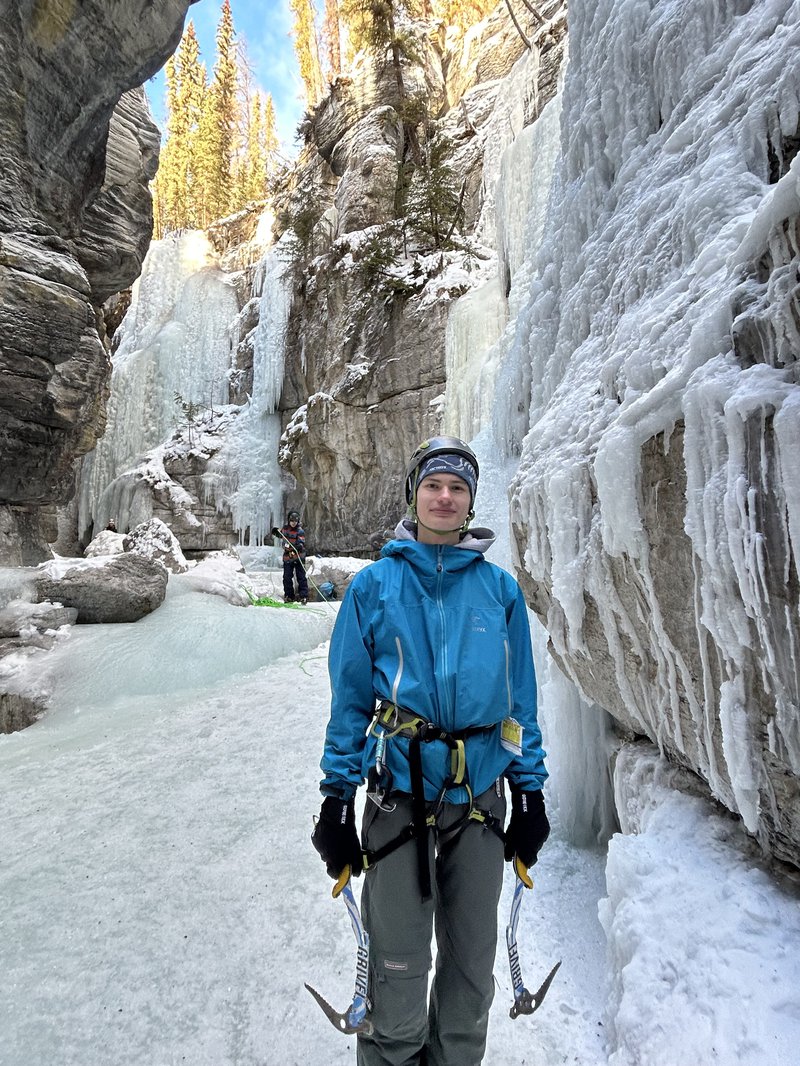 Après adventures
Regardless of your daily adventures (we also did a half-day of skiing at the fabulous Marmot Basin ski resort), Jasper in January (or any other month!) will certainly involve some evening festivities. And, trust me, Jasper delivers on this front!
In terms of the Jasper in January festival, not surprisingly, various culinary competitions (such as the Poutine Showdown — creative concoctions can be sampled at various restaurants), and evening events (such as the live music series, "After Dark," held at various venues) are on the schedule. And this just scratches the surface. For a complete listing of events, including what's on tap for the final weekend, visit www.jasper.travel/january.
Obviously, Jasper in January is soon coming to a close. And, with fireworks and a street festival in the works, the final weekend will be one to remember. I'd say get down there! But, here's the thing: Jasper is a special place all winter long. So go whenever you can. The fun won't stop when January ends. And, yes, expect plenty of photographic "interruptions" on your journey.