A new wilderness inspired hotel is opening in Jasper. And it's now accepting bookings.
Mountain-view balconies. Natural wood and stone accents. A vaulted pavilion, complete with show-stopping fireplace. The flawlessly designed Forest Park Hotel is the culmination of several years of thoughtful development by Pursuit.The highly anticipated space will be the first new hotel in Jasper since 1983.
Located at the edge of town, surrounded by stunning mountains and thick coniferous forests, the Forest Park Hotel will have 88 suites and will connect to the former Sawridge Inn & Conference Centre. The two hotels will become one, creating a year-round, resort-style getaway. The new addition will open to guests this upcoming June.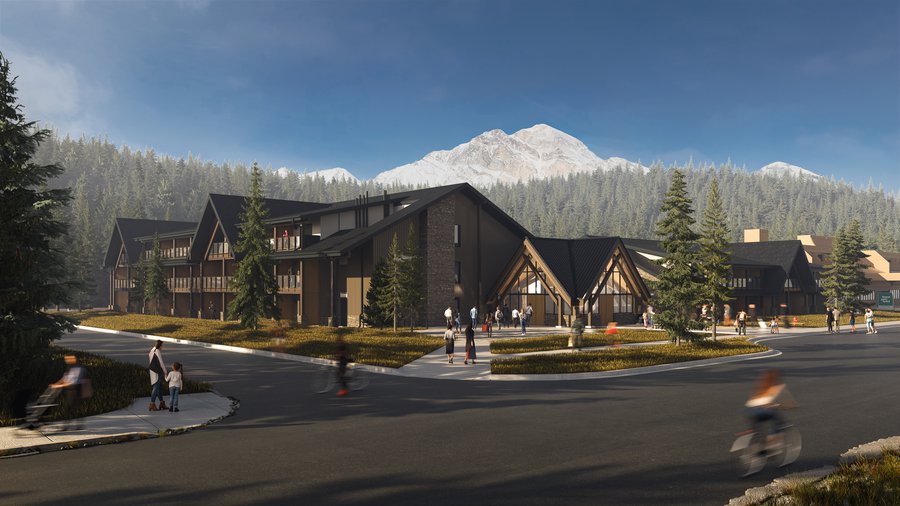 "Jasper is an incredibly beautiful place, visited by guests from around the globe. The soon-to-be-completed Forest Park Hotel featuring contemporary, nature-inspired design will provide guests with a relaxing escape when visiting such a beloved Canadian national park," said Stu Back, Chief Operating Officer, Banff Jasper Collection by Pursuit.
The design of the new property, led by globally acclaimed Canadian design firm DIAOLG and supported by Lawson Projects and Johnston Builders Ltd. of Alberta, will feature a fresh and modern palette.
Eighty of the new addition's 88 rooms will include kitchenettes and all will include expanded patios that seamlessly bring the outdoors in. The common area will be jaw-dropping, with a soaring pavilion and ambiance-boosting fireplace.