The northern lights are one of nature's most spectacular phenomena. The shimmering waves of electromagnetic energy have long inspired astronomers, photographers, scientists, tourists and legions of others to stay out after dark and turn their gaze skyward.
Luckily, come autumn, Jasper's sun begins to set earlier and earlier, giving fans better and better chances of spotting the aurora borealis (it's a myth that it must be very cold and very late at night to see them — sun flares can shoot charged particles towards Earth during the day too, they're just harder to see against a bright background).
According to Jasper Planetarium manager Peter McMahon, the aurora borealis comes to Jasper around once a week. Scientists have noticed that aurora borealis frequency increases and decreases along an 11 year cycle, and the high point of that cycle occurred in 2017, so there's still a good chance of bright displays.
Here are five tips on how to give yourself the best chance of seeing this occasionally elusive natural light show.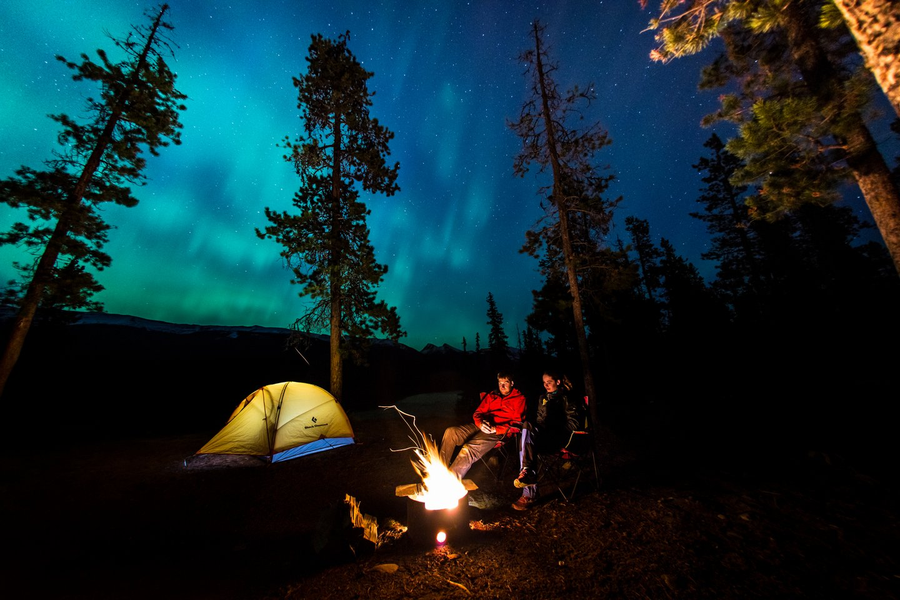 1) Be in Jasper
The aurora borealis are more common at the planet's north and south poles, where our weaker magnetic field lets in more of charged particles from the sun that then collide with Earth's gas particles and emit the beautiful dancing light we know and love.
The northern lights are occasionally seen as far south as 35° north (in North America that latitude touches the southernmost point of Nevada, US) so Jasper's 53° gives it regular auroras, but not as common as the far north.
Although it needn't be cold to see the northern lights, Jasper's fall and winter do have the longest hours of darkness. At the winter solstice, Jasper receives only 7.5 hours of daylight, with sunset occurring well before even the most conservative bedtimes. A good bet is to visit October 18-27 during the Jasper Dark Sky Festival, when moderate temperatures meets plentiful darkness and is complemented by an absolutely stunning event line-up.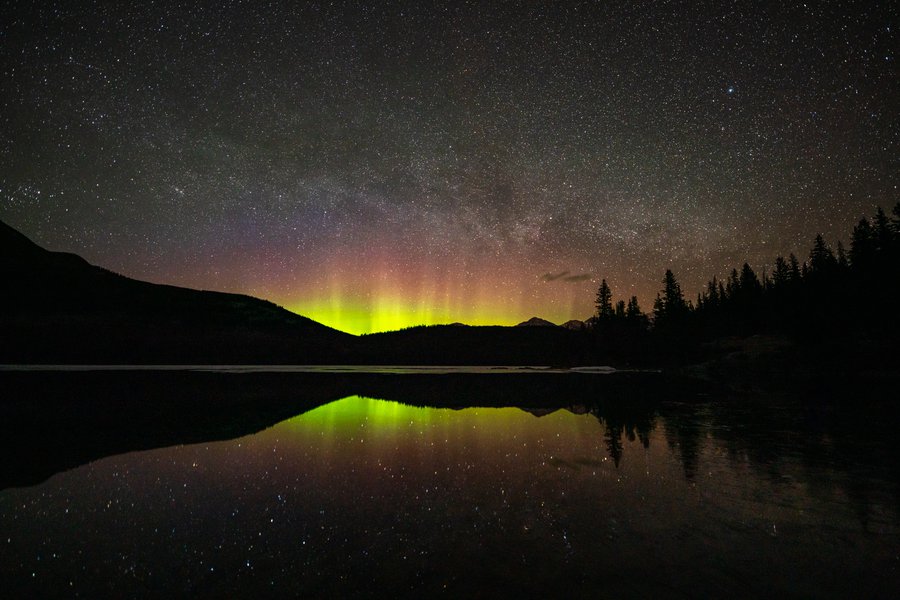 2) Go outside around magnetic midnight
There's a 100% chance of not seeing the northern lights if you stay inside, says McMahon. He can remember many times when the skies were looking cloudy so members of a group turned in, only to fall prey to the "10 minute curse," with the weather clearing shortly after they left.
The local hours between 11pm and 1am are known as magnetic midnight, when the lights are most likely to display, but McMahon reports that this time window is hardly a rule; he's seen the lights as often outside the times as within them. The takeaway: go outside. You're almost guaranteed to make memories whether the aurora show up or not.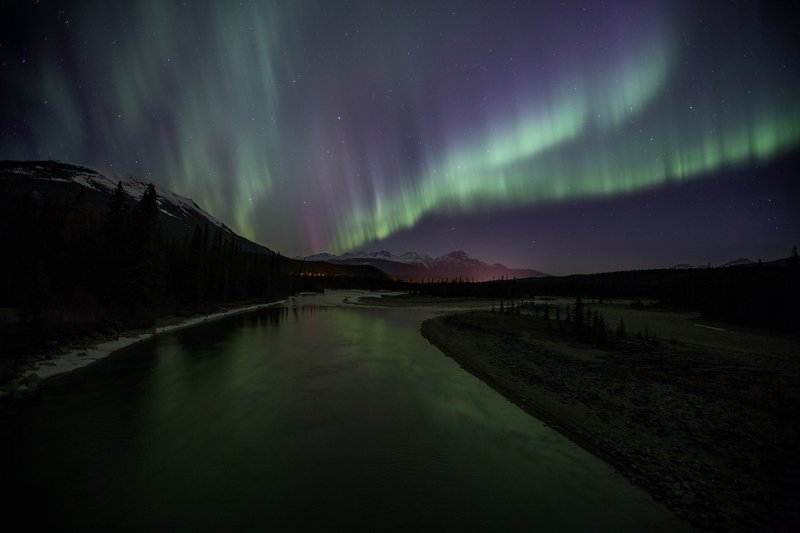 3) Get alerts
Fickle as they can be, there are some scientific prediction tools that can aid your aurora hunt. Get realtime updates on the likelihood of seeing northern lights with AuroraWatch — a website that monitors geomagnetic activity in the Edmonton area and offers a free email alert service to let you know if there may be aurora visible that night.
AuroraWatch offers two alert levels: Yellow is issued when there is more than a 50% probability of auroral displays Red is issued when there is more than a 70% probability of auroral displays. Forecasts are made by examining the behaviour of the Earth's magnetic field strength and comparing ten years of data to aurora observations.
Inside the city the light pollution makes dimmer auroras harder to see, so you get a much better view if you go to, say, Jasper's dark sky preserve.
4) Look north
It might seem obvious, but when you're outside peering skyward, look to the northern corner of the horizon to give yourself the best chance of spotting the aurora borealis, which in Latin means morning light coming from the north. The southern hemisphere's version — aurora australis — means morning light from the south.
It's also a good idea be relatively out in the open, where you've got a good chunk of sky exposed. Remember to dress very warm. Standing still after dark can be chillier than you'd expect.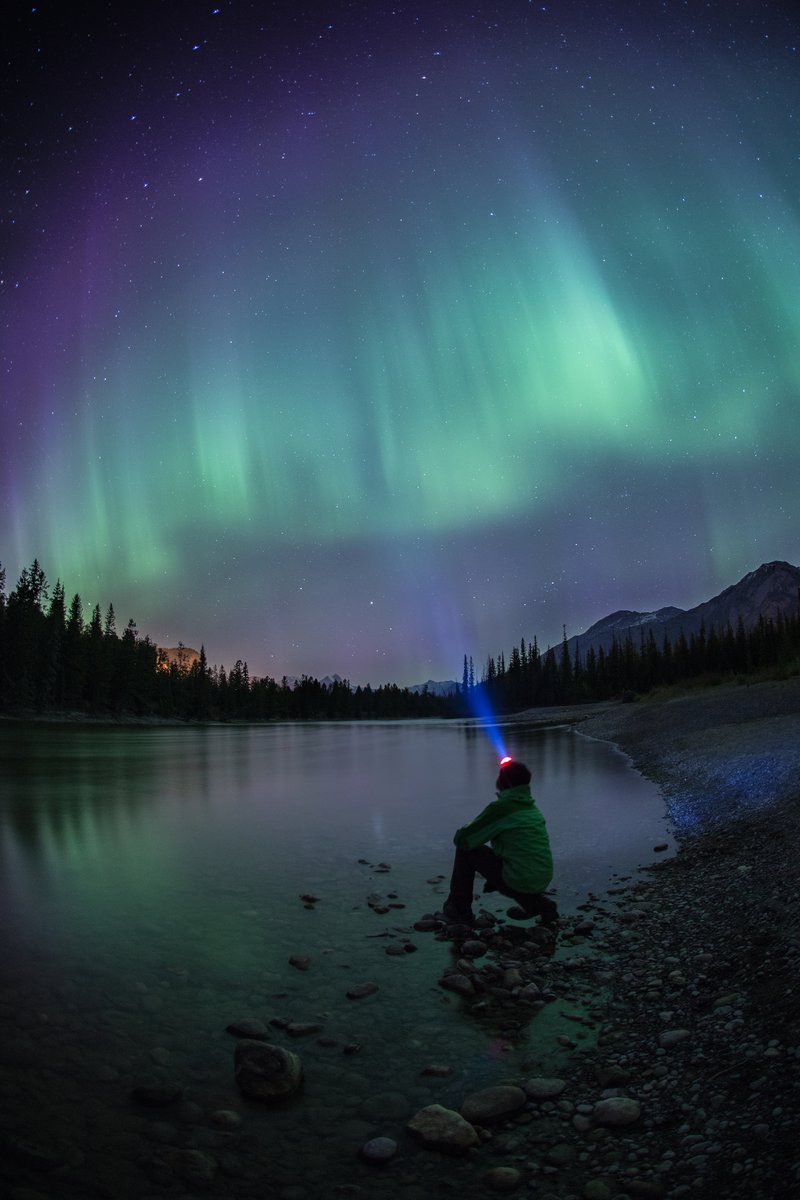 5) Be open to the full Jasper dark sky experience
Although the aurora borealis might not be quite as common in Jasper as it is in the northern reaches of the Yukon and Nunavut, the national park has much more dark sky infrastructure in place. For starters, it's a lot easier to get to, with international flights arriving daily in nearby Edmonton.
There's also the Jasper Planetarium, which offers daily, year-round experiences and boasts the most powerful telescopes in the Canadian Rockies. And during the Jasper Dark Sky Festival, an annual celebration of the science and culture surrounding the stars, you can stargaze with celestial experts (past festivals have brought in keynote speakers like Chris Hadfield, Bill Nye and Kari Byron). Pro tip: attend two highlight events for just $50 with the Star Package!
The Jasper Dark Sky Preserve can be a dazzling, gobsmacking experience for people who are used to light polluted skies. So even if you don't happen to catch an aurora display, you'll be swept up by the stars.