It's famously stunning. It's got a fascinating history. It's a Canadian Rockies icon. You guessed it: we're talking about the incomparable Spirit Island on Maligne Lake here in Jasper.

Spirit Island has been a must-see destination for years, but you've likely encountered this landmark even beyond the borders of Jasper National Park. Be it in a movie, in a painting, or on a postcard - the beauty and mystery of Spirit Island have been circulated around the globe. Thinking about the widespread popularity of this Rocky Mountain export made us curious: where in the world is Spirit Island, really?




First, a literal answer:
Spirit Island is located halfway down the very long, very beautiful Maligne Lake. It is 14 kilometres away from the nearest road or footpath, and another 47 kilometres from the nearest town (Jasper).
But Spirit Island has also been spotted around the world....
To help us in our quest of finding where, we turned to social media and asked our followers to share where they've seen Spirit Island by using the hashtag #whereisspiritisland. The surprising responses not only demonstrated its far-reaching presence, but also the meaning and connection that people often associate with this incredible landmark. Take a look below at just a few places that Spirit Island has been beyond Jasper:Carla Bendixen has a painting of Spirit Island that she did herself for her son. Her son's name you ask? Jasper, of course. We're flattered!

Ginette Adams informed us that in the hit TV show, Sons of Anarchy, there was a picture of Spirit Island hanging in the hospital hallway. Talk about a wild streak.
Connie Sebo did something extraordinarily unique and had the mountain skyline, including Spirit Island, painted on her fingernails. That's one talented manicurist.

Glen McGrath has a sharp eye, as he spotted Spirit Island on the desktop screensaver of one of the background computers in the 2013 movie The Internship. A teachable moment?

An old poster of Spirit Island hangs on the wall of Travis Moorhouse's Aunt's house, who lives all the way in Birmingham, England. The perfect backdrop for afternoon tea.

Lyla Bramhoff was recently in Romania and had a local pull out a photo of Spirit Island from their wallet as they spoke of their wish to visit Canada, and specifically, the island one day. See you soon!
These stories are pretty fascinating, but you know what's even better? The chance to explore Maligne Lake and see Spirit Island for yourself, in its natural habitat of Jasper National Park.

How to Get to Maligne Lake

Maligne Lake is the largest glacially-fed lake in the Canadian Rockies, and surrounded by jaw-dropping mountain peaks. In order to see Spirit Island, you have to get yourself here first - this is what we'd call an added perk!

By car
Maligne Lake is located 47 kilometers (30 miles) outside the town of Jasper in Jasper National Park. To get to Maligne Lake by car travel east on highway 16 towards Edmonton and turn right onto Maligne Lake Road. Once you are on Maligne Lake Road you will follow this scenic road past the Maligne Canyon turnoff, past Medicine Lake and finally end up at the Maligne Lake Boathouse. It's typically suggested that you leave 60-90 minutes to complete this drive as there are many scenic lookouts and stops along the way (you might even see a bear or two)!

By shuttle

If you'd rather let someone else take the wheel, there are a few guided Maligne Lake tour options to choose from. Experience the wonders of the Maligne Valley with SunDog, or hop on a half-day journey with the Maligne Valley Wildlife and Waterfalls tour from Maligne Adventures.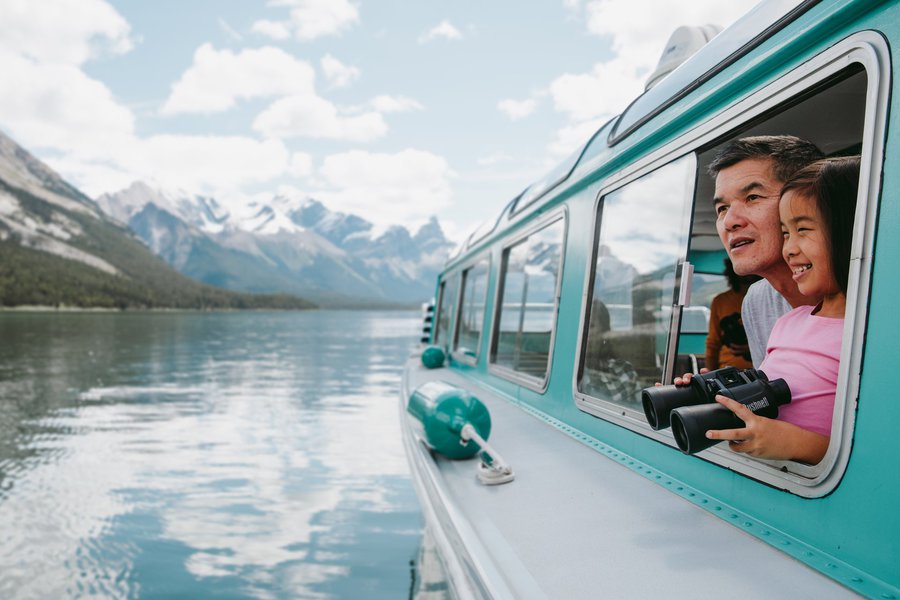 Maligne Lake Boat Tours

Once you make it to shore, adventurous types can rent a canoe or kayak and embark on an expedition complete with overnight camping. Not into paddling? Don't fret - Maligne Lake offers a range of Spirit Island Cruises to get you there and back with time to spare.

You can go for one of the classic 90 minute tours and take in the scenery as a guide regales you with stories of the lake. Here with the kids? There are plenty of ways to make Spirit Island your own!

Join the conversation and tell us where you've spotted Spirit Island! Be sure to share with us by using the hashtags #MyJasper and #whereisspiritisland.