Call it caveman instinct, call it hygge, call it whatever you want, but can we all agree there's something uniquely special about relaxing next to a cozy fire? And in the winter, that flickering flame seems to be extra mesmerizing. Luckily Jasper's longstanding cabin culture has helped establish many gorgeous fireplaces around the town and beyond.
Here's eight of our favourites that are kept burning through the winter.
1. Fairmont Jasper Park Lodge
Be careful not to hurt your neck from all the upward gawking you'll be doing next to this tall, art-adorned fireplace that sits in the centre of the Fairmont Jasper Park Lodge lounge. With lots of comfortable seating, large windows looking out on the frozen Lac Beauvert, and the Emerald Lounge serving up tasty eats and delightful drinks, this luxurious fireplace is definitely one to cozy up next to.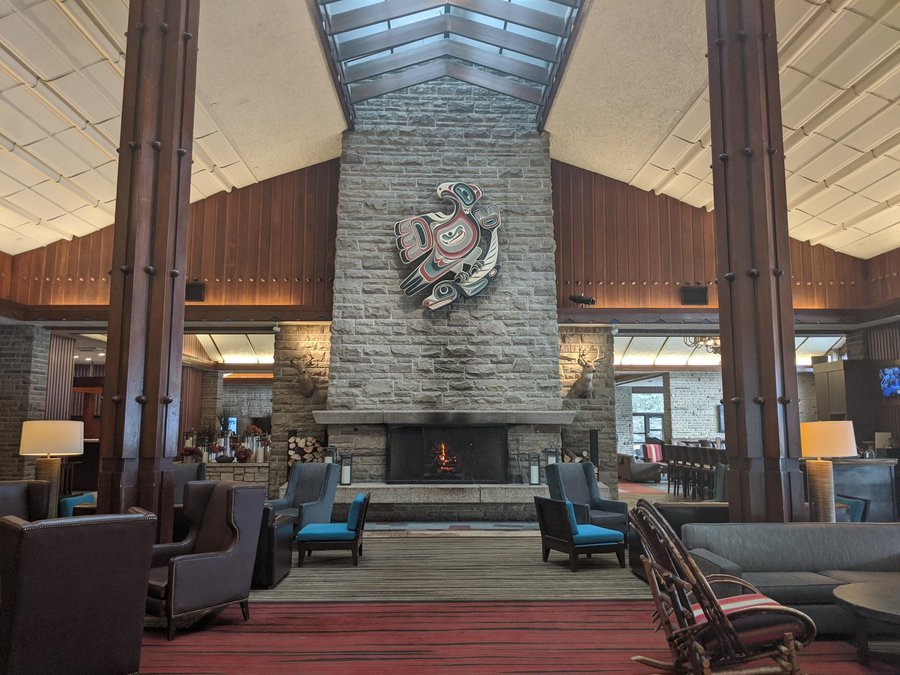 3. Forest Park Hotel
Marvel at and dine next to this three-story tall, tipi-shaped fireplace. Located in a soaring lobby, with skylights and omnipresent reclaimed wood and stonework, this crackling centerpiece stands out.
Pro tip: The hotel has a newly built expansion (connected by a walkway) and the second building's foyer has a second, smaller fireplace.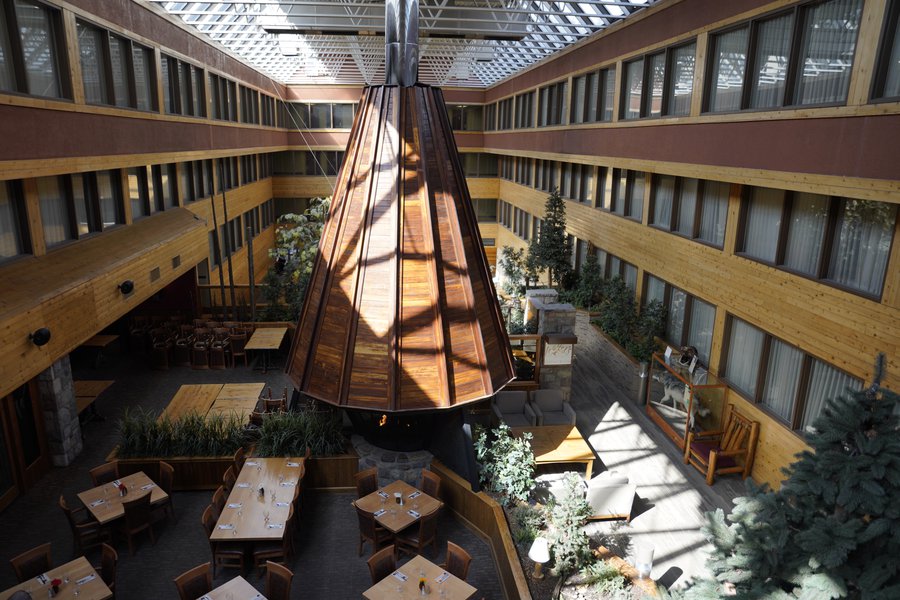 4. Bear Hill Lodge
Tucked in a peaceful corner of Jasper, these are the only cabins right in town. Book a night in either a tiny lodging for two or a heritage chalet for big groups. Each one is exquisitely designed and equipped with fireplaces.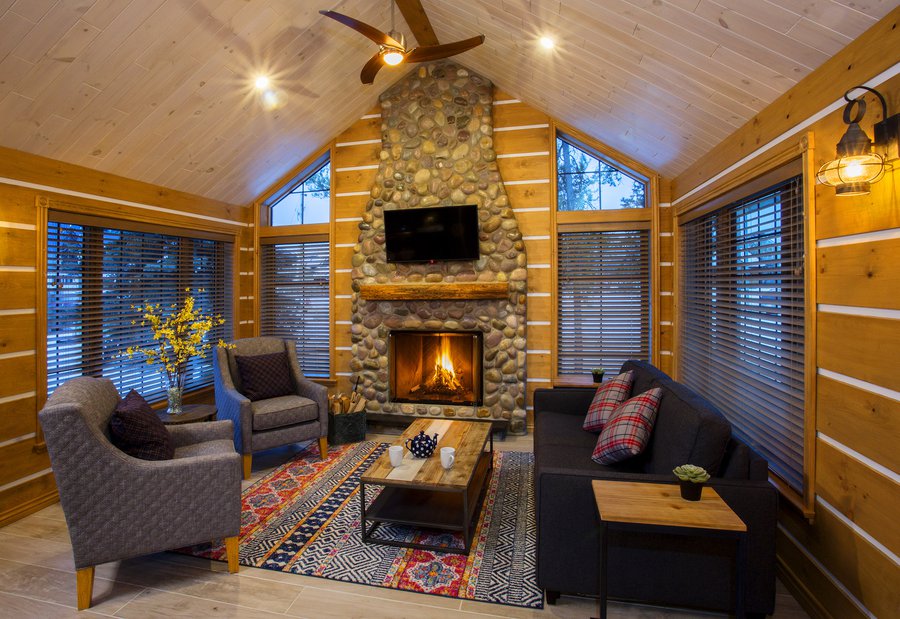 5. Overlander Mountain Lodge
Perched atop a hill just outside Jasper National Park's east gate, this collection of cabins is anchored by a warm and sophisticated restaurant and fireplace lounge area. After an outstanding dinner at the Stone Peak Restaurant, choose from a wide selection of wine and beer (they also have an exciting array of scotch) to enjoy fireside.
6. Maligne Canyon Wilderness Kitchen
Inspired by an iconic landmark rich in history, the Maligne Canyon Wilderness Kitchen serves up a smokehouse-flavoured menu inspired by exploration and adventure. Large windows and occasional live music (not to mention the option of a guided ice walk tour along the bottom of nearby Maligne Canyon) make this a fireplace worthy of at least a few hours of your day.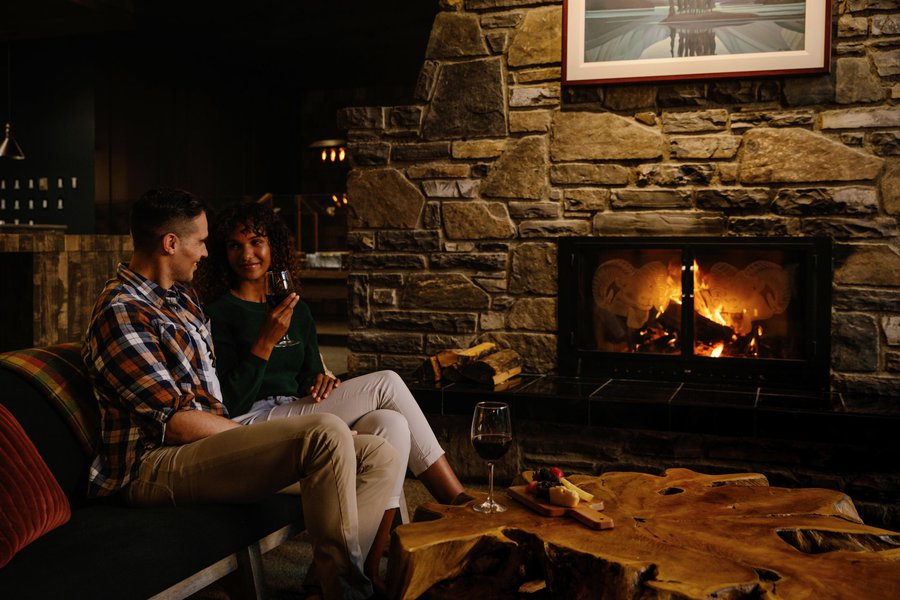 7. Fireside Chat
If an outdoor fireplace appeals, then check out the Fireside Chat Experience with local Indigenous Knowledge Keeper Matricia Bauer. Combining storytelling, singing, drumming and conversation, this interactive 2-hr cultural must-do is a chance to see the national park through the eyes of the Cree.
8. Marmot Basin's Eagle Dining and Club Lounges
Need a break from all that skiing or snowboarding? Rest your thighs and warm up at this mid-mountain chalet, which retains the charm and authenticity of Marmot Basin's early days. In addition to the fireplace, find a cafeteria, dining lodge, patio and washrooms at this alpine outpost.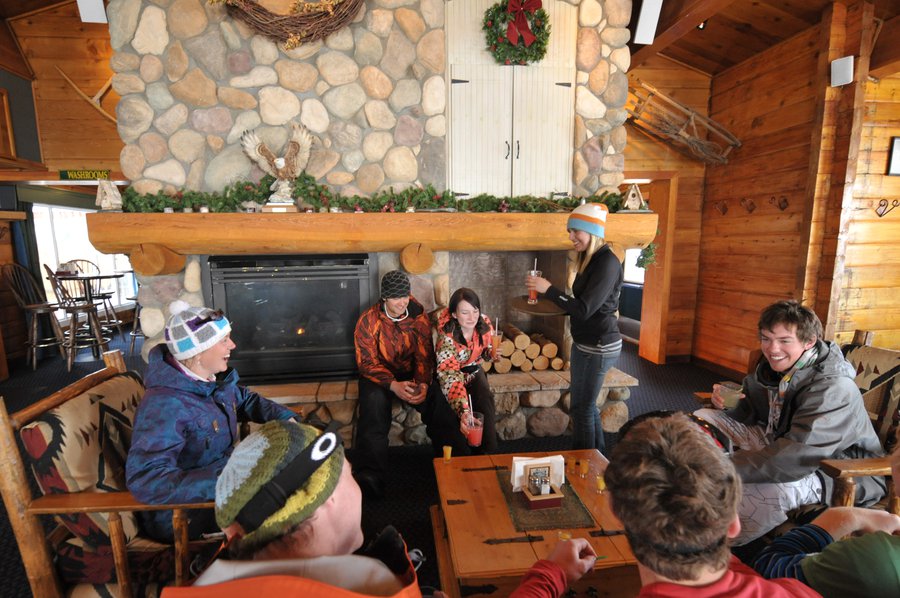 9. HI Jasper
This chic hostel is located a short walk from downtown Jasper and has a fresh design concepts and many beautiful common spaces for the modern backpacker. As well as a publicly accessible café, one of those areas is a fireplace that's perfect for enjoying a warm bevvie and making friends.