There's a reason Maligne Canyon is a popular stop throughout the summer. There's so much to see, packed into a relatively short and easy stretch of trail! Go for scenic bridges, ancient fossils in rock, and more waterfalls than you can shake a camera at. There's enough here to spend multiple hours, but if you're short on time you can see some of the most dramatic drops from Bridges 1 through 3 in about a half hour return journey.



Get up close and personal with Maligne Canyon by hiking alongside it. The visit can be a short 15 minute sightseeing stop or a longer 3 hour hike with almost anything in between. The trail takes you to a series of bridges that cross over dramatic sections of the canyon (in some places you can look down almost 50 metres). Most hikers start at the top parking lot near the Maligne Canyon Wilderness Kitchen; note that unless you've arranged a car shuttle, this is an out-and-back route and you may wish to budget extra time for the steep climb back up to your starting location!
Short walk: In 15-30 minutes you can read some of the interpretive signs at the upper parking lot and cross the first two bridges. Look out for fossils between First and Second Bridge.
Medium walk: Plan a bit longer to get to and from Third Bridge (30 minutes return) and Fourth Bridge (an hour return).
Longer walk: It takes about two hours to reach and return from Fifth Bridge, which is where the canyon has really started to get shallow and the waterway has widened to become more of a river. Going to Sixth Bridge will add another hour to your walk. This is a quieter, mostly forest-bound stretch that follows the water and finishes at a popular wildflower viewing area.
Find current trail conditions here.
Maligne Canyon Summer Tours
The best way to see Maligne Canyon is with one of the many guided tours. Discover the mysteries of canyon, learn about the flora and fauna, find fossils and get a local perspective.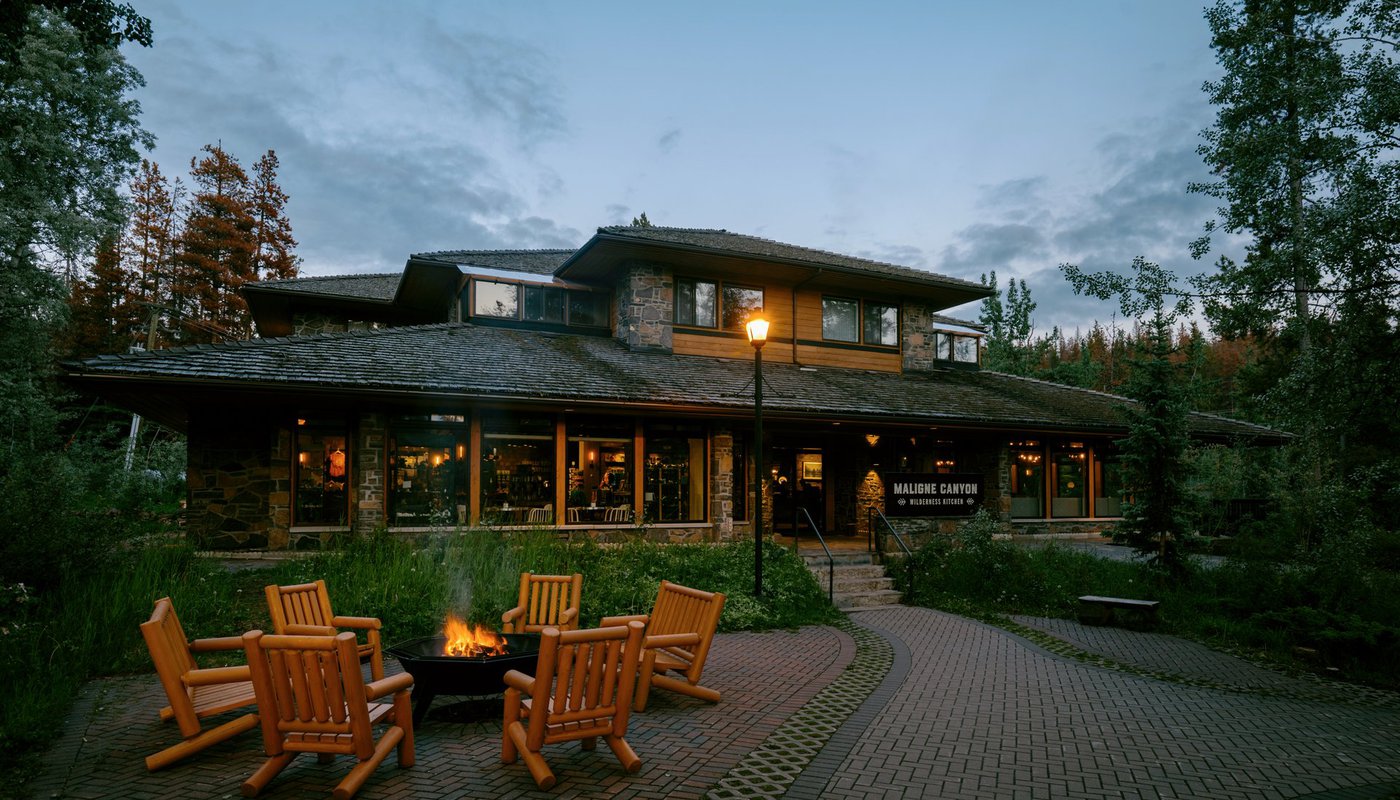 Maligne Canyon Wilderness Kitchen
This stylish and spacious hidden gem serves up a smokehouse-flavoured menu inspired by the history of exploration and adventure in the area.
Winter is the perfect time to explore Maligne Canyon. When average temperatures get colder and the water coursing through the bottom of the canyon drains and freezes, it become possible to explore this rocky marvel in a whole new way. Strap on ice cleats, grab a camera and see an otherworldly side of Jasper.



Maligne Canyon Icewalk & Icewalk Tours
Guided Maligne Canyon Icewalk tours are unique experiences only offered during the winter season, typically from December to March. Join local experts who not only make the outing fun and informative, they'll also ensure your safety and provide crucial gear like a helmet and ice cleats. See naturally-formed ice art at its finest!
How to get to Maligne Canyon
Head north-east on Connaught Dr.
Turn left onto Highway 16 heading east towards Edmonton.
At the first light turn right to cross a bridge over the Athabasca river.
Keep left at the fork.
Continue on Maligne Road until you see signs for Maligne Canyon on your left.
How long of a hike is Maligne Canyon?
There are several variations of the Maligne Canyon hike:
The most popular Maligne Canyon hike (from First Bridge to Fourth Bridge) is 2.2km one way with 100 meters of elevation gain/loss and can take about an hour (though leaving more time is recommended to learn from interpretive signage along the way).
If you are short on time you can check out the first and second bridge in as little as 15 minutes.
For a one to three hour variation you can go from the first bridge to Fifth Bridge or Sixth Bridge and back.
Make sure you plan extra time for photos!
How difficult of a hike is Maligne Canyon?
The first two bridges of Maligne Canyon are an easy walk from the parking lot. From there the hike becomes more moderate due to some uneven terrain and 100 meters of elevation gain/loss. Winter conditions at Maligne Canyon can be very icy so cleats are strongly recommended. You can rent or buy snow cleats at Totem Ski Shop. Alternatively, an IceWalk tour will provide cleats for you.
Find current trail conditions here.
Do you need to take a tour in Maligne Canyon?
You can hike Maligne Canyon on your own in both the summer and the winter but for the full experience we recommend you take a guided tour.
Is Maligne Canyon Free?
While visiting Maligne Canyon is free, a Parks Pass is required while you are within the national park boundaries. You can purchase your parks pass here. Parking is free at Maligne Canyon however it may be limited during peak season in the summer.
How many bridges are in Maligne canyon
Maligne Canyon has six bridges, though the most popular parts of the hike (the most dramatic, canyon-y parts) are between the first bridge and the fifth bridge. If you want a longer variation of the hike with fewer people and potentially more wildflowers you can go all the way to the sixth bridge.
How do you pronounce Maligne?
The name Maligne came from the French word for 'wicked' or 'evil'. However while the English verb maligne is pronounced 'muh-LINE', the local Jasper pronunciation of the canyon's name is 'muh-LEEN'.
Can you do the Maligne Canyon Icewalk on your own?
You can do the Maligne Canyon Icewalk on your own however, it is highly recommended by Parks Canada to get a certified guide for this experience. Guides are familiar with the hazards of the Canyon and provide all the necessary safety equipment. Find Maligne Canyon Icewalk Tours here.

If you do decide do the Maligne Canyon Icewalk unguided be sure to bring a helmet and ice cleats. If you don't have outdoor equipment it can be rented at Totem Ski Shop.
Maligne Canyon Safety Hazards include:
Slippery and uneven surfaces.
Thin ice and/or breakable shelf ice may give way unexpectedly
Below the ice, the river is cold, deep and fast-moving
Frequent rock and ice fall from above
There are limited ways to exit the canyon, making escape difficult
Cell phone coverage in the canyon is not reliable.
How long is the Maligne Canyon Icewalk?
A guided Maligne Canyon Icewalk experience is 3 to 3.5 hours.
Is there a shuttle service to the canyon?
There is no shuttle service to Maligne Canyon, however if you do not have a vehicle and would like to see Maligne Canyon there are many tours that will pick you up from your hotel.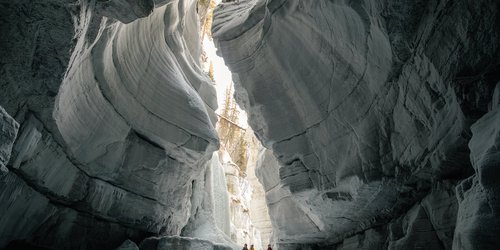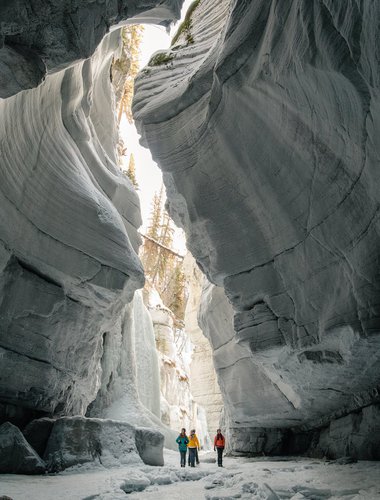 10 Important Facts About Maligne Canyon
With its steep sides and year-round accessibility, this geological wonder is a must-see within Jasper national park.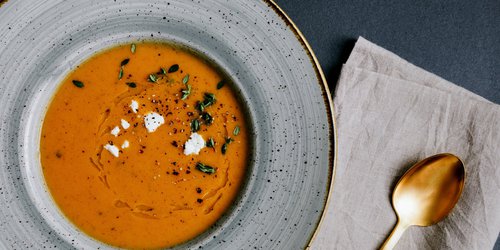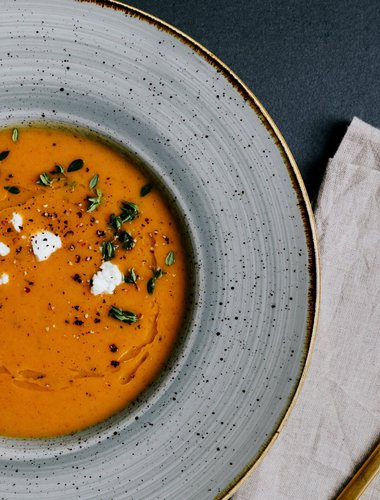 Newly opened Maligne Canyon Wilderness Kitchen serves up smokehouse classics with a view
Indeed, if a day of exploring the majestic Maligne Valley is the meal, then an evening dining experience at the Wilderness Kitchen is the perfect dessert.