Winter is gorgeous, although it can occasionally take a bit more work to enjoy. But putting on that extra layer of clothing is so worth it. We'd never begrudge a snowbird their tropical escape, we just think it's a shame to miss out on the many accessible ways to explore Jasper's beauty at a slower pace.
Whether you prefer a calm and cozy night next to a fireplace or yearn to see the mountainous backcountry without breaking a hip, you'll find a winter activity up your alley among these 13 options.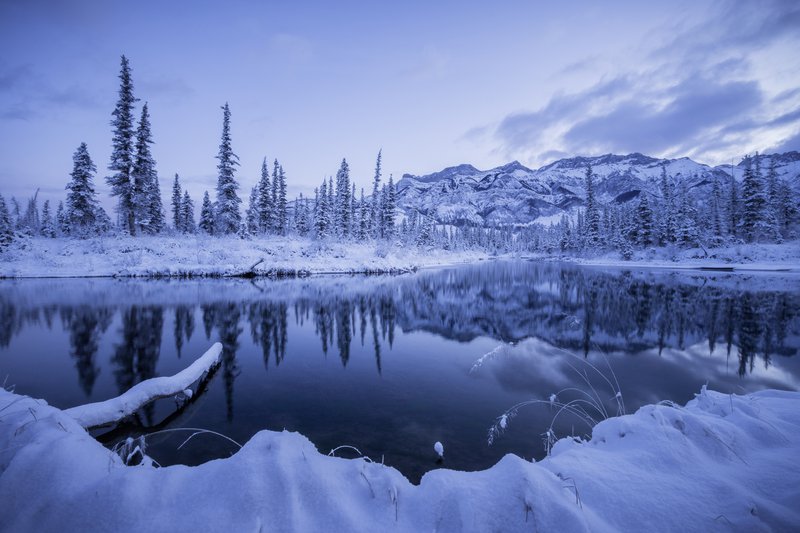 1. Photo Tour
When you slow down, you see (and can capture) so much more. Develop a beloved photography hobby with one of Jasper's local photography guides. Whether you're hoping for a sunrise shoot far from the madding crowd or just want some professional instruction from someone who knows all the national park's most photogenic and accessible spots, there's a tour to suit your level and schedule.
2. Wildlife Tour
Spot Jasper's furry friends and learn about the complex and integral biology of the national park with these guided tours. Although a wildlife sighting isn't guaranteed, the knowledgeable guides know the best times and places that local moose, sheep, elk and mountain goats like to frequent.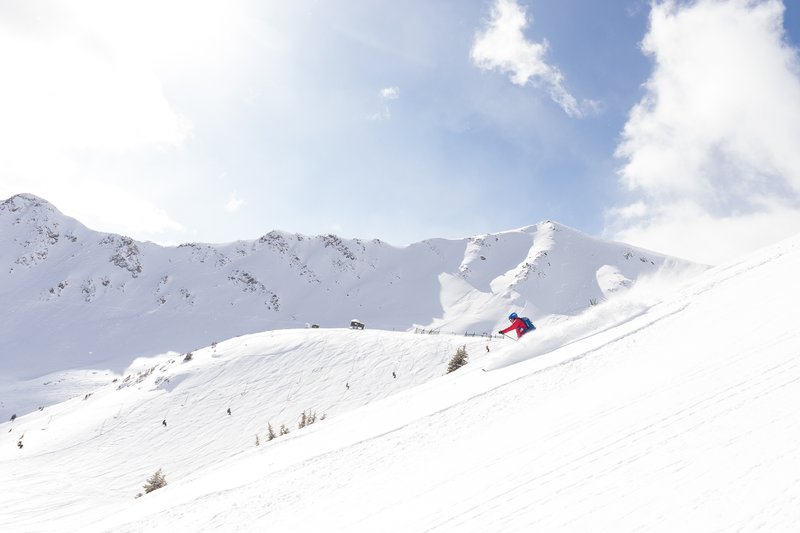 3. Marmot Basin ski resort
With seven ski lifts including 3 high speed quads, Marmot Basin is one of the most fun ways to get panoramic views of our snow-covered UNESCO World Heritage Site in the winter. Beloved by locals and heralded by skiers and snowboarders from around the world for its great snow, lack of lift lines and affordability, this is one experience that any skier of any age can enjoy. Of the mountain's 91 runs, 30% are ranked for novice and 30% are intermediate.

4. Cross-country skiing
Prefer to ski on flatter planes? Rent a pair at Edge Control and glide along one of the many groomed trails around the town of Jasper and beyond.
5. Jasper Planetarium
The Rocky Mountains are renowned for their beauty, but the skies above them deserve equal awe. Jasper has the world's largest accessible dark sky preserve, and this sanctuary from light pollution is stupendous enough to disregard even the strictest bedtime (luckily in winter, darkness falls as early as 5pm). Explore the local constellations in comfort through the Jasper Planetarium's heated 50-seat dome theatre. This year-round and daily interactive experience digitally tours you through Jasper's aurora borealis, links to Indigenous culture, and more.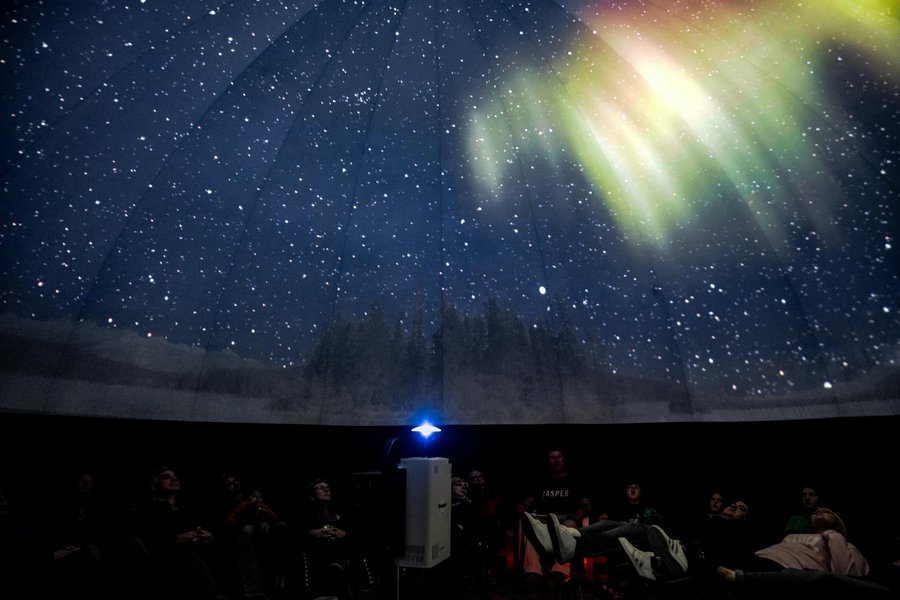 6. Museum
Bookmark some time to explore the excellent local museum, located off the main drag on Bonhomme St. Peruse their permanent exhibits on the early Indigenous populations, the first European explorers including David Thompson, the railway, and Jasper's early tourism. Temporary exhibits run the gamut: check out what's on during her visit here. For gifts, there's few better places to get a unique and true-to-Jasper souvenir or keepsake than the museum's gift shop.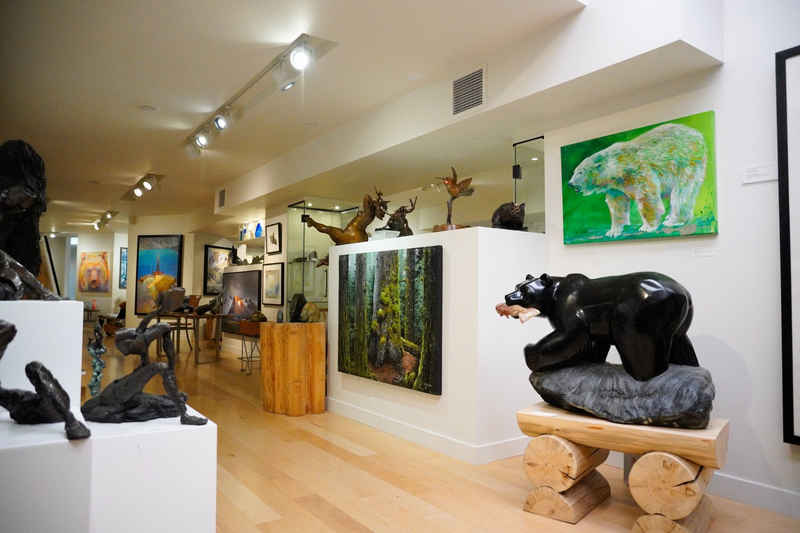 7. Mountain Galleries
Boost your culture points and visit the Mountain Galleries, located on the Beauvert Plateau at the Fairmont Jasper Park Lodge. This hidden gem displays a wonderful collection of Canadian fine art from some of the country's top painters and sculptors, and is a sophisticated nook in which to soak up the beauty of the Canadian Rockies through a different lens.
8. Relax in a spa or find your inner yogi
Find peaceful quiet on the shores of Lac Beauvert at the Fairmont Spa, located on the grounds of the historical Fairmont Jasper Park Lodge. Alternatively, the in-town Mountain Wellness Day Spa has a host of pampering treatments. If yoga is more your style, Jasper Wellness offers drop-in classes at various times. Either option will restore your senses and complete your soothing sojourn in the mountains.
9. Rocky Mountain cuisine
No visit to Jasper is complete without a meal at one of the top notch local eateries. Fuel up with breakfast at the quaint Coco's Cafe or relax with an Evil Dave's cocktail after a fulfilling day (or divide the day with the best pizza lunch of your life at Famoso Neapolitan Pizzeria). For a fun and informative sampling of four local fares, Jasper Food Tours has a daily afternoon experience that'll delight any foodie.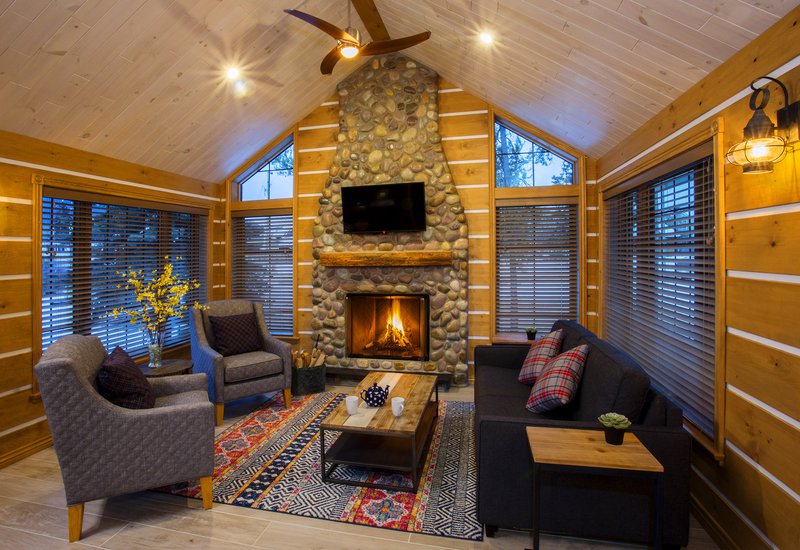 10. Cabin fireplace
There are few experiences that can make you feel more snug than a bug in an exquisitely-designed rug than relaxing fireside in a log cabin. Bear Hill Lodge is the only cabins located in the town of Jasper that are open year-round. Choose from studio cottages, heritage log cabins, chalets, homestead log houses. Don't forget to bring that novel you've been dying to read.
11. Sleigh Ride
Matched teams of horses, tuned bells, sleighs with comfortable seats and warm throw blankets make for a classic winter experience. Join for a 40 minute ride along the sunny shore of Pyramid Lake with Jasper Riding Stables.
12. Dogsledding
Try one of Canada's oldest transportation methods while seeing the sparkling and varied backcountry just outside of Jasper National Park. Cold Fire Creek Dogsledding has been leading their highly accessible tours since 1998, and their pooches are impossible not to love.
13. Indigenous storytelling
Hear the Indigenous stories of this land, feel the heart beat of the drum or have hands-on experience with a local Indigenous Knowledge Keeper. Warrior Women offers a truly unique and personal experience through the weekly Fireside Chat, which features intimate drumming and singing performances and learning legends through the eyes of the Cree.