Looking for the best skating spots in the Rockies? Need to find some rental skates? This is your guide to finding and gliding across Jasper's best ice.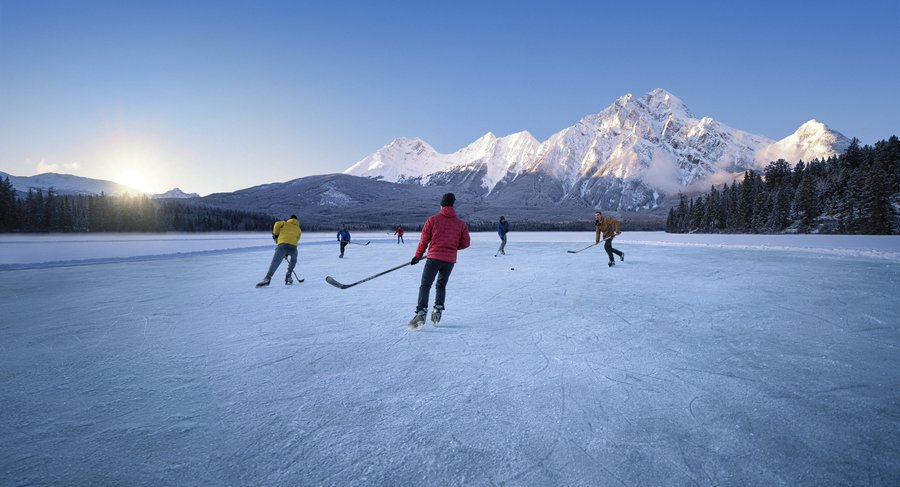 Winter revelers have come a long way since lashing sharpened animal bones to our feet and wobbling out onto some roughly frozen ice. But if you seek to capture that rugged feeling (without sacrificing, say, basic safety and intact ankles) then there's no better place to skate than a groomed, scenic oval beneath Jasper's mountains.
The vast majority of ice skaters should go to one of the national park's two best skating spots, located on Pyramid Lake and Mildred Lake. Here you'll find rental options, smoother ice, and places nearby to get a mug of hot cocoa. Read on to learn more, and to discover upcoming skating events that you absolutely can not miss.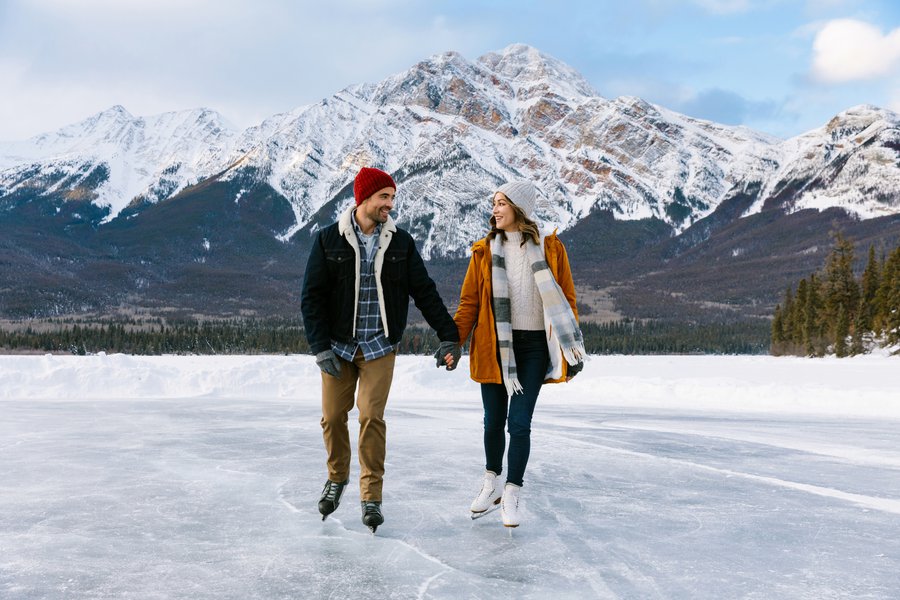 Groomed skating rinks in Jasper
Not including the Jasper Arena Ice Skating Rink (303 Bonhomme St.), which hosts lively regional hockey tournaments and occasional public skating, there's two main places to skate in Jasper National Park.
Pyramid Lake
Located a ten minute drive north of downtown Jasper, Pyramid Lake is a jaw-dropping place that could easily occupy half your day. The Pyramid Lake Resort maintains a groomed skating oval that has stunning, unimpeded views of Pyramid Mountain. Skate rentals are available at the resort, as are a variety of other winter sport gear if you wish to try fat biking around the lake. The Pines Restaurant is a delicious and scenic place to grab dinner after, and Pyramid Island is a nearby landmark popular with photographers and starwatchers.
Mildred Lake
The Fairmont Jasper Park Lodge is famous for its rustic elegance and cozy luxury. The 700 acre property is also a short 10 minute drive from town, and boasts multiple natural wonders. Mildred Lake is visible on the right as you drive in on the approach road. Park on the far side of the lake. Rent some skates (and helmets, hockey sticks, and pucks, if you fancy a game of shinny) at the Winter Activity Centre. Brought your own skates? Sharpening is available for a small fee. The groomed parts of the lake include a 1 kilometre round-the-lake oval and four hockey rinks for pick-up games.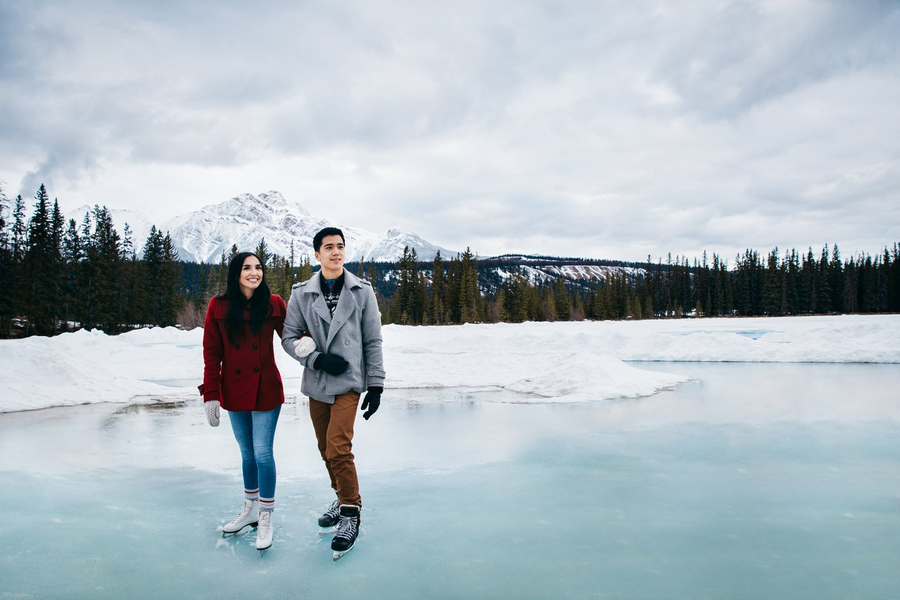 Upcoming events
Jasper in January is fast approaching, and there's no better time to celebrate the best of winter. Don't miss these skating events happening during the festival.
Pond Hockey Tournament
Sign up to play hockey as it should be played at the Jasper Pond Hockey Tournament. This Challenge will bring our nation's most classic winter game to one of the most scenic venues in Canada: Lake Mildred at the Fairmont Jasper Park Lodge. 20 plus teams will compete in a 4 on 4 Pond hockey tournament with a minimum of 4 and maximum of 8 players.
Jan. 27 - 29. Cost: From $375 - two night, three day package
Pyramid Winter Fete
Skate at Pyramid Lake and relax on a horse-drawn sleigh ride. Then, enjoy a sweet treat and a hot chocolate.
Jan. 14, 21, 28, from 2 p.m. to 5 p.m.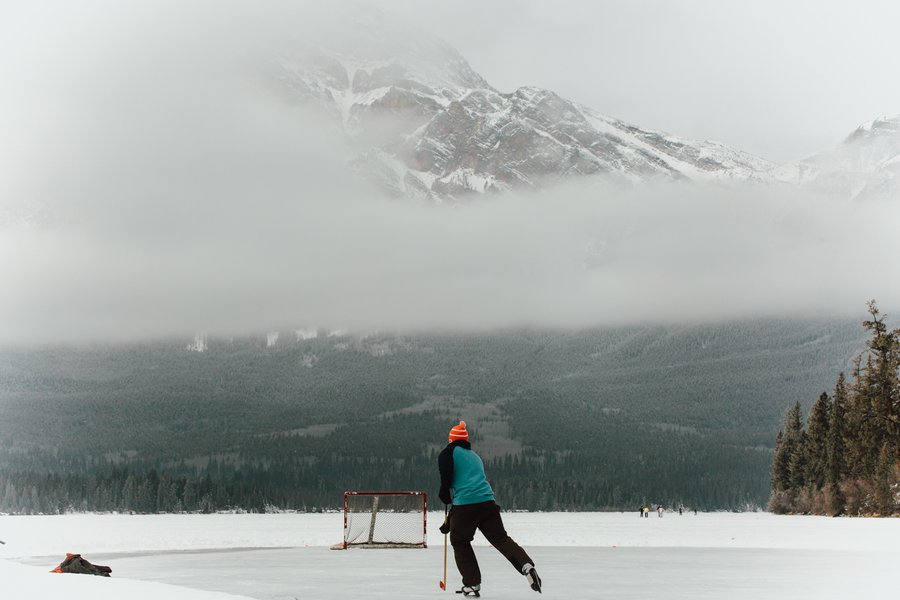 Other places to skate
Jasper has a LOT of lakes. And they generally freeze in winter, which can make for a beautiful and unique skating experience. But it's also more responsibility. It's up to you to assess the thickness of the ice, as Parks Canada does not monitor these wild lakes.
The thicker the ice, the better, but a minimum of 6 inches is recommended. If unsure, stay off the ice. Never skate alone, after dark, or on snow-covered ice where it's harder to determine ice depth. The thickness of natural ice varies from place to place. One pond may be in good condition while another one nearby is not safe.
Lake Edith
Talbot Lake
Snaring Pond