There are few winter traditions as revered in mountain towns as après-ski. Here's how to do it right in Jasper National Park.
After shredding the slopes all day at Marmot Basin ski resort, it's time to *drum roll ladies and gents* après-ski! Of course we won't judge you if you want to just snuggle up next to a fireplace (in fact here's a few recommendations) but if you're up to socialize in your base layers and relive the day with pals, then here's a few places to recharge.
Jasper's drool-worthy après-ski scene is part of the reason we were voted Best Ski Tour in North America by USA Today readers, and these nine different options won't disappoint.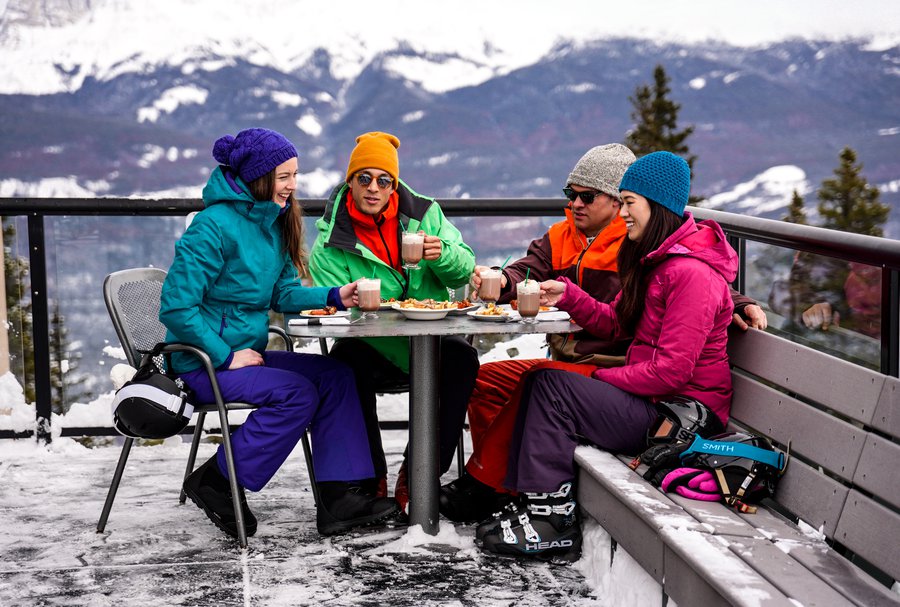 1. Stay on the hill
If you aren't used to Marmot Basin's practically non-existent lift lines, then you might be tired and ready to hang up your skis earlier in the day that usual. In that case, grab a brewski or bite to eat at either the Caribou Chalet at the base of the ski hill (the Kokanee Glacier Deck has amazing views) or the mid-mountain Paradise Chalet & Eagle Alpine Lodge, located in the oldest building on the mountain. The latter closes at 4:00pm, the former at 4:30pm.
2. Evil Dave's Grill
Globally inspired and wickedly delicious, this funky family restaurant offers a diverse menu and plenty of pretty cocktails (the Northern Lights cocktail is as beautiful as its namesake). Sit down and warm up with the Malevolent Meatloaf (a perennial favourite and classic Alberta dish made with bison and wild boar) or the vegan Karma Curry.



3. Jasper Brewing Co.
As the first brewery to open within a Canadian national park, this local watering hole uses real glacier water (and all the minerals that come with it) as the base for its many craft beers. And thanks to a recent top-to-bottom renovation, the Brewpub's decor has stylishly stepped back in time and evokes a cozy 70's-retro-meets-barnyard-chic-aesthetic.
4. Maligne Canyon Wilderness Kitchen
Don't let the distance from town dissuade your from this stylish restaurant. An easy ten minute drive is all it takes to reach one of Jasper's most iconic landmarks. Indulge in comfort foods like slow-smoked meats, handmade preserves and fresh local veggies. You can even pair your lunch with an IceWalk package which will take you into the depths of Maligne Canyon.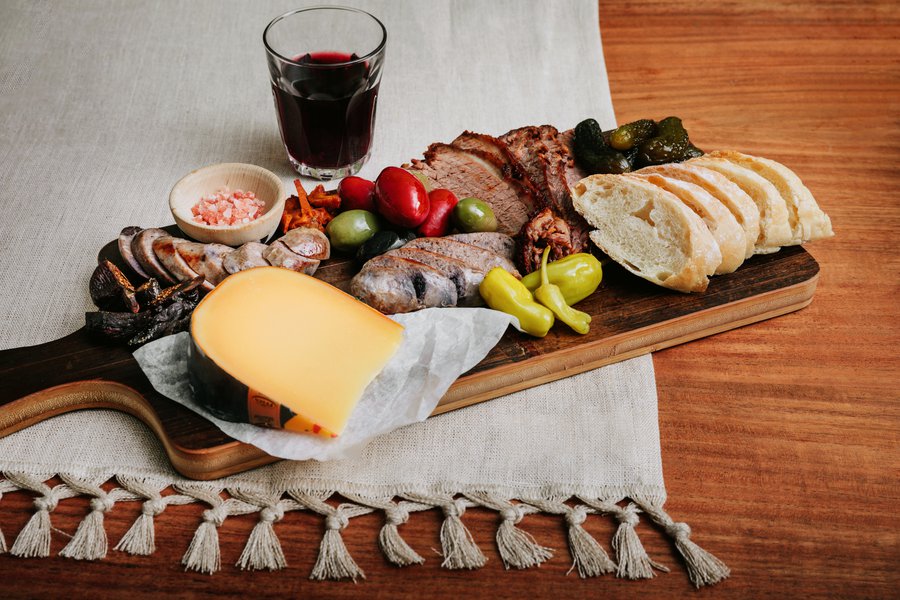 5. Terra
Locally farmed and foraged fare is at the heart of this newly revamped restaurant. Like the seasons, their menus are constantly changing to incorporate natural, hearty ingredients. Enjoy cocktails and chic design from beside the fire, or grab a spot at the bar.
6. Jasper Pizza Place
After a full day out in the cold, sometimes the only food that'll do the trick is pizza. There's a few fine spots in town that'll suit your mood and group size. Jasper Pizza Place's wood burning and traditional ovens elevates this casual dining restaurant, which is perfect for large groups, sports teams & big families.
7. Famoso Neapolitan Pizza
Thin crust fans will drool for Famoso Neapolitan Pizzeria's great happy hour deals and delicious soft and crispy pies that are baked for 90 seconds at 900 degrees Fahrenheit in a traditional, fire-roasting Italian pizza oven.



8. Take a soak in the Fairmont Jasper Park Lodge outdoor pool and hot tub
All fueled up? Wash off the snow and grime and ease your muscles in Fairmont's year-round outdoor heated pool and hot tub (there's also a full-service spa). Hours are Sunday to Thursday, 7:00 AM - 10:00 PM and Friday to Saturday, 7:00 AM - 11:00 PM. For one more nightcap, peruse the options at the Emerald Lounge.
9. Rent a cabin
Finally, if you prefer the cozy space of your own cabin, then grab some bevvies to go and enjoy in the comfort of your rustic home-away-from-home. There are multiple cabin properties in Jasper National Park that are open year round. Peruse the options here.