About the author: Seth Macey is a wildlife and landscape photographer from Ontario who frequently takes his travels and camera to Alberta's parks. He is also host of the "Photographer Mindset Podcast" and an advocate for how we can be less impactful on animals and their habitat while still viewing them in the natural world.
───────────────────────────────────────────────
Maligne Lake is the largest lake inside of Jasper National Park and the valley in which it is nestled was carved out 100's of millions of years ago by glacial movements that essentially dammed the lake that now flows into the Athabasca River.

A landmark on the lake, Spirit Island is world famous and one of the most photographed places in all the Canadian Rocky Mountains. Surrounded by otherworldly blue-green glacial water and panoramic mountain peaks, the island is a must see for anyone visiting the park. It is a spiritual place for the Stoney Nakoda First Nation as mountains are a physical representation of ancestors. For the island to be wrapped in mountains makes it a sacred piece of land.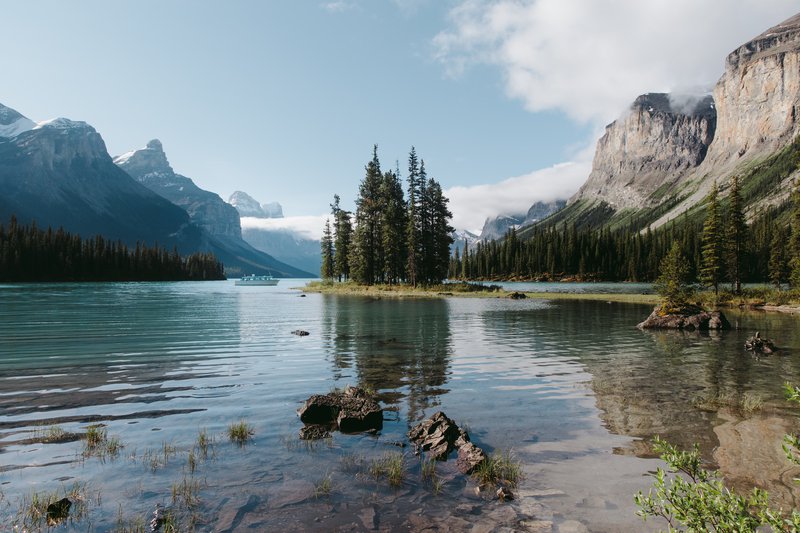 There are two methods to journey to Spirit Island once you've made the 50 minute drive from the town of Jasper to Maligne Lake. One option – epic though less attempted – is to rent a canoe or kayak and paddle to the island. This typically is a 6-8 hour round trip. The other option, which is just as scenic but that will save your arms, is to take the Maligne Lake Cruise to Spirit Island. The cruise is about 30 minutes each way and offers stunning views from either the inside or outside of the vessel.
The Maligne Lake Cruise has many boats in their fleet that will smoothly take you from the docks at the start of the lake all the way to Spirit Island so that you can appreciate the millions of years of geological effort in comfort. Each boat can fit about 30 passengers and has a friendly guide to answer all of your questions. Our guide was incredibly insightful providing information on both the lake and Spirit Island not easily found online.
The Maligne Lake boat cruise is considered one of the best boat cruises in Canada. The cruise takes about 90 minutes from start to finish and offers 20 minutes to view and hike the lookout of Spirit Island. The 90 minutes is enough time to get some awesome photos and feel you got your money's worth while not taking up your entire day. Adding to this, it's an especially great tour for people who may have a shorter stay in the park planned and are trying to fit as many excursions into their itinerary as possible.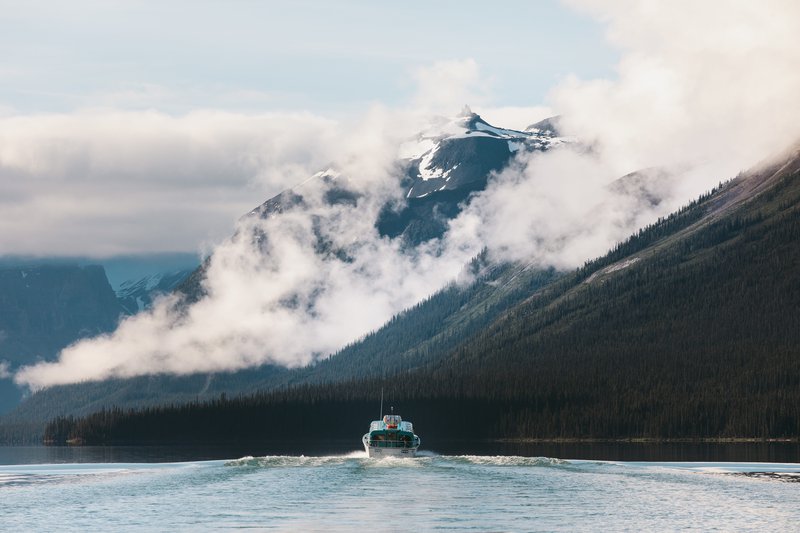 The views aren't the only thing to keep your eyes fixed on. Maligne Lake harbours many different types of wildlife including deer, moose, elk, caribou and bears. As we were arriving to dock at the island we were lucky enough to be greeted by a mother deer and her fawn. They were kind enough to still be there as we departed. It was too perfect. To make our cruise even more memorable, as we were returning from the island and pulling into the docks, a moose was nearby enjoying a drink from the lake, her calf not far away.
While the seated section of the boat is enclosed, the cruise allows passengers to walk to the back of the boat and enjoy as much of their ride outside as they like. It is an amazing place to be for photos and videos while on your ride. There's nothing quite like mountain air and stunning landscapes to accent the excitement in your stomach as you venture onwards to Spirit Island. For those who are worried about their tendency to get seasick, fear not. The lake is quite calm as it is nestled in between the mountains, meaning big or choppy waves are not common, especially in the mornings.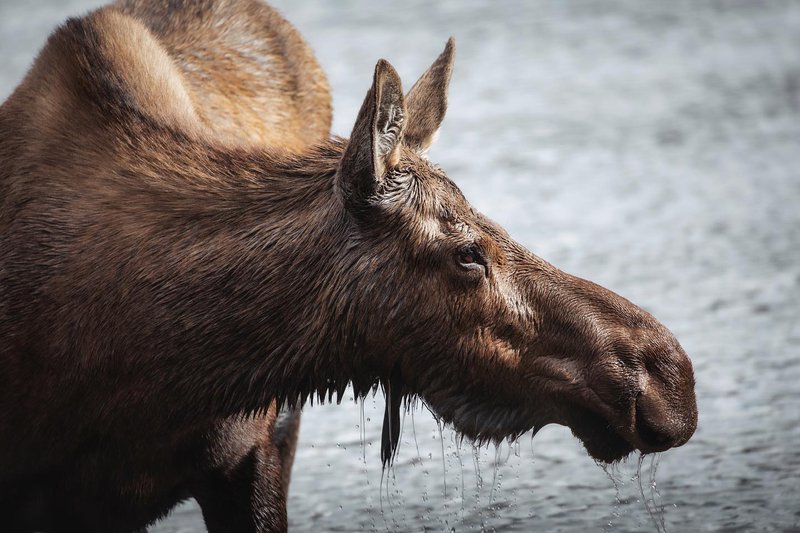 While the drive from downtown Jasper isn't too long, I recommend leaving yourself extra time. You will likely be making several stops for both wildlife viewing opportunities and to admire more beautiful scenery. If you have a cruise booking to get to, stopping at spots like Medicine Lake on the way back with less time pressure would be your best bet. There's an easy pull off where you can walk down to the lake or you can simply admire the spectacular view from your car. Another place worth stopping along your journey is Maligne Canyon where you can see how powerful flowing water has carved away at the rocks over time.

Wildlife along the drive is abundant. In all the times I've driven the road I've seen either moose, deer, fox, coyotes, bald eagle, or pikas. Simply driving the road is as close as you can get to a guarantee of spotting some form of wildlife. Just remember to keep your stops for wildlife short as it can cause dangerous traffic situations and put unnecessary pressure on the animal. This goes without saying, but please don't feed wildlife..
You can book your tickets for the Maligne Lake cruise to Spirit Island here. Smooth sailing!