Canoeing is to Canada what cheese curds are to fries and gravy. But here in the mountains, Wild Current Outfitters takes things up a notch.
The Signature Guided Pyramid Lake Jasper Canoe Adventure is available from May 1 to November 5. This tour gives you an extra special, stress-free experience that's perfect for both canoe novices and experts, couples and families.
No experience is necessary, and you can choose to paddle or simply relax and take in the views from the comfortable and stable seats in Wild Current Outfitters' handcrafted Voyageur canoes.
Looking for more reasons to book? Scroll on.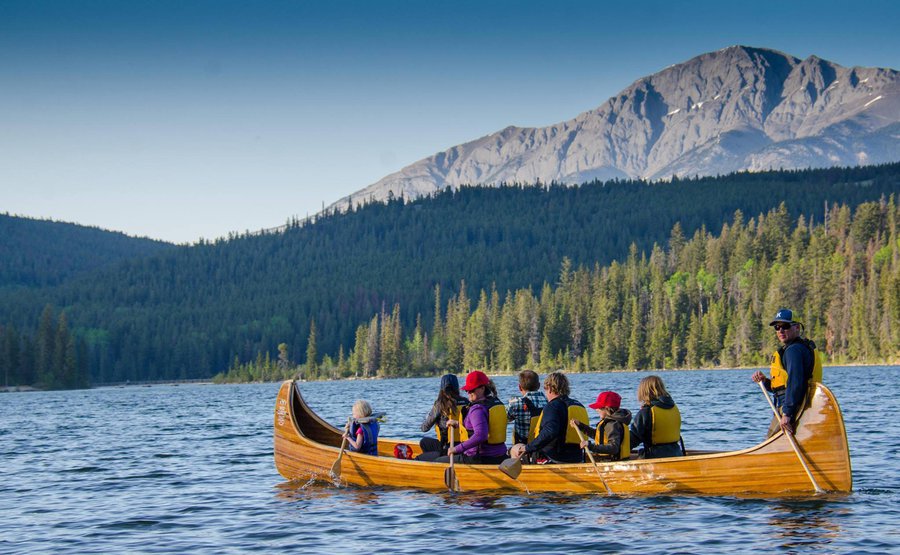 Reason #1: An emphasis on authenticity
In Jasper, you get the true small mountain town experience. The canoes were handcrafted in town by Wild Current Outfitters owners. The tour also includes canoeing to shore for homemade treats, hot drinks and summer day swims or autumn campfires. From the experience of the guides to the experience on the lake, this tour is true Jasper.
Reason #2: Chance of spotting some wildlife
From the lake, there's nothing to block views of the wildlife that gather nearby. Keep an eye out for osprey, loons, muskrat and beaver. Pyramid Lake is also a very good birding area in May and June. Fingers-crossed, you may even see moose, bear, elk, deer and wolves!
Reason #3: Stress-free logistics
How do we transport the canoe? Do we have everything we need to make sure our time on the water is safe? What about local information? Planning a canoe excursion involves a decent amount of planning, especially for a family. When you book the tour, Wild Current Outfitters takes care of it all while also providing fun and interesting insider stories about the region.
Reason #4: Perfect for groups
Whether travelling with your multi-generational family, a bachelorette group or coworker getaway, this outdoor, small-group activity is a great way to explore Jasper's backyard while feeling like you've got plenty of space to yourself. Experience something new and unique in a world-class open-air spot.
Reason #5: Five years of five star reviews
"Don't miss this gem!" "Best experience in Jasper!" "The trip of a lifetime"
The TripAdvisor listing is full of glowing reactions from people who've had this special experience. Guests are often amazed by the snow-capped peaks that surround them on the water, and enjoy winding down lakeside.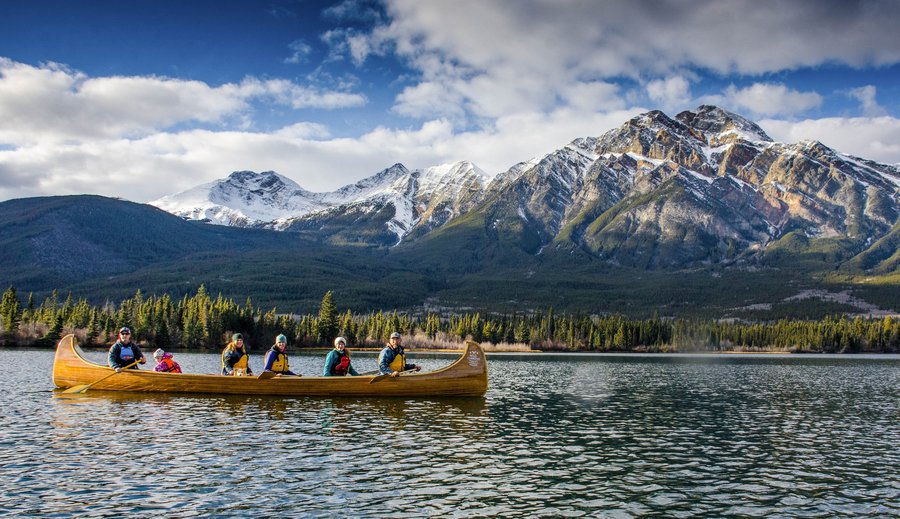 Want a bit more independence on your canoe adventure? Wild Current Outfitters also offers canoe rentals at the famous Maligne Lake. Book a canoe for the day, or if you've got camping reservations on the lake then book for multiple days! Each canoe comes with paddles and life jackets, as well as a throw bag, bailer, whistle, and waterproof bag.