Chelsie and Nicole took their time planning their wedding. After a two-year engagement, and with their respective families located in different parts of the country, the couple decided that if people were going to have to travel anyway, why not travel to a beach. They sent out the invitations in December, 2019 for a Mexico wedding scheduled for, well, around the time we're publishing this story. Then COVID-19 hit, and the world shut down.
The year that followed was fraught with postponements, stress and uncertainty, but the couple was there for each other through every moment. In August they cancelled their Mexico bookings and decided they'd tie the knot in Jasper over Christmas. But their path to the altar still had some twists ahead.
From their home in Lloydminster, Chelsie kindly shared their story and explained how their wedding planner (Jordan from Jasper Event Management) saved the day.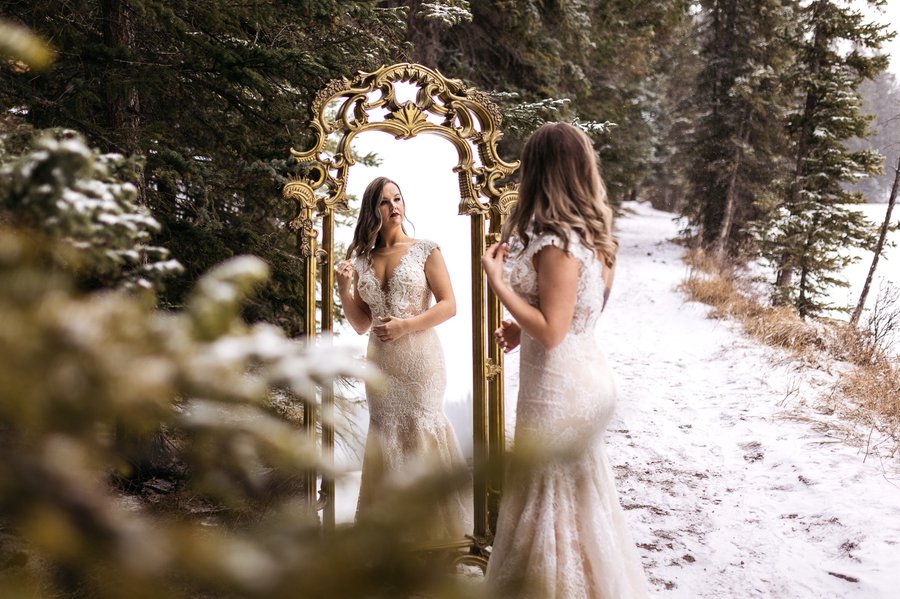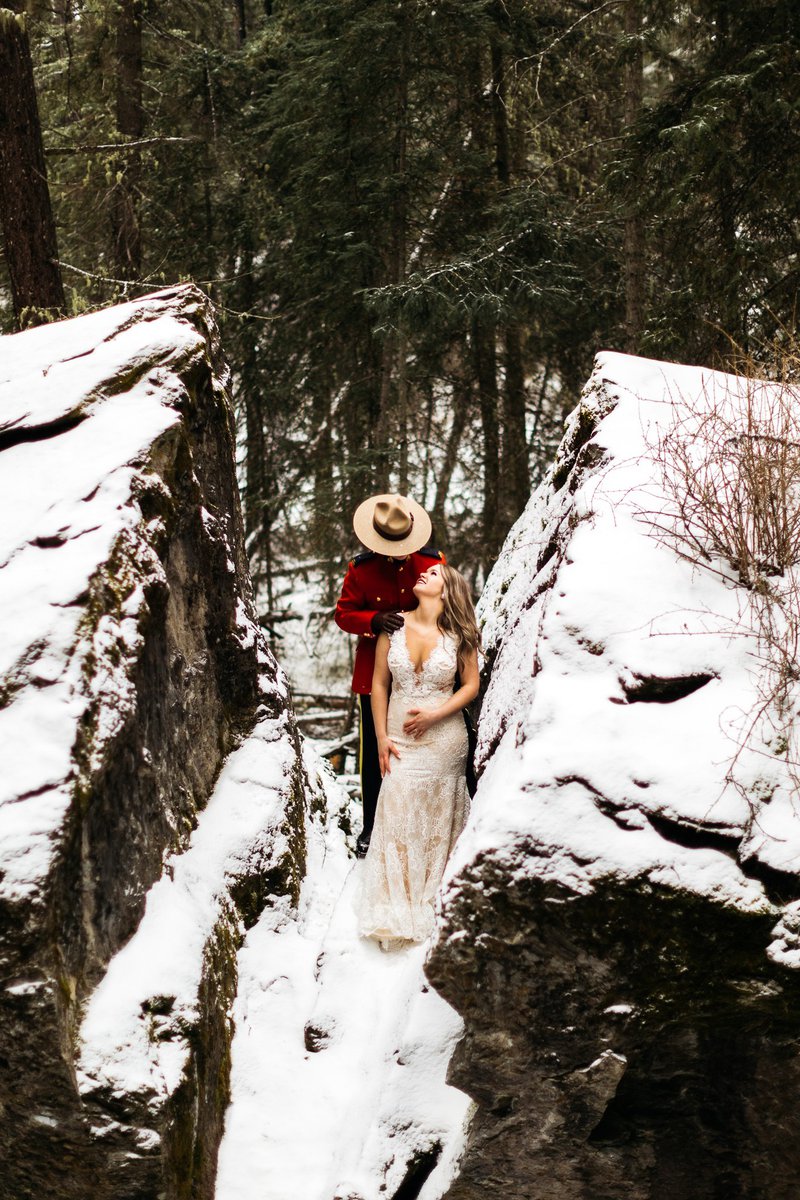 The Couple
Chelsie and Nicole met online five years ago in New Brunswick while Nicole was in the military and Chelsie was working in healthcare. "Tinder has some happy stories!" Chelsie says with a laugh. They became a pair pretty quickly.
"Nicole is the kindest, most understanding person I think I have ever met. She is extremely supportive, and will always pump me up for stuff, whether it's work or whatever, and I try to do the same for her. I don't really know how to put it into words. We've been each other's rock."
The Proposal
"I had no idea it was coming," Chelsie says. They hadn't seen each other for a few months because Nicole was away in training, but during one trip home they were watching a movie and Nicole's phone pinged, and Nicole acted fast. "She panicked and flipped over her phone! We've never been suspicious of each other during our entire relationship. I was like 'you're being so weird.' We talked about it, she tried so hard to lie. And eventually I was like 'whatever.'"
Later, after a party, Nicole said "I got you a Kinder surprise." As a chocolate lover, Chelsie assumed it was going to be an early Valentine's Day gift since they weren't going to be together for the occasion. She opened the Kinder surprise and found a note with Nicole's chicken scratch writing inside along with a beautiful engagement ring.
"I saw the word marry, and froze. I didn't think it was real."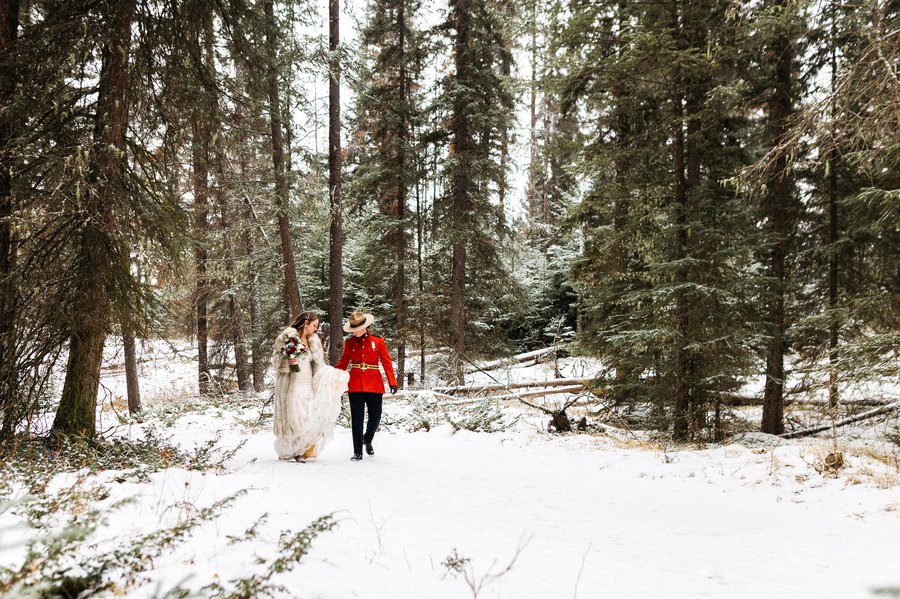 The Day
Once they'd decided on Jasper (a favourite destination, and where they camp every summer) Chelsie got to researching. She'd reached out to a few places when someone recommended Jordan to her. At that point, they were just eager to actually get married. After so much upheaval, they didn't want to deal with the planning part. "I reached out to Jordan and he contacted me right away. He gave me a lot of information about what's available and what they do and pricing and gave ideas and options for our budget. Honestly he was amazing, and I don't know how we would have done it without him."
They settled on the Fairmont Jasper Park Lodge. The luxurious cabin-style property had a cozy, romantic feel, and top-notch COVID-19 protocols in place. With just parents invited and a zoom link planned, everything seemed to be good to go.
Two weeks before the wedding, a new lockdown was announced. "Our hair and make-up appointments were cancelled, the meals were cancelled, everything was shutting down again. Jordan called and left the decision to us of whether to go ahead or not." They decided to proceed, with regulation-abiding changes.



"I'm pretty good with hair and make-up so I did it for both of us. I was super stressed out, but Jordan was amazing start to finish." On the wedding day, it was a surprisingly mild –3 Celsius and they were married outdoors on the Sun Deck, overlooking Lac Beauvert. Their dogs were along for the ride, something that wouldn't have been possible in Mexico. Jordan secured a mirror and stand to set up in the woods, making for some stunningly unique wedding photographs. They ordered a take-out dinner from the Inn Grill, which Jordan delivered for them to enjoy privately in their room. "Jordan took care of literally everything."
"I wouldn't change anything now," Chelsie says of the experience, although she'd still like to eventually head south for a warm vacation.
If they'd gotten married in Mexico, Chelsie says that Nicole probably would have worn a dress instead of her Red Serge. The uniform became a special part of the day, representing the couple's pride for Nicole's work in the RCMP and offering up a beautiful contrast against the snow (not to mention warmth).
Chelsie says they were so touched by how everyone worked together to help make the day possible and safe. "Jordan coordinated everything to help us. We couldn't be more grateful. He was just so calm."
The lead-up was a lot of stress, but ended up being a perfect day.