Take a page out of the United Nations' playbook and mountain-pose your way into a rejuvenating weekend.
"I think the world as a whole can benefit from more yoga," says Jenna McGrath, owner and operator of Jasper Wellness.
The United Nations agrees. They declared June 21 as International Yoga Day in the hopes of raising awareness worldwide of the many benefits of practicing yoga.
Ever since Jasper Wellness opened its doors in 2016, McGrath has strived to create a welcoming and accessible home for yoga within our Rocky Mountain community, and luckily it's never been easier for both locals and visitors to give the practice a try.
Daily drop-in classes offer flexibility and variety. With time slots from 6:30 a.m. to 9:15 p.m., and both traditional hatha yoga and flowy vinyasa yoga styles, this summer is the perfect time to develop your yogic practice. See the schedule here.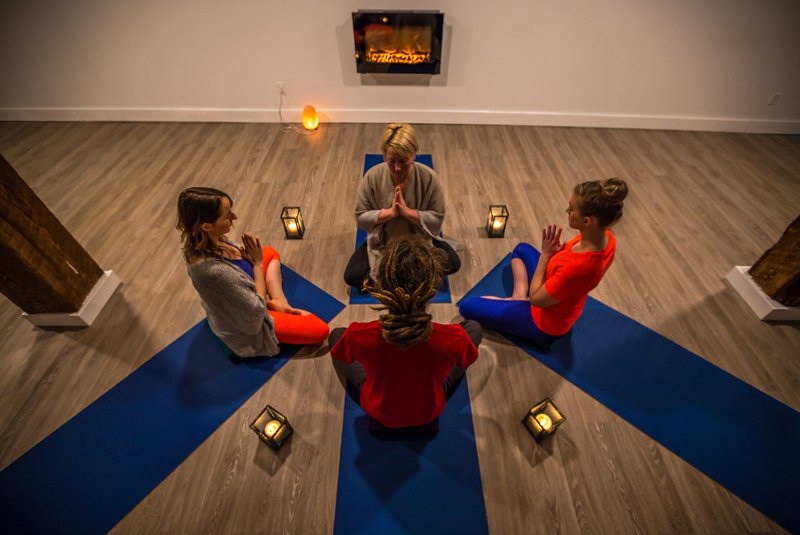 "Yoga fits really well into Jasper because of the connection and the unity that's already so strongly rooted in this community,"
Jenna McGrath, owner and operator of Jasper Wellness.
Yoga also fits nicely alongside some of the more extreme physical pursuits common in the park. Tight from a day of hiking mountains? Stretch and lengthen your muscles with a sunrise salutation while reflecting on the beautiful, natural environment in which you find yourself immersed.
Private group bookings, corporate and/or custom yoga sessions, yoga parties and one-on-one sessions are available upon request, and there are various opportunities throughout the year for yoga retreats and getaways. In addition to yoga, Jasper Wellness offers massage therapy and doula services.
Yoga is an ancient physical, mental and spiritual practice that originated in India. The word 'yoga' derives from Sanskrit and means to join or to unite, symbolizing the union of body and consciousness. Today it is practiced in various forms around the world and continues to grow in popularity.