Looking for the best skiing spots in the Rockies, for either cross-country or downhill? Need to find some rentals? This is your guide to finding and shwooshing across Jasper's best winter trails.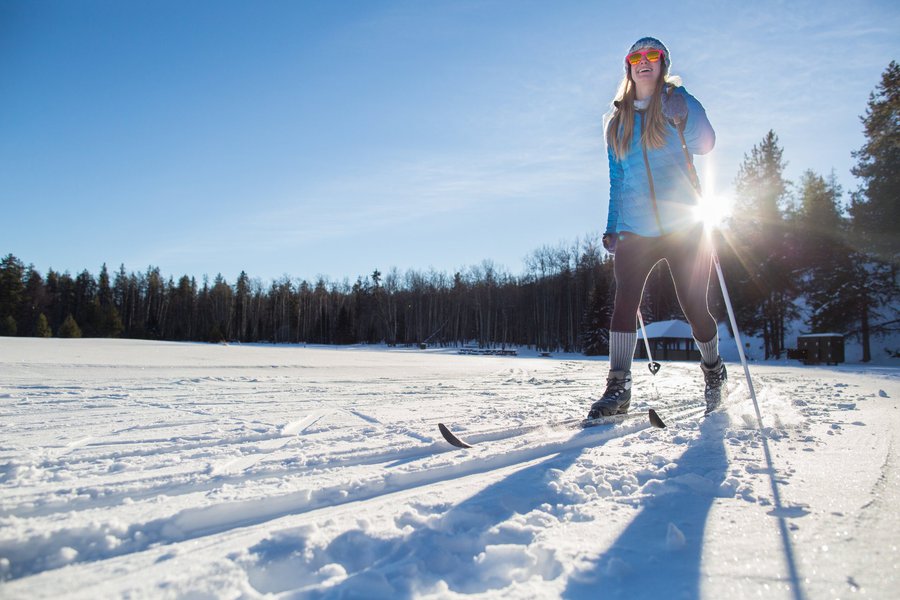 It's been a way to exercise, a method of transportation, and a source of joy. Skiing comes in many forms—cross-country skiing, downhill skiing, and backcountry skiing—and there's ways to experience all three in Jasper National Park. Each requires a slightly different set of skills, so if you're new then a guided excursion or lesson might be a good idea. If you don't have your own gear then there's multiple places to rent skis, boots and poles around town, and you can likely pick up some good tips from those local experts!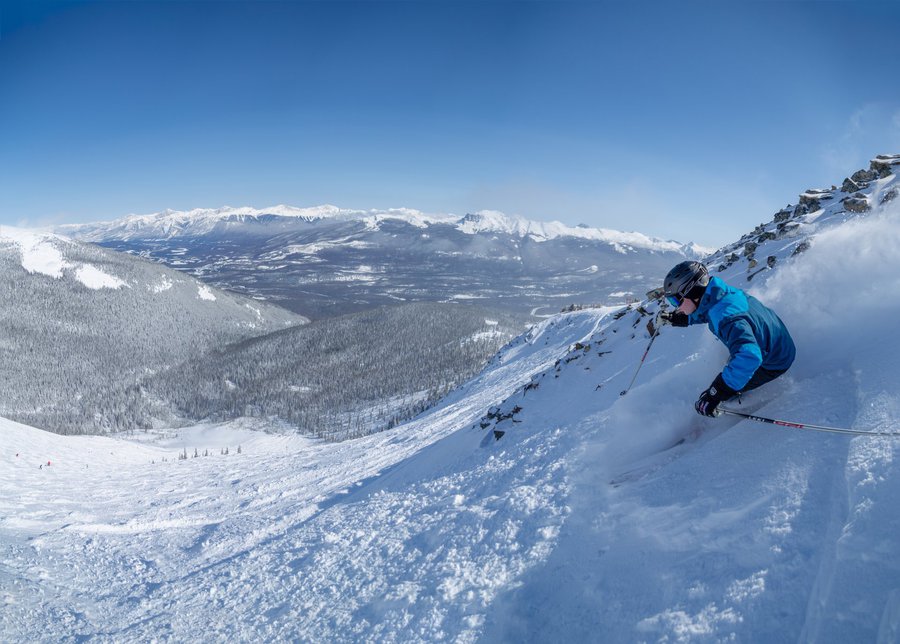 Downhill Skiing (and snowboarding)
If you've got a need for speed but don't have avalanche training (or just want to have convenience and extra services as a part of your day) then Marmot Basin ski resort is the place to go. With nearly a hundred runs that are split fairly evenly between beginner, intermediate and expert skill levels, fast lifts with virtually no line-ups, and multiple places on the hill to take a breather, grab a bite and relax before the next zoom.
Learn more about Marmot Basin here, and don't miss their great deals on lift tickets during the Jasper in January festival, happening Jan. 14 to 30.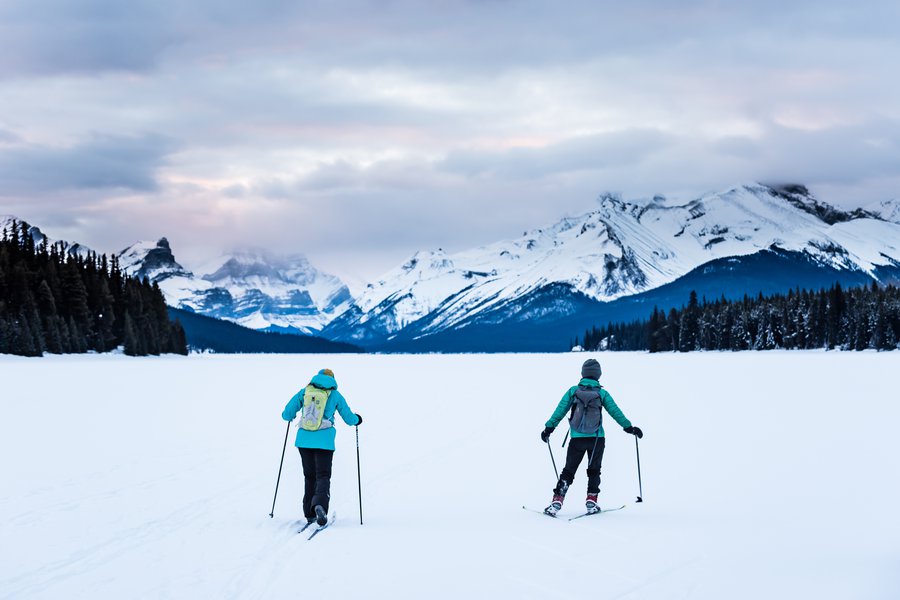 Cross-country skiing
Downhill's slower-paced cousin, cross-country skiing can be either a relaxing exploration of the countryside or an exhilarating zip through some of Jasper's more rolling terrain. Here's the best places around the national park to ski.
Groomed trail locations
Parks Canada maintains groomed cross-country ski trails in the following areas:
Un-groomed ski areas
Although Parks Canada doesn't lay down specific cross-country ski tracks in these locations, they are still popular places to ski and will usually have informal tracks set and followed by everyone who travels the route. Remember that if the route is on a lake, to ensure that the ice is deep enough.
Summit Lakes / Jacques Lake

Following along a mountain-lined valley, this trail is mostly flat and culminates in a scenic opening. If going to the second Summit Lake, be aware that the trail passes briefly by an avalanche fall line; learn more about avalanche safety and ice safety at Summit Lakes.

Hidden Cove

Explore the spectacular views along the wintery shoreline of Maligne Lake. Hidden Cove makes a great destination at 3.5 km. Interested in spending the night? Call 1-877-737-3783 or visit reservation.pc.gc.ca. Be safe while travelling on ice. You can learn more about ice safety here.

Pyramid Bench

Pyramid Bench has a wide variety of summer trails ready for you to explore in the snow. Trail 15 is flat packed, or make your own tracks on the many other trails. If your aspirations are to go up onto the bench though, keep in mind that snowshoes might be a better bet as it can get steep in parts.

Big Bend

Starting at Sunwapta Falls, this wide, forested trail winds through the upper Athabasca Valley toward panoramic peak and river views. Big Bend campground is a great place to try winter camping.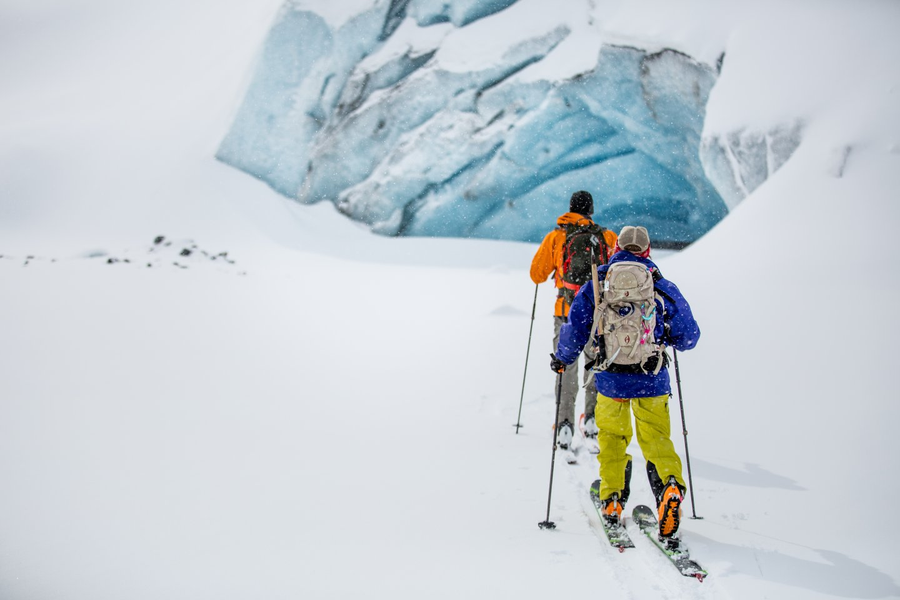 Backcountry skiing
For the trained and ready, backcountry touring is another way to explore Jasper National Park on skis. Note that select areas are closed during certain periods to protect local endangered caribou populations. For rental equipment, guiding inquiries and more, reach out to Rockaboo Mountain Adventures and Marmot Basin ski resort.