About the author: Hi beautiful people! My name is Leslie Bangamba and I am mom to the A-team, a child safety advocate, digital content creator, and documentary producer. I entered this space in 2020 after a traumatic near life-ending incident involving my then 18-month old daughter Amélie as a means to find purpose after trauma and showcase my family living our best lives while navigating medical challenges. If you would like to follow along on our family's journey and funny antics you can follow me @lesliebangamba on Instagram, lesliebangamba on Facebook, or visit my blog www.lesliebangamba.com
───────────────────────────────────────────────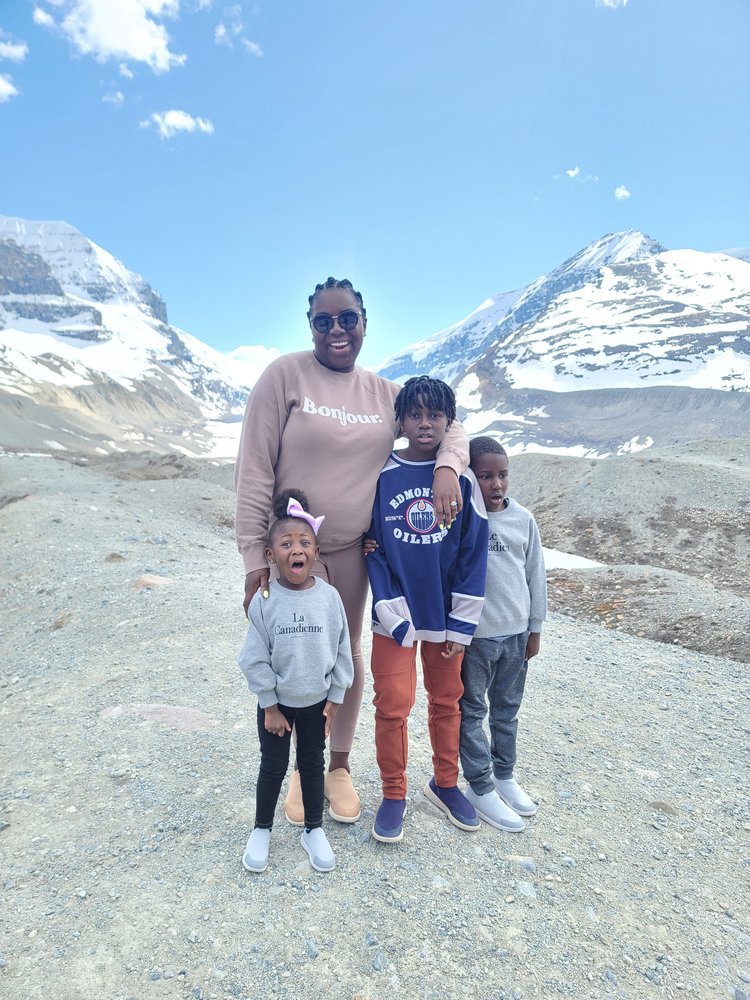 If there is anything the pandemic has taught me is the importance of exploring your own backyard. I can fully admit that up until 2019 I had never thought to explore the Canadian Rockies, and now that I've been a handful of times. It's a destination I want to visit time and time again because no experience is ever the same.
Early June, I packed the family up for a three day, and two night adventure to explore Jasper National Park! As we reside in Red Deer, AB we took the back road via HWY 11W to commence the mountainous scenery early. We stopped at Abraham Lake to enjoy lunch. I had pre-packed and had the surprise of seeing baby mountain goats with their mother (we ensured we were a safe distance away so as to not disturb the wildlife). Please read here on wildlife safety. Once everyone's belly was full we proceeded on and made our way to Jasper National Park.
Our second stop was at the Columbia Icefield. It's always a beautiful sight to see, have lunch, restroom breaks, or just a great place to do an easy walk!
.
Fun Fact: Did you know the Columbia Icefield is the largest ice field in the Canadian Rockies and is the largest south of the Arctic Circle.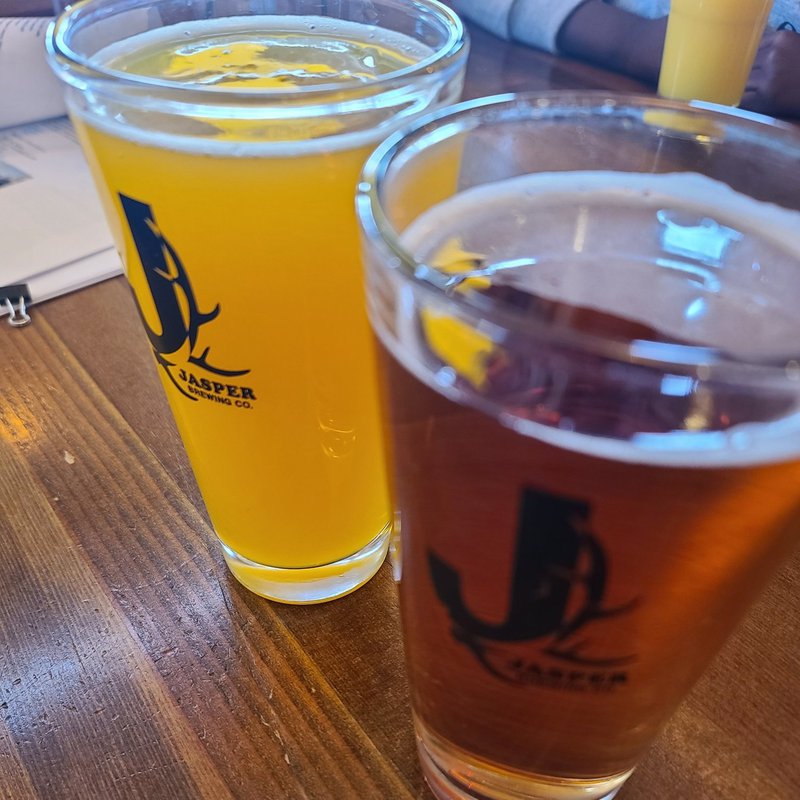 Once the A-team released some energy we continued onward! Once we arrived at our hotel The Jasper Inn & Suites we unpacked, and freshened up for dinner at Jasper Brewing Company! Now I must disclose I have NEVER been a fan of beer, however after trying their different brews on tap that are made with glacial water from Jasper. I am converted! My favourite flavours are Babe Blueberry Vanilla Ale and Babe Tangerine Ale! We definitely purchased some to go. The day had been long so we returned to our hotel room to rest and prepare for a busy day of activities for day two.
Day 2
We woke up bright and early! I made a hearty breakfast for the A-team in our hotel room as the Jasper Inn & Suites has a fully functioning kitchen in our two bedroom family suite. I stole a moment to myself and treated myself to breakfast at Silverwater Grill & Lounge which is located inside Chateau Jasper. It's buffet style and provides many dietary options. Once I returned, we packed our water bottles and snacks and were off to our 1st activity which was the Jasper SkyTram!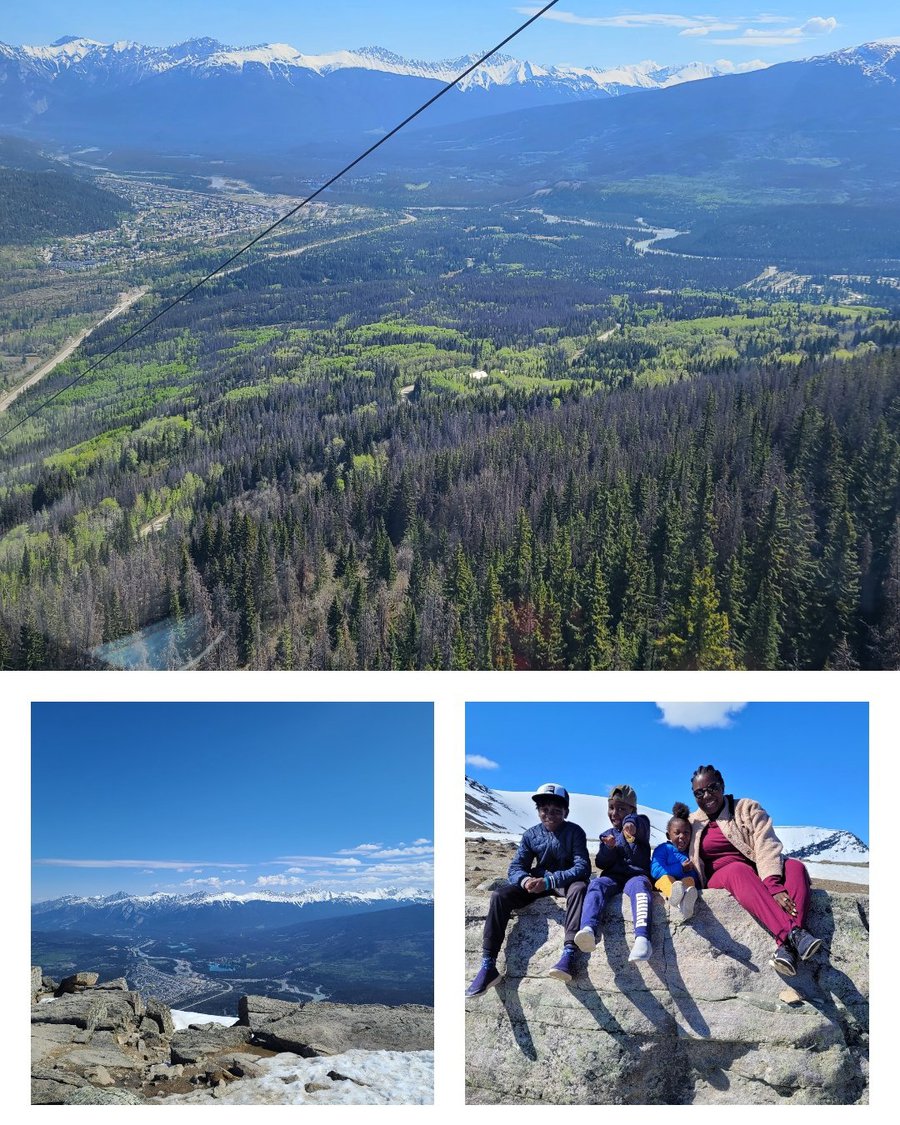 For those who may not know I have a terrible fear of heights, however ever since my daughter's incident. I've made a promise to myself to challenge my fears head on (even if I squeal the entire time) - Frankly I will let the pictures do the talking here. Once I reached the top the air is so fresh and calming, the views are breath taking, and watching my children explore gave me the courage to want to explore with them.
Once we arrived at the top the views were breathtaking. You are at a 2263 metres altitude. We did a short hike and almost reached the summit, but Amélie was starting to show signs of hunger so we proceeded to head to lunch at Maligne Canyon Wilderness Kitchen! It's situated within a natural landmark and a wonderful place to refuel.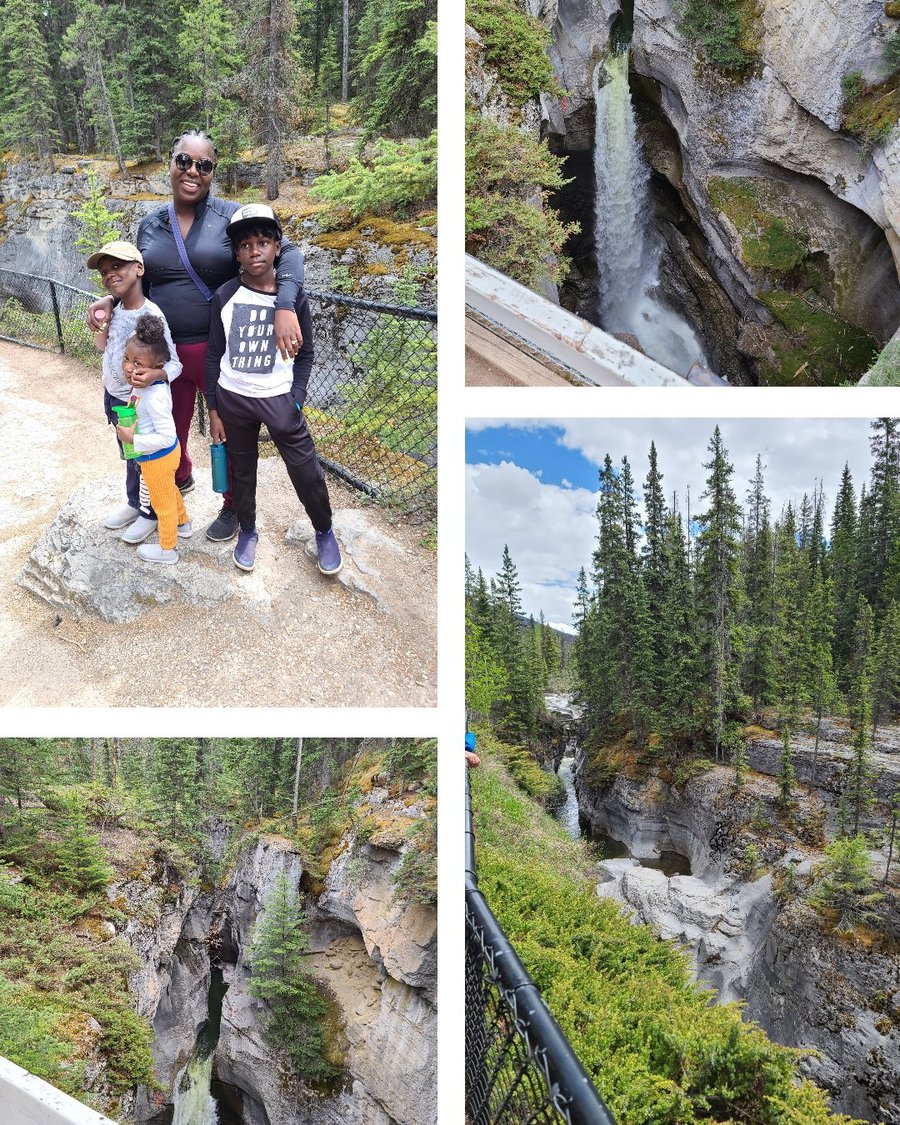 Once we had lunch, we did a self-guided hike (staying on trail) of Maligne Canyon! An FYI - Maligne Canyon is the deepest canyon in Jasper National Park with a depth of more than 50 metres at certain points. It's a hike for all hiking abilities. Once we completed our hike, we headed back to our hotel to let the A-team rest a little before our third excursion of the day.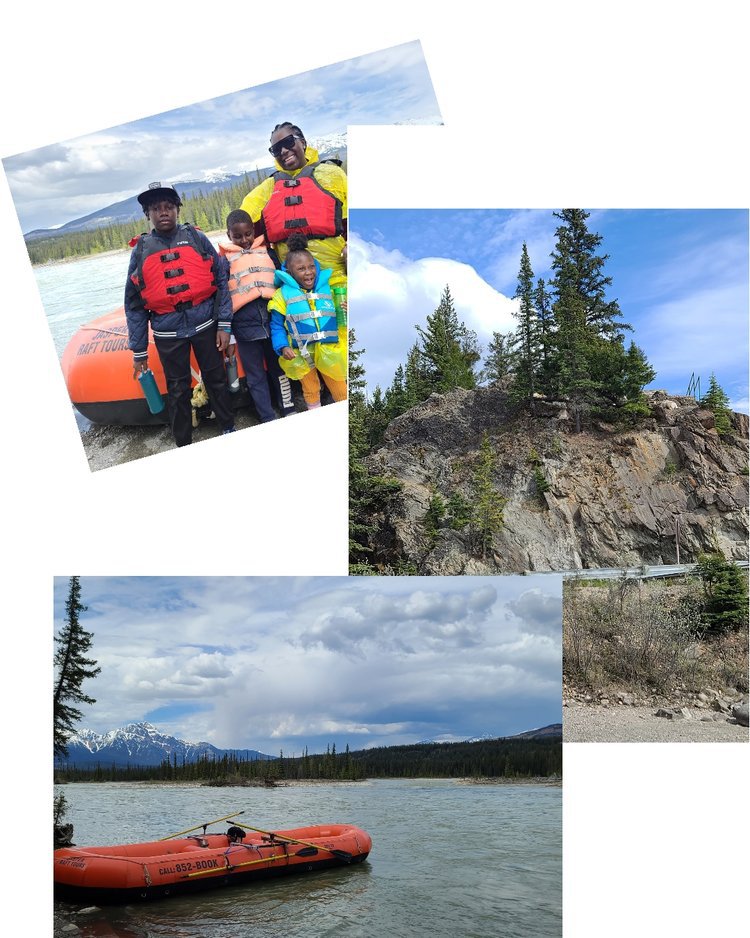 Our last activity of the day was RAFTING with Jasper Raft Tours and it was such a treat to see the excitement on the A-team's face. This is a guided tour on the Athabasca River, and so much knowledge and history was shared. This trip is designed for the whole family, from toddlers to seniors aged 2 up to 99 years of age are welcome.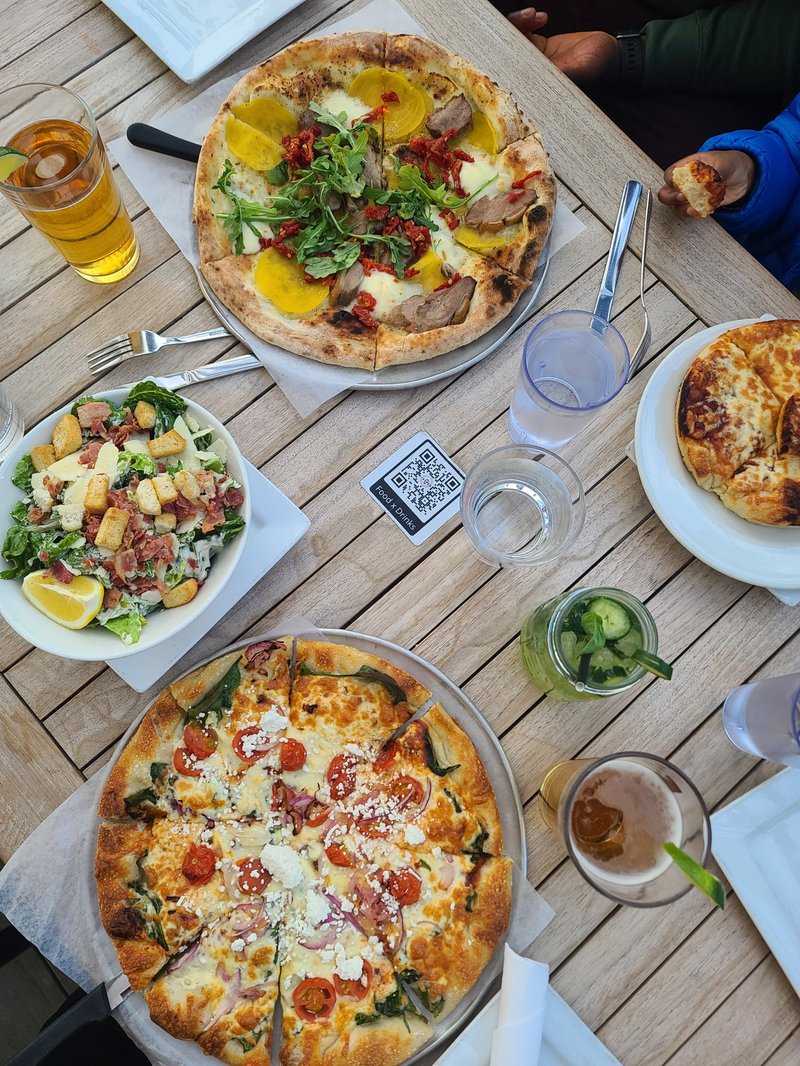 It's safe to say after the day we had, we were all hungry! We headed to Jasper Pizza Place for their famous wood burning pizza. I tasted why they are considered the best pizzeria in Jasper! While enjoying dinner we sat on their newly renovated roof-top patio which provides 360 views of the mountains. Definitely a wonderful way to cap off the day.
Day 3
We had a slower paced morning and had made breakfast in our hotel room while listening to the A-team recount the past two days. The boys absoloutely loved rafting, while Amélie's responses varied (she's three years old for reference ha-ha). Once packed we made a stop at Crazy Elk Cafe which is located inside the Lobstick Lodge. We got some Starbucks Fuel for the road and some grab-and-go snacks for the journey home!
I truly hope sharing our experience inspires you to venture to Jasper National Park! It's truly a park like no other and a bucket list experience! It truly has something for everyone whether you're travelling solo, as a couple, a family, or large group! Please visit Jasper Tourism to plan your next get away! I am always available to answer any questions you may have about our stay at @lesliebangamba
Until next time!