About the author: Andrew Penner is a freelance journalist based in Calgary, Alberta.
───────────────────────────────────────────────
I was halfway up the frozen waterfall when I met another ice climber. She seemed happy. She had summitted and was now gently being lowered to the canyon floor by her competent belay partner. Meanwhile, I was huffing and puffing and struggling to make progress, fighting gravity all the way. (Too many Twinkies in my youth.) "Hey, what's up? Fancy meeting you here." I said, desperately clinging to the ice like some sort of wannabe Spiderman who was on the verge of badly failing his Superhero 101 class. "Got any tips?"
My climbing acquaintance looked at me, somewhat empathetically, and said, half-smiling, "Don't look down? Would that work? Maybe think of the delicious beer you're going to have when your climb is over. How about that?"
Instantly my mind was transported to the cozy confines of Jasper Brewing, to the tasty Trail Session IPA I had the day before, and my hope for humanity, specifically me, was restored. "Yes, thank you." I said. "I will now make it to the top, thank you very, very much."
Not going to lie: ice climbing challenged me, a raw beginner to the sport. However, when you're on a fully-guided tour with Rockaboo Mountain Adventures, the experience becomes an amazing adventure that will be etched in your memory bank for decades. And, with many of their 6-hour beginner tours set in the ice-coated confines of Maligne Canyon (one of the deepest and most spectacular slot canyons in the Canadian Rockies), this tour easily reaches "bucket list" status. (And, yes, I did make it to the top. And, in spite of the challenge, I loved every second of it.)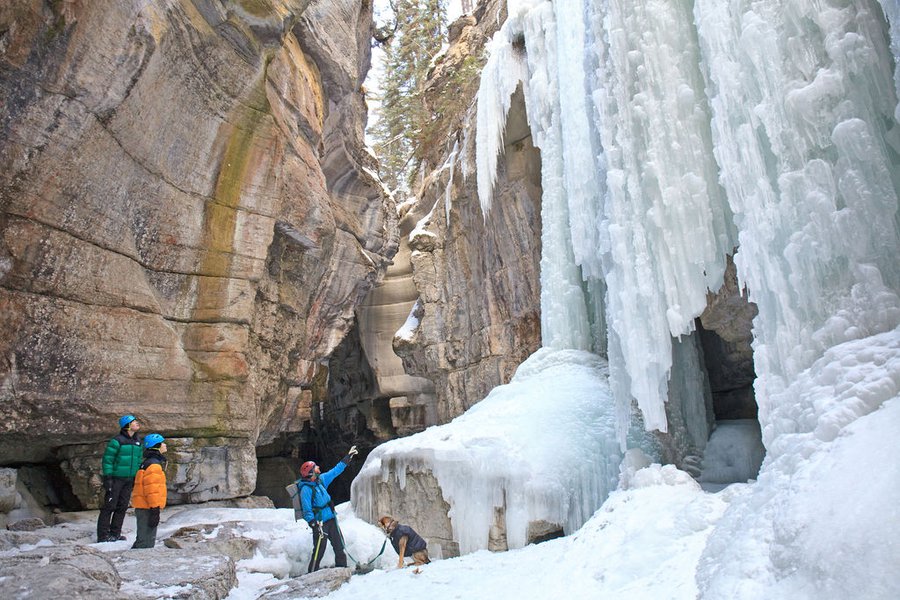 But Jasper, as I found out on my recent trip, is not short on activities that belong in the "bucket list" category. Fat biking along the Athabasca River (with Journey Bike Guides) and alpine skiing at Marmot Basin are just two other examples.
Interestingly, as a traveller and a die-hard downhill skier, I've been fortunate to carve turns at most of the major ski resorts in Western Canada. And, personally, I count Marmot Basin as one of the best family-friendly ski resorts I've ever visited. Why? The snow is awesome, the terrain is beautiful and user-friendly, and there are green, blue, and black runs that descend off basically every chair. This means people of different abilities can all ski off the same chairlift and have an awesome run that fits their skill level. You just meet at the bottom and do it all over again!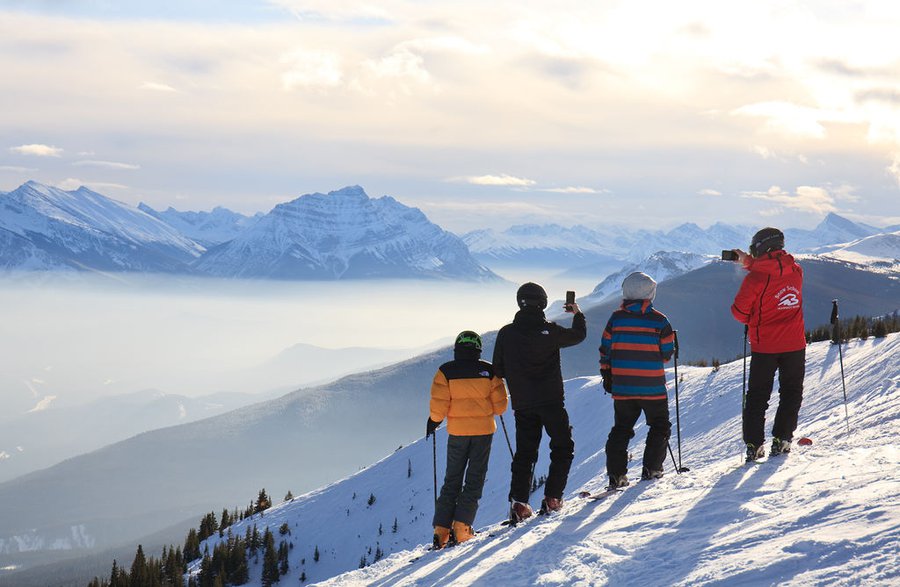 Unquestionably - regardless if you're skiing, fat biking, ice-climbing, snow-shoeing, hiking, or you name it - exploring the historic Jasper townsite after your adventures is a must. With numerous watering holes, cafes, restaurants, souvenir shops, clothing outlets, locally-made crafts, and artisan galleries, it will take numerous visits to appreciate all of the opportunities.
On our recent visit, Jasper Brewing (I paired my IPA with their outstanding elk meatloaf) was definitely a highlight. But we also visited two other notable restaurants - Jasper Pizza Place (a local institution) and Terra (locally farmed and foraged fare) - and they did not disappoint.
And, lastly, the accommodation options (we stayed in the brand new wing at the newly renovated Forest Park Hotel) are plentiful in Jasper. From youth hostels to the sprawling Fairmont Jasper Park Lodge, you can find accommodation to fit almost any budget in Jasper.
Of course, where you stay on your Jasper journey is probably not going to be as important as the places you go and the people you meet. And no doubt you'll encounter many friendly locals along the way. You may even meet a few while clinging precariously from an icewall.