When it comes to outdoor cooking, Estelle Blanchette doesn't mess around. The rock climber and longtime local started Jasper Food Tours a few years ago and when she's not winning awards for the company, there's a decent chance she's in her kitchen innovating some new way to eat great food in the wilderness. Some of those recipe innovations wind up in her Peak-Nic tour, which takes participants on a short hike to a panoramic lookout for a backcountry cooking lesson.
Blanchette kindly shared one of those recipes to kick off our new monthly Recipes from Jasper series. Get inspired by Jasper's amazing chefs and taste the mountains right in your own kitchen.
For her culinary contribution, Blanchette opted for a dish that most wouldn't assume was even a realistic option for backcountry travel. Their surprise is warranted; most backpacking meal plans involve either a pre-manufactured just-add-water slurry or many PB & J sandwiches. Instead, Blanchette is out there making cheese from scratch.
Here's how she does it.



Paneer Mahkni on Basmati Rice and Naan
By Estelle Blanchette of Jasper Food Tours
This is hands down one of my favorite dishes to be enjoyed in the outdoors. Its spicy and warming and incredible served with fresh naan bread. While the cheese is simple to make, the yield is somewhat disappointing, so pick a trip at which the volume of food you bring is not as important. The dish can also be easily simplified by throwing in a handful of cashews instead of making paneer.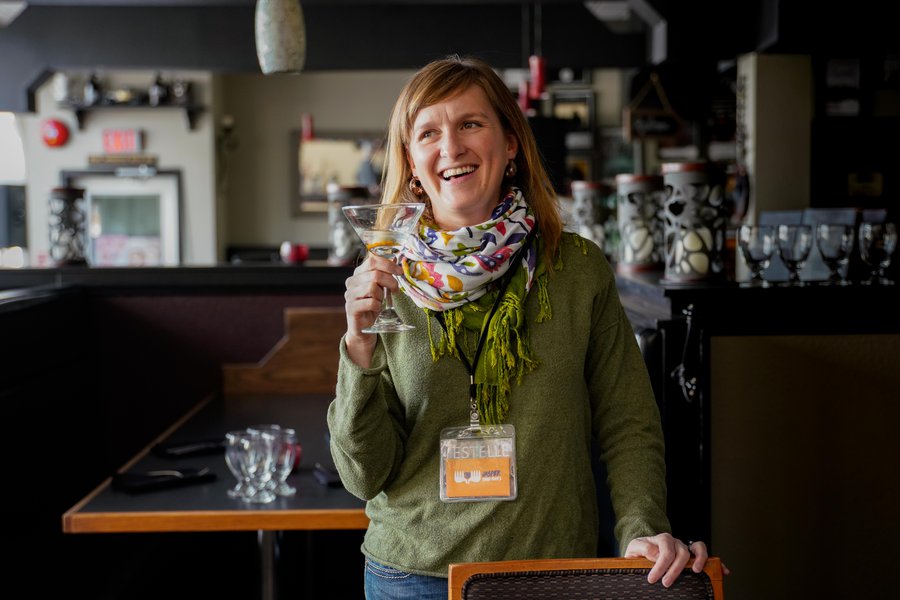 Ingredients
For the sauce
2 tablespoons of butter
4 garlic cloves, minced
1 medium yellow onion, minced
1 tablespoon of fresh grated ginger
1x14 ounce can of crushed tomatoes
1 cup of heavy cream
1 cup of cashew cream
1/2 teaspoon Garam Masala
1/4 teaspoon cayenne pepper
1/4 teaspoon of chili powder
1/4 teaspoon of ground cumin
1 teaspoon brown sugar
1 cup of vegetable stock (1/2 cube of stock)
For the rice
1/2 cup of basmati per person
4 whole cloves
Pinch of salt & pepper and dried basi (optional)
For the cheese
1 cup of skim milk powder
½ teaspoon of citric acid
At home:
Prepare the sauce (Yields to 4 cups of sauce for 4 people)
In a medium saucepan, melt the butter and add the onion, garlic and ginger. Cook 2-3 minute until soft. Stir in the garam masala, cayenne, chili powder and cumin powder and continue to cook 1 minute. Add the crushed tomatoed and vegetable stock simmer 2-3 minutes. Add the cream and the cashew cream and simmer on low heat another 10 minutes uncovered, stirring frequently.
Measure 1 cup of sauce per person and dehydrate 12-18 hours at 150 degrees. Enjoy the remaining of the sauce now or freeze the rest. Blend the dry sauce into a powder if you have one, this allows of the sauce to reconstitute quicker in the backcountry.
Package the sauce, the rice (1/2 cup per person), the milk and the citric acid each in separate bags. Its important to pack the milk in a heavier Ziploc bag as you will re-use it to make the cheese.
In the wilderness:
Make the cheese
Mix the citric acid to 2 tablespoons of water. Set aside.
In a pot large enough to hold a full litre of liquid, mix the milk powder with 1 litre of water. KEEP THE ZIPLOC BAG! Warm the milk on low heat until it barely simmers, stirring frequently and feeling the bottom of the pot to make sure that the milk is not burning.
As soon as it starts foaming up, remove from the heat and add the citric acid to the milk. Stir gently until curd forms and separate from the whey (30 seconds). Drain the whey in a grey water well then transfer the curd back into the Ziploc bag you used to pack the milk powder in. Poke several holes into the bag and twist the bag to drain the remaining water. Let cool 10 minutes until form.
In another pot, bring 1 cup per person of water to ½ cup of basmati rice to a boil. Simmer 10 minutes and remove from the heat. The rice will cook on its own while you prepare the sauce.
Reconstitute the Mahkni sauce
Add 2 cups of water to the dry sauce mix (for 2 people). Bring to a boil and simmer 5 minutes. Cube the cheese in 1-inch cubes and add to the sauce. Serve over rice