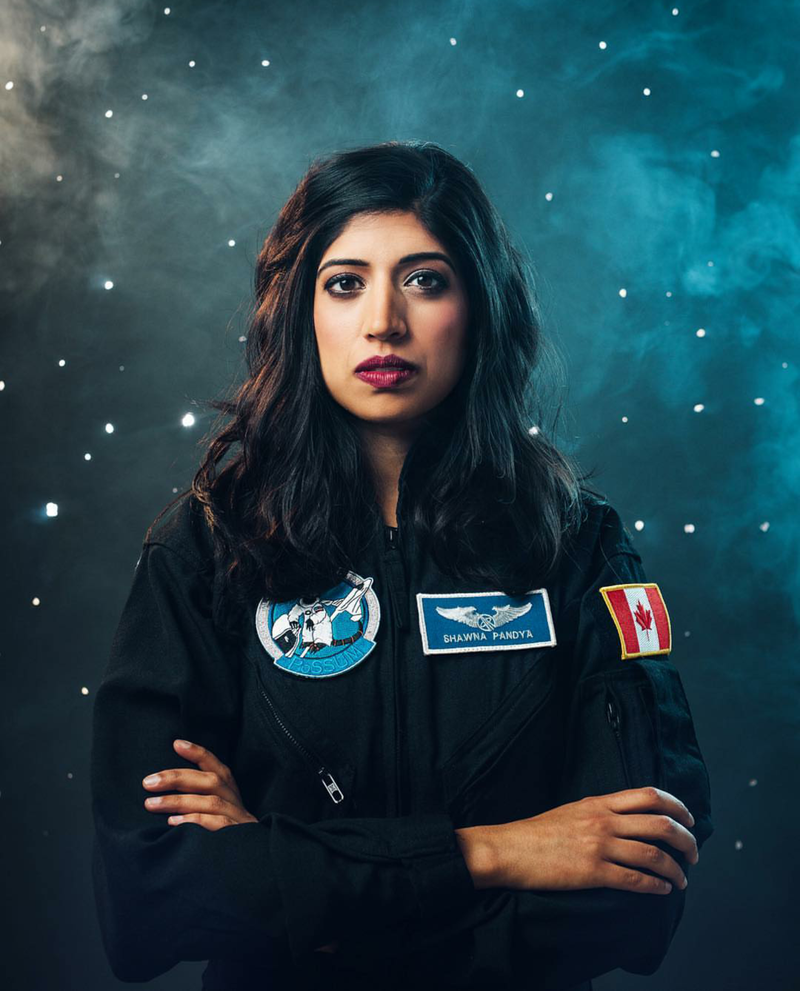 Dr. Shawna Pandya's resume is as long as it is diverse and impressive. She is a physician, scientist-astronaut candidate, speaker, martial artist and adventurer. She has tested commercial spacesuits in micro-gravity, researched medical operations that could be performed outside a spacecraft and published book chapters that span from psychosocial resilience in long-duration spaceflight to space medicine spin-offs that benefit terrestrial medicine.
When not keeping busy with the above, Pandya might be found engaging in some lighthearted extracurriculars: she holds an advanced solo sky-diving licence, numerous SCUBA diving certifications, a 2nd degree black belt in Taekwondo and is currently working toward her private pilot's licence.
See her talk by attending the perennial audience-favourite event, SpaceTalks on Oct. 26 at the Jasper Dark Sky Festival.
Here, she discusses the festival, Jasper's dark sky preserve, and why she's so passionate about space.
On the upcoming Jasper Dark Sky Festival
I am so excited to take part in the Jasper Dark Sky Festival. This event has been on my radar for years and to be able to not just attend but to be a speaker makes me over the moon with joy.
To have one of the world's foremost dark sky festivals in our backyard, to be a representative of Canada and mingle with the who's who of some of the foremost experts of space science, and to be able to share my own knowledge and experience... words can't describe how excited I am to a part of this.
On what people can expect from her talk
I am a physician by day and a scientist-astronaut candidate by night and one of my areas of passion is human exploration, space medicine and and how space affects the body and I'll be talking about that at the SpaceTalks session.
When people attend my presentation at the Jasper Dark Sky Festival, I hope they walk away saying "I didn't know that, I'm excited to learn more."
On being a woman in a STEM field
When I think about what it means to be a woman in STEM field, I try not to think about it because I'm driven by passion. But I know that there are others out there who may not feel the same and I want anyone to know, whether they're an underdog because of their gender or because of their ethnicity, you don't need to worry about it. Work really really hard and act like you belong here. Because you 100% belong here.
I've had a lifelong passion for STEM and have wanted to be an astronaut since I was a kid and to be alive in a day and age where space is becoming incredibly and increasingly accessible and democratized makes me feel incredibly lucky, and I'm working as incredibly hard as I can to make my dream of going to space a reality. 
Having had role models like Roberta Bondar, who was the first Canadian woman in space, I think it's important that if you want to travel the road less travelled, it's important to be a role model for those who may not think they can do it because they don't have that representation.
On the importance of dark sky preserves
The fact that we have a dark sky preserve in our very own backyard here in the Rockies in Alberta, and that we can share that dark sky with the public and teach them about astronomy and what it means to be a part of this universe and what we're continually finding out about our universe is incredible. To share the journey of discovery is one of the things I'm most looking forward to.
On why people should come to the Jasper Dark Sky Festival
A festival like the Jasper Dark Sky Festival is an incredible mark on the calendar, and an incredible event to celebrate because it brings scientists across all walks of space exploration—whether they're astrophysicists or astronomers, whether they're more interested in human exploration or space medicine—because it shows the world how much there is to space. It's not just space; there's space exploration, there's space transportation, there's astrobiology, there's planetary geology, and to have all those experts under one roof is pretty exciting and pretty incredible for the public.
If anyone has any type of interest in space, there's something for them to find at the Jasper Dark Sky Festival. 
Editor's note: This interview has been lightly edited for clarity and length.