Third time's the charm! Golf Digest recently released their third biennial ranking of the World's 100 Greatest Golf Courses, and the Fairmont Jasper Park Lodge golf course has been added to the list. This marks the latest in a longstanding spate of awards for the golf course, which is regularly rated as one of the best places to tee off in Canada and has been ranked as Canada's #1 Golf Resort by SCOREGolf Magazine from 1996 - 2016.
It's not hard to see why: the JPL golf course was designed by Canada's foremost master golf course architect of the 1920s, and even non-golfers can't help but be impressed by the course's majesty and Stanley Thompson's sheer brilliance of design.
"The routing has holes lined up with every prominent mountain peak in the distance"
Golf Digest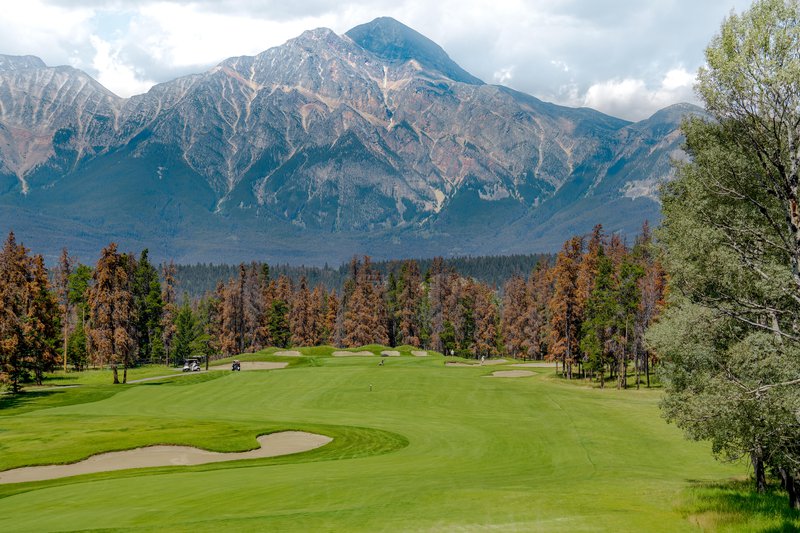 The 18-hole layout features elevated tee boxes, dramatic bunkering and holes that showcase the surrounding mountain vistas. The wide fairways carve through thick forest and follow the landscape's natural contours to create a course that is as challenging as it is scenic.
Golf Digest ranked the Fairmont Jasper Park Lodge Golf Course at #89 (above Banff's #99 ranking, because what's a bit of friendly competition between golf pals) and wrote the following about our renowned course:
"Jasper Park actually lies farther north than Stanley Thompson's other Alberta masterpiece, No. 99 Banff Springs, and is a perfect complement to it. The routing has holes lined up with every prominent mountain peak in the distance. Thompson's typical sprawling bunkers are everywhere, some staggered diagonally across lines of play, others on the margins of a hole, poking out from beneath tree lines. Built in 1925 by the hand labor of some 200 men, holes are carved through fir, aspen and silver birch trees, and rocks were piled and covered with earth to create greens like the one on the short par-3 15th, a shot so precarious it's like hitting to the back of a slumbering sea lion."
Quick facts about the JPL golf course:
Course Designer: Stanley Thompson
Holes: 18
Course par: 71
Length: 6,663 yards
Season: May - October
Other awards the JPL gold course has received
Ranked #3 Golf Course in Canada - SCOREGolf Magazine, 2016
Rated #5 Best You Can Play - Canadian Golf Magazine, 2016
Canada's #1 Golf Resort - SCOREGolf Magazine, 1996 - 2016
Canada's #1 Public Golf Course - SCOREGolf Magazine, 2013
Ranked #4 Golf Course in Canada - SCOREGolf Magazine, 2014
Canada's #1 Resort/Public Golf Course - The Globe and Mail, 2005
Rated 4.5 Stars - Golf Digest
Top 100 Golf Resorts in the World - Conde Naste Traveller
Ranked #4 for Best Service in Canada - SCOREGolf Magazine, 2006