From train travel to group tours, there may be times when you don't have access to a set of wheels to explore Jasper national park, but don't let this drive you crazy!
While this may be a challenge in other places, we have some good news: the town of Jasper is very compact and pedestrian-friendly, and there are plenty of ways to access attractions further afield in the surrounding park.
As the base of all adventure, Jasper provides ample opportunity to get out and experience the awe-inspiring surroundings. Ascend peaks, hike trails, navigate rivers and lakes, and more - with, or without your own vehicle.
Getting To Jasper
SunDog Tours
If you don't have access to a vehicle, SunDog Tours operates a shuttle between Jasper and Edmonton, as well as Jasper and Calgary.
Pursuit Jasper
Pursuit offers Travel from Calgary to Jasper on a deluxe motor coach.
Via Rail and Rocky Mountaineer
VIA Rail offers trips to Jasper from numerous Canadian cities, including Edmonton, Vancouver, Toronto, Winnipeg, Saskatoon and Prince Rupert. The luxurious Rocky Mountaineer is another fantastic way to ride the rails to Jasper!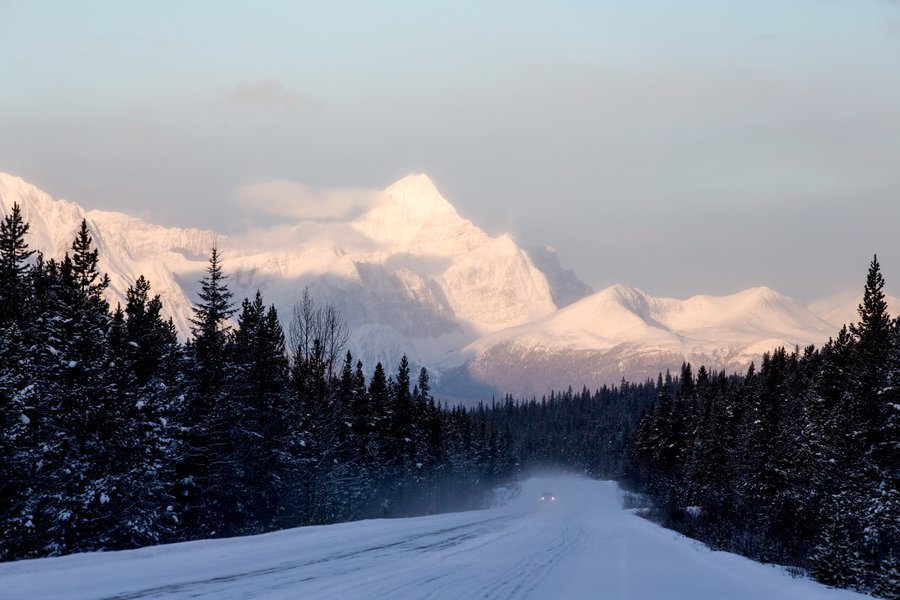 While You're in Jasper
Hike & bike
There are many hiking trail options available closer to town, such as the Valley of the Five Lakes loop (4.5 km), Pyramid Trail (5.2 km), or Old Fort Point (3.8 km). For more information on the trail systems in and around town, head to the Visitor Information Centre to pick up a guide.
While Old Fort is within walking distance, the other two hikes can be reached by bike.
Bike rentals are available at Bench Bike Shop and Fairmont Jasper Park Lodge Boathouse. Just be sure to lock up your bike and take any valuables with you before heading out on the trail!
If you're booking a guided hike through Canadian Skyline Adventures or Walks & Talks, transportation is included to and from the trail heads with your guide.


See the Sights
Many people come to see the renowned Spirit Island located on Maligne Lake, but how does one get to the lake located an hour and 15 minutes away, without a vehicle?
Easy: there's a shuttle that runs back and forth between Maligne Lake at a cost of $30/one way and $60/return. Tours are also offered by the operator, such as a guided walk, or the full tour which includes Maligne Canyon and Medicine Lake. Click here for more information.
Hoping to take your adventures to new heights via the Jasper Skytram? It's as easy as hopping on a shuttle from the Jasper Adventure Centre. Tickets can be purchased at the centre and departure times are listed in the window. Most hotels also offer regular shuttle service to and from the Jasper Skytram with the purchase of a ticket.
If rafting is on your itinerary, many of the available companies, such as Jasper Raft Tours, provide buses to take you out to the river entrance and back. The pick-up point is outside of the Tim Horton's located on Patricia Street.

Brewster also offers a mountain escape sightseeing tour that runs from May to August between Edmonton and Jasper. The experience includes interpretive commentary, historic sightseeing and iconic attractions, such as the Glacier Skywalk.
Alternative Transportation
There are also three different taxi companies available for hire around town: Mountain Express Taxi, Caribou Cabs and Mr. Taxi & Tours.
Alternatively, SunDog Tours offers private charters along with experienced guides to destinations of your choosing. Inquiries concerning private charter rates can be made by phoning SunDog Tours or by completing a request form on their website.
If you need to really go the distance, SunDog Tours also operates an airport shuttle between Jasper and Edmonton, as well as Jasper and Calgary.
But of course, if these activities and transportation services don't allow you to best capitalize on your time while in Jasper, there's always the option to rent a car in order to fully personalize your itinerary.
With many transportation options available to ensure you're able to maximize your Jasper experience, your next adventure in Jasper can be car(e)-free!