Welcome to the new and improved jasper.travel site. Feel free to make yourself at home.
"This website is hands-down one of the best destination travel websites in Canada"
James Jackson, Tourism Jasper's General Manager
With a home as jaw-dropping as Jasper National Park, your pals at Tourism Jasper recently decided to overhaul our website to make it (nearly) as stunning as the place it promotes.
But the newly launched jasper.travel isn't just pretty to look at—though these big, beautiful photographs do make it quite the looker—we've also brought in a bunch of fun and informative features that will make planning a trip to Jasper easier.
"This website is hands-down one of the best destination travel websites in Canada and I couldn't be prouder of the team for building our new digital home from scratch," says James Jackson, Tourism Jasper's general manager. "From developing full search functionality to seamless itinerary building, we placed the visitor at the center of every decision, creating a content-centric immersive digital experience."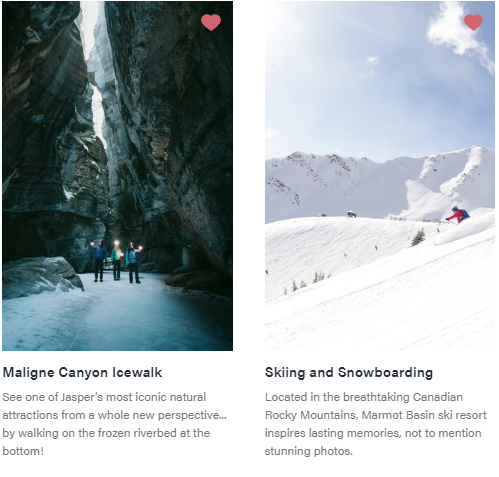 Trip planner
Regardless of what type of traveller you are (do you have the itinerary planned down to the hour or do you prefer a let's-see-what-the-wind-brings approach to adventure?) any trip to the mountains is well served by some groundwork research. As you peruse jasper.travel, keep your inspirations organized and save the experiences/accommodation/dining options that intrigue you by clicking the small heart in the upper right corner of the image. To see all your 'hearted' experiences in one place, go to the Trip Planner (where you'll also be able to see them plotted out on a map of the national park). Happy planning!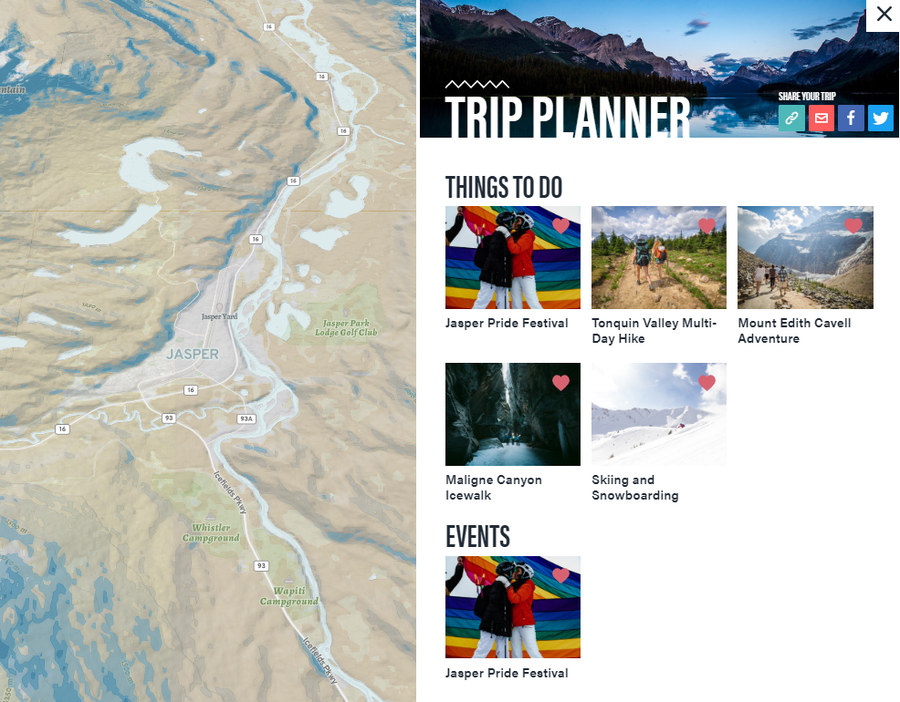 Easier navigation
Looking for a pet-friendly place to stay? Hungry for a restaurant perfect for families? The new jasper.travel site was designed with easier navigation so you can find what you're looking for, faster. And with better search capabilities, honing in on the information or inspiration you seek is even easier.
Content focused
Jasper inspires memorable stories, and so we've devoted more space on the new site to telling and celebrating those stories. Whether you're looking for trip inspiration, local intel, beautiful photography or engrossing video, grab a coffee, settle in and get ready to meet Jasper. Peruse beautiful photography by the people who've found their muse among the mountains, watch videos that immerse you in local experiences, and start dreaming of your next adventure.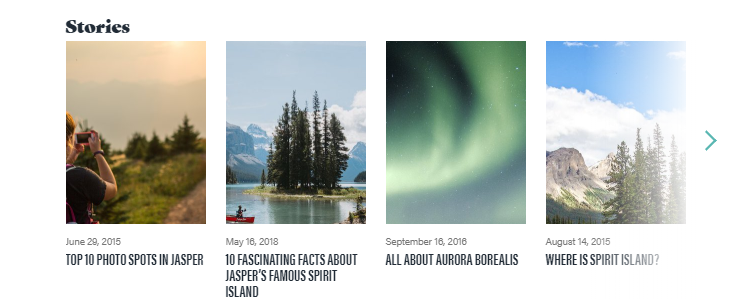 When your goal is to share one of the most beautiful places on earth with the rest of the world, then it kind of makes sense that your website should be a joy to look at too. With a heavy focus on big beautiful imagery and reader-friendly layouts, we hope you enjoy looking at the new website almost as much as the Rockies in real life. Though who are we kidding -- no picture can do them justice.