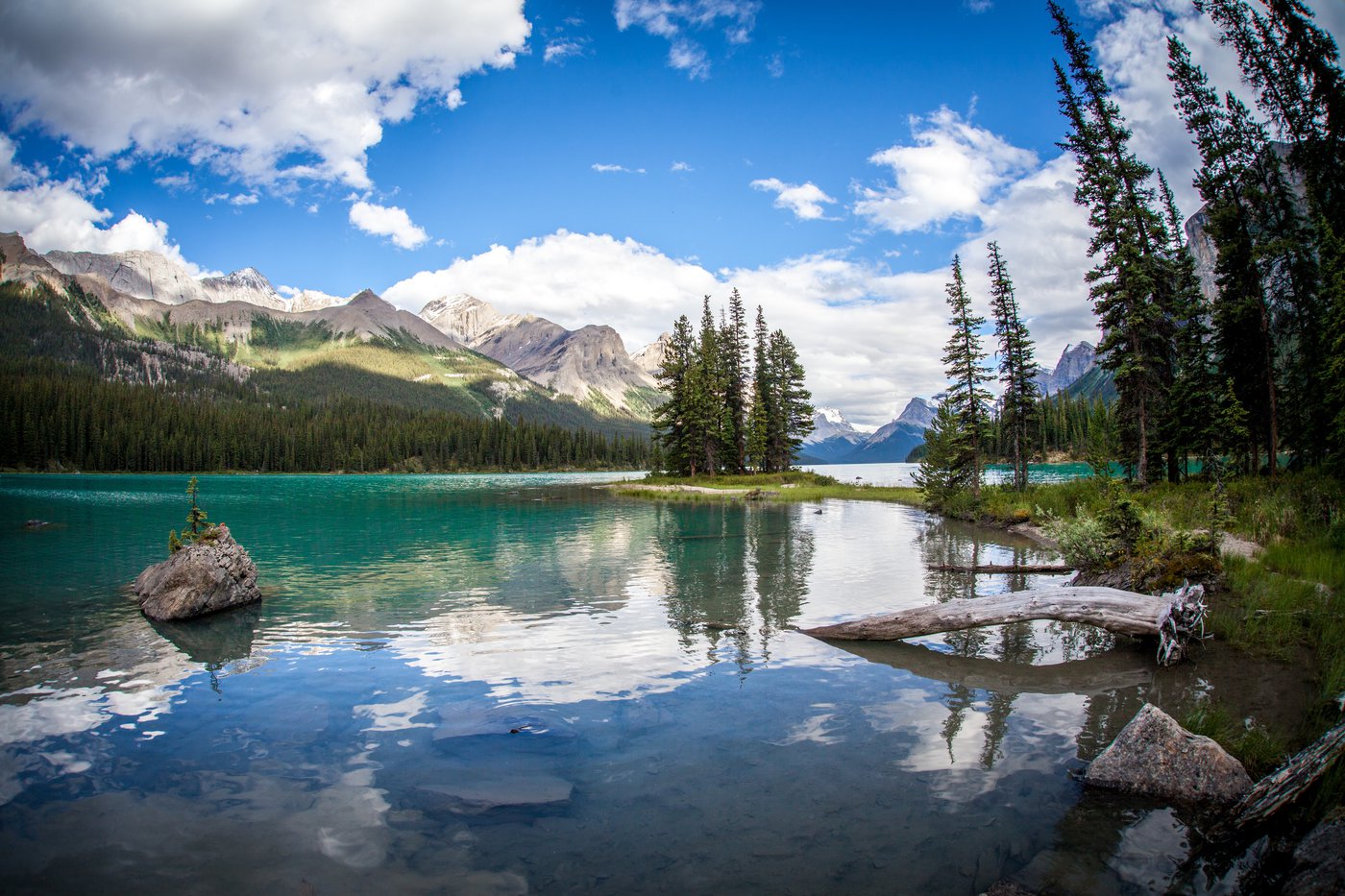 1

Maligne Lake And Spirit Island

Directions: 48 km south/east of Jasper. Take Hwy 16 towards Edmonton, then turn right on Maligne Lake Road.

Spirit Island is one of the most photographed locations in the world and is located on Maligne Lake in Jasper. Throughout the 1940's Peter Gales' image of Spirit Island hung in Kodak's Colorama showcase in New York City's Grand Central Station - people began travelling to Jasper just to see Spirit Island. Today, you can take boat tours (departing daily in the summer) with Pursuit Banff Jasper - they even have a special "Through the Lens" cruise designed for photographers. While any Maligne Lake photo is bound to be impressive, we recommend taking shots from the scenic dock area at sunset.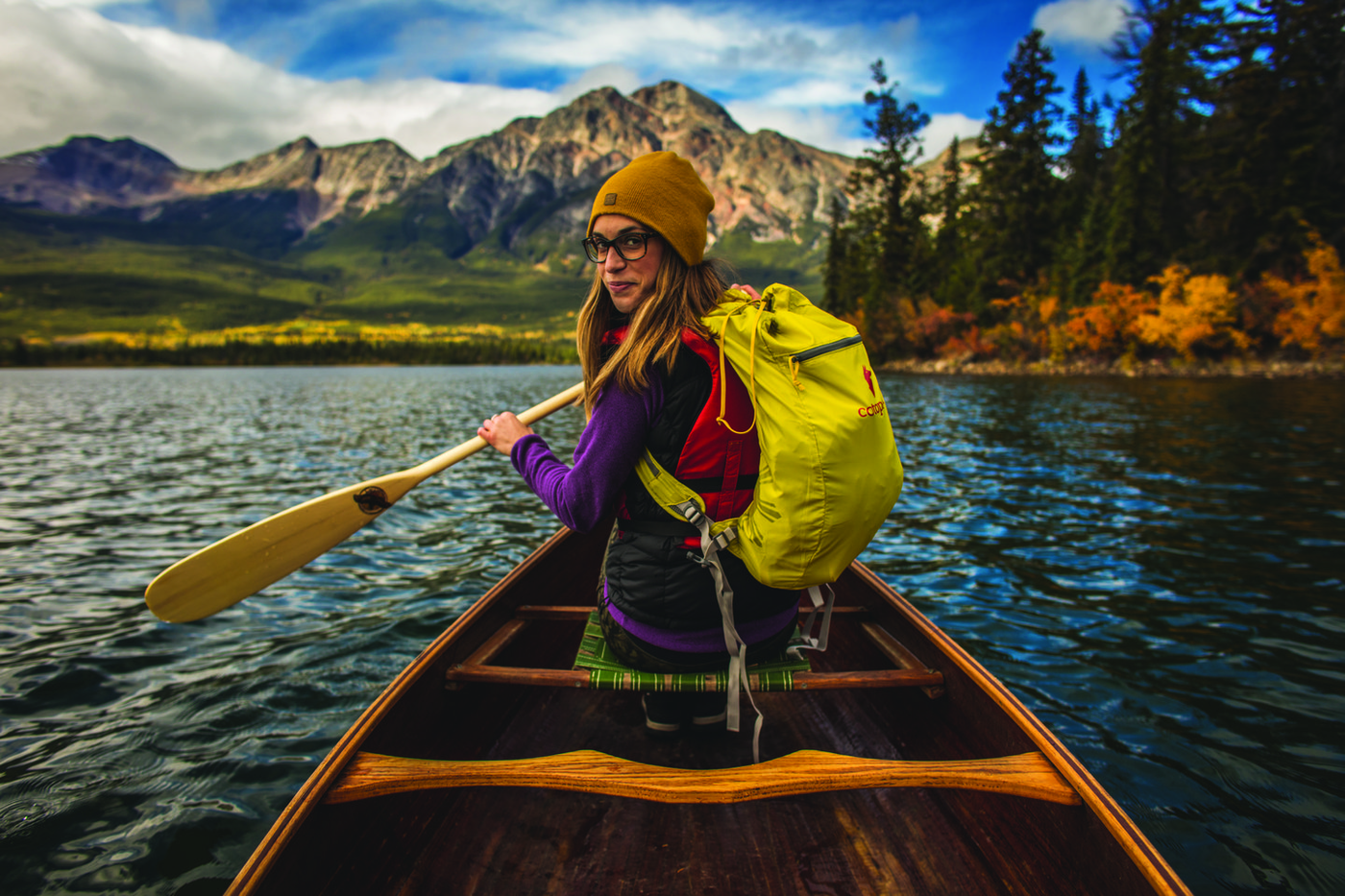 2

Pyramid Lake And Pyramid Island

Directions: 7 km North of Jasper townsite, 1 km past Pyramid Lake Resort.

Situated approximately five minutes from town, Pyramid Lake lies at the foot of Pyramid Mountain, an impressive triangle-shaped landmark overlooking the town of Jasper. Pyramid Lake Resort lies at the base of the lake as well as a scenic footbridge leading to Pyramid Island, a frequent destination for weddings and other ceremonies in the summer. In the winter, the frozen lake makes for excellent photo inspiration. Our tip? Visit in the early morning hours for the best shots. Enroute to Pyramid Lake, the picturesque Patricia Lake is also worth a stop-off.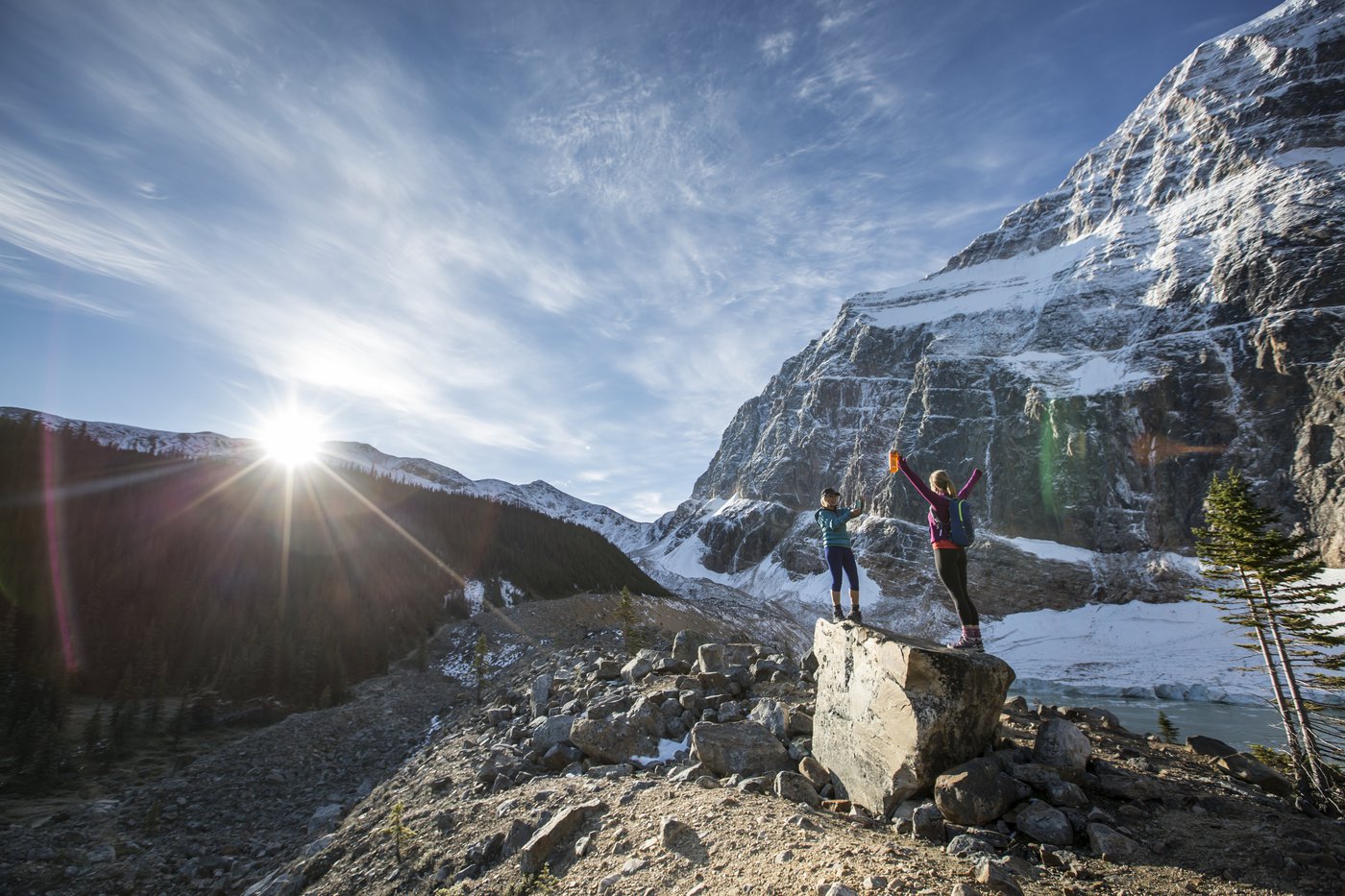 3

Cavell Meadows Trail

Directions: Cavell Lake from Tonquin Valley trail – park across from the Edith Cavell Hostel, and hike on trail down to bridge

Photographers in Jasper know that Cavell Meadows is a go-to spot for alpine beauty - anywhere along this trail would be considered photogenic. For starters, walk the short Path of the Glacier to point and shoot the striking Angel Glacier. If you're seeking alpine flowers and meadows, visit later in the summer season.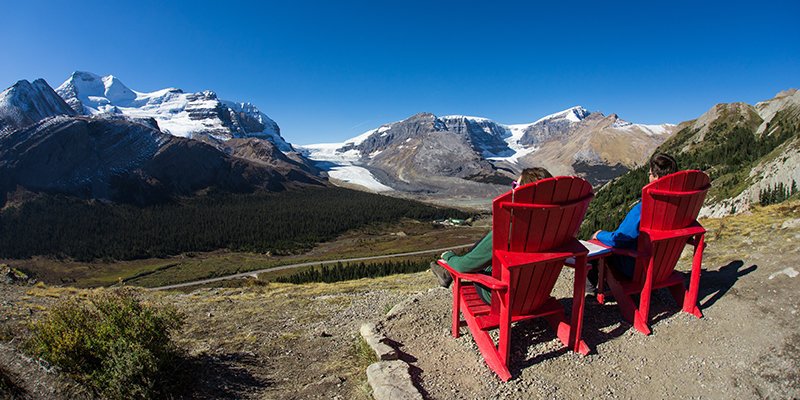 4

Wilcox Pass

Directions: 108 km south of Jasper, turn right into Wilcox Creek Campground

One of the many scenic areas near the Columbia Icefields, the Wilcox Pass hike offers stunning vistas without all the work. For enviable summer snapshots, embark on a 3-4 hour journey along a trail leading to a scenic lookout over the Athabasca Glacier. Wilcox Pass is also home to Parks Canada's Red Chairs, so you can take a seat (and a fun photo) after your adventure.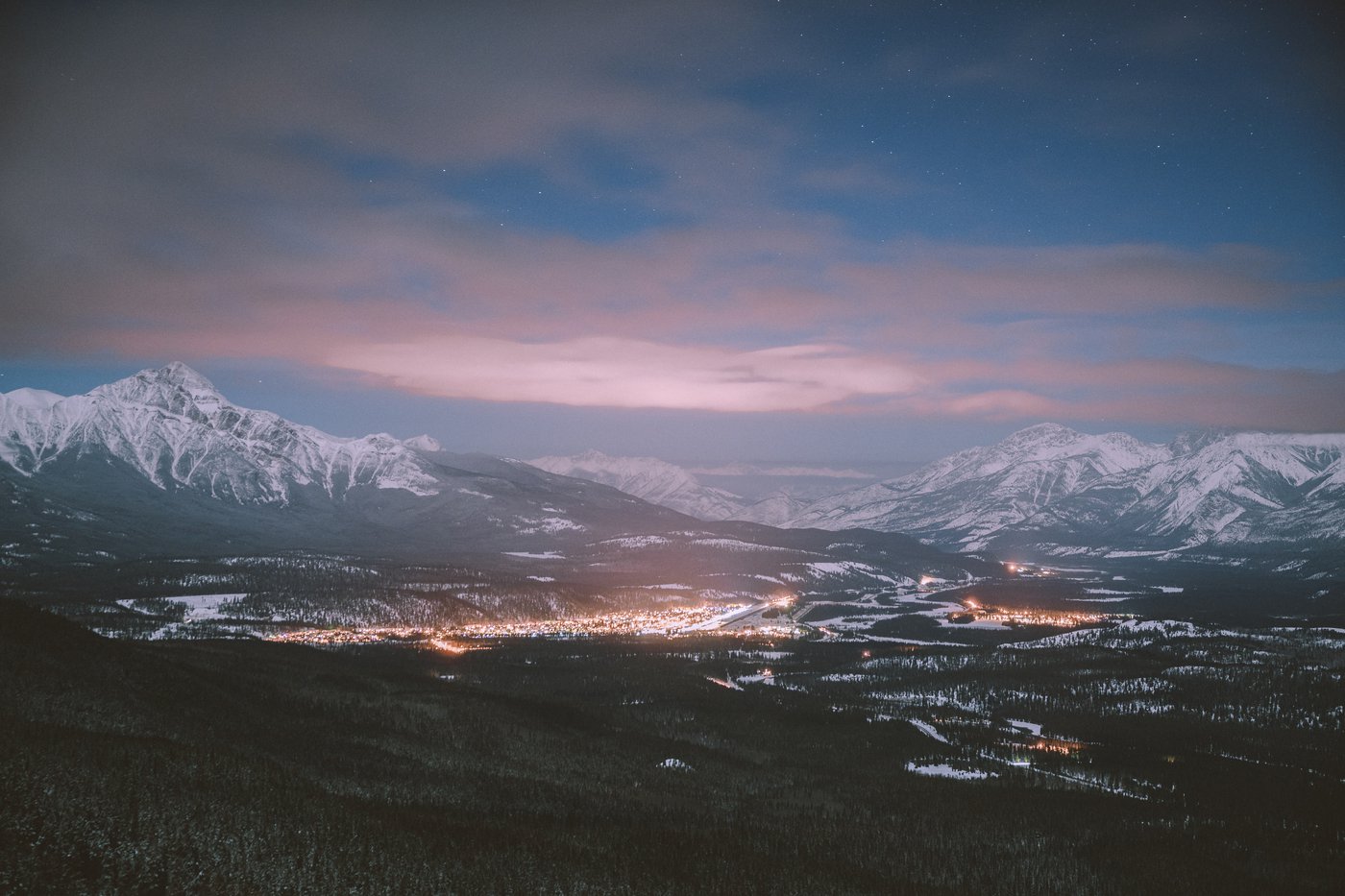 5

Jasper Mountainscapes

Directions: 15-30 minutes south/west of Jasper, just off Hwy 93.

Regardless of the season, there's always an accessible mountain peak in Jasper offering a perfect panorama. During the summer and fall months, ascend 2,277 metres up Whistler's Mountain by riding the Jasper Skytram and completing a quick hike to the peak. In the colder months, gain elevation - and a new perspective - as you take one of Marmot Basin's chairlifts to stunning mountainous viewpoints. From both attractions, views of the surrounding mountain ranges, lakes, and town of Jasper provide ample photo opportunities.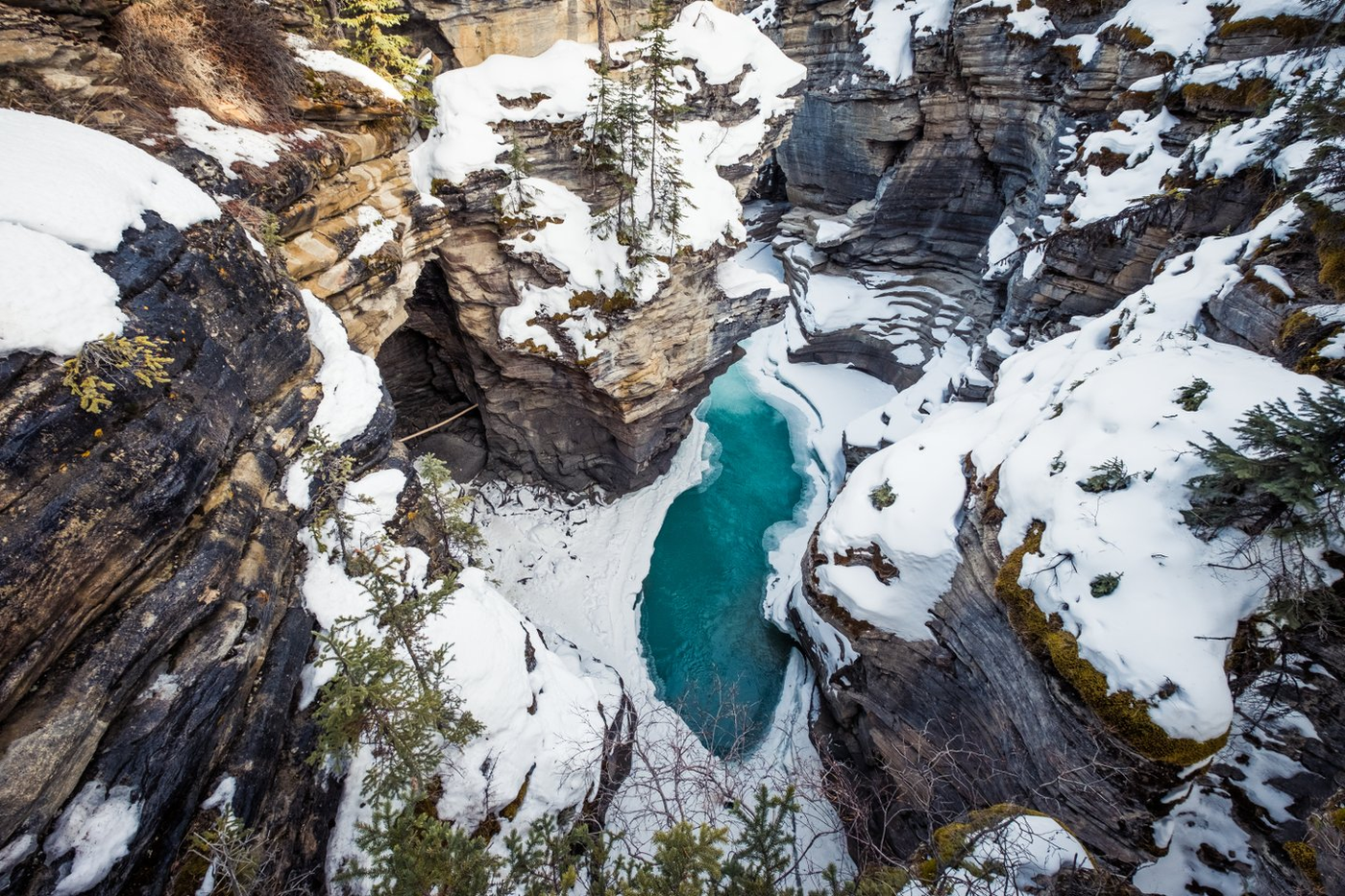 6

Waterfalls Along The Icefields Parkway

Directions: South of Jasper at various points along Hwy 93 towards Lake Louise.

Athabasca Falls: Approximately half an hour south of Jasper, the powerful and picturesque Athabasca Falls is easily accessed. Here, you can take an awe-inspiring photo of the rushing water of the falls, framed beneath a towering Mount Kerkeslin. Here in the winter? The frozen falls are just as scenic.

Sunwapta Falls: At about 50km from Jasper, Sunwapta Falls is stunning from any angle. Explore the tiny island of trees just before the falls, walk across the footbridge for a different perspective, or venture along the trail until you reach the lower falls.

Tangle Falls: Tangle Falls may be the most photographed waterfall along the Icefields Parkway due to its convenient roadside location. The falls spray 114 feet in as many as half a dozen braids down a broad cliff before dropping over three more consecutive tiers – we'd call that a great photo.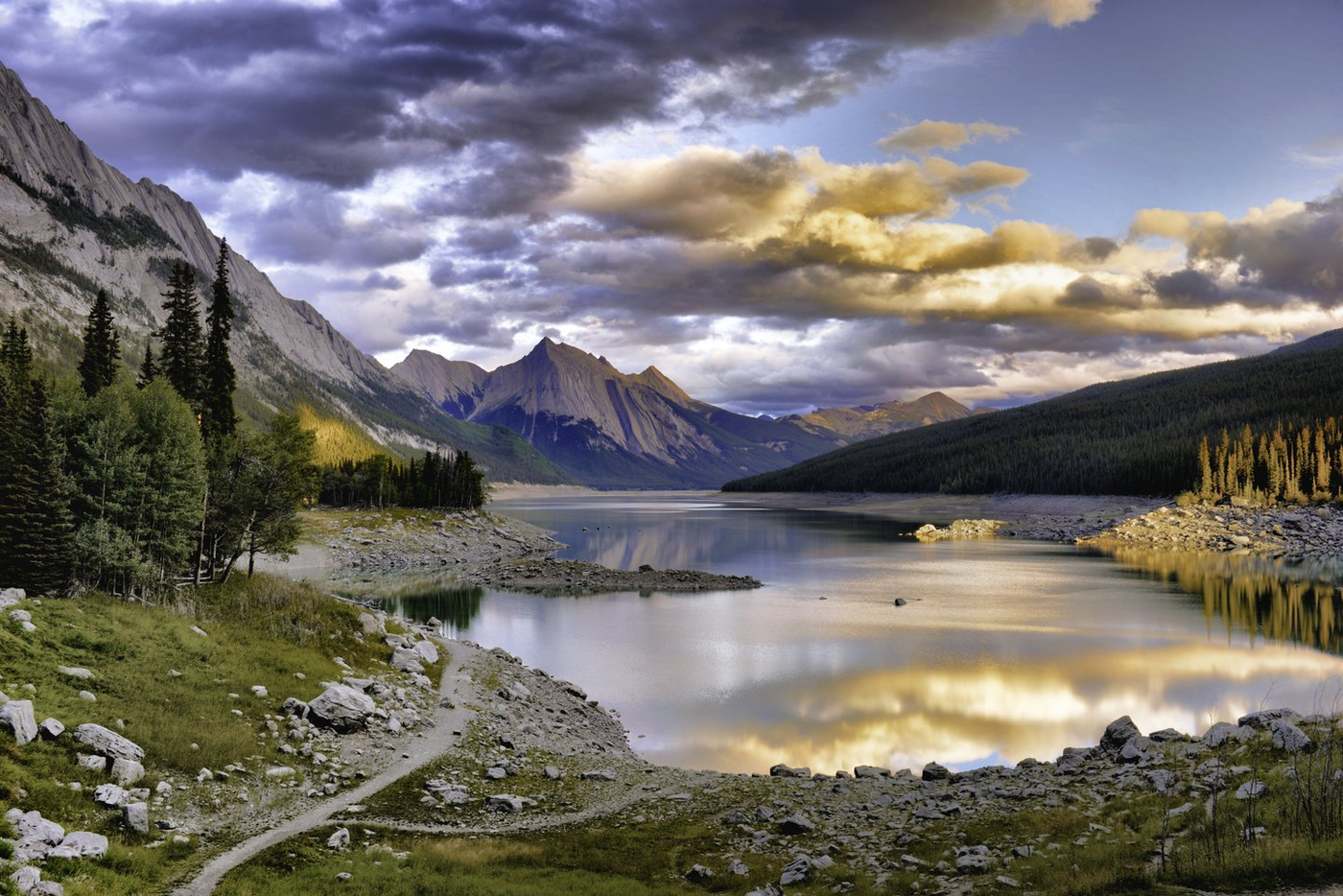 7

Medicine Lake

Directions: 30 km south/east of Jasper. Take Hwy 16 towards Edmonton, then turn right on Maligne Lake Road.

A must-stop on any photographer's journey to Maligne Lake, this awe-inspiring landmark is a place of mystery in Jasper National Park. Due to a unique underground drainage system, the water level of Medicine Lake varies from season to season. As an added bonus, the surrounding mountain peaks make for a stunning and expansive landscape.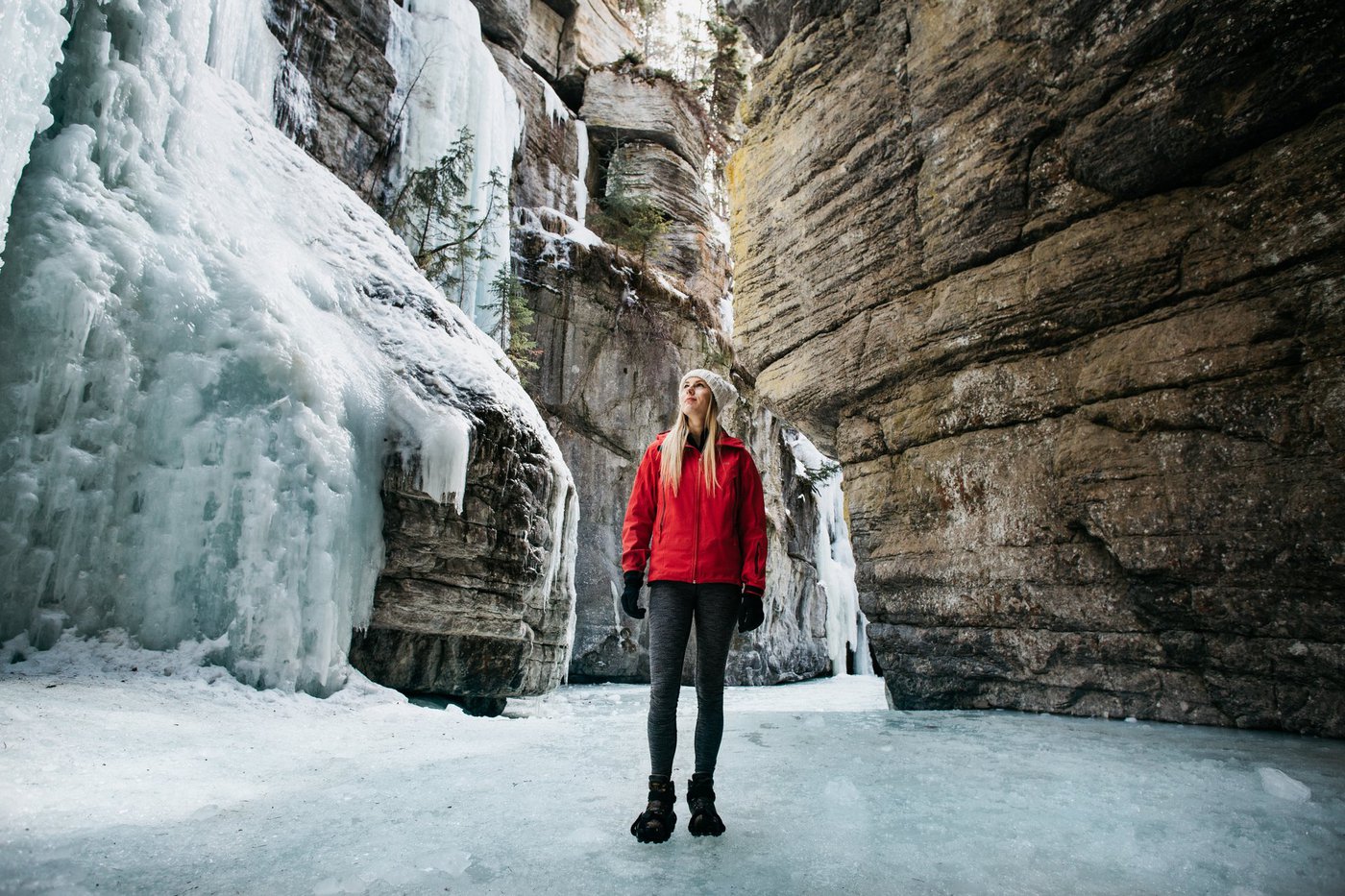 8

Maligne Canyon

Directions: 11 km south/east of Jasper. Take Hwy 16 towards Edmonton, then turn right on Maligne Lake Road.

One of the most spectacular gorges in the Canadian Rockies, Maligne Canyon features sheer limestone walls that plunge to depths of over 50 meters. An interpretive trail winds its way from the picnic area across six bridges where you can catch the spray from the thundering Maligne River. In the summer, point your camera downwards to capture rushing water. In the winter, take a photo from the canyon bottom to capture waterfalls frozen in time.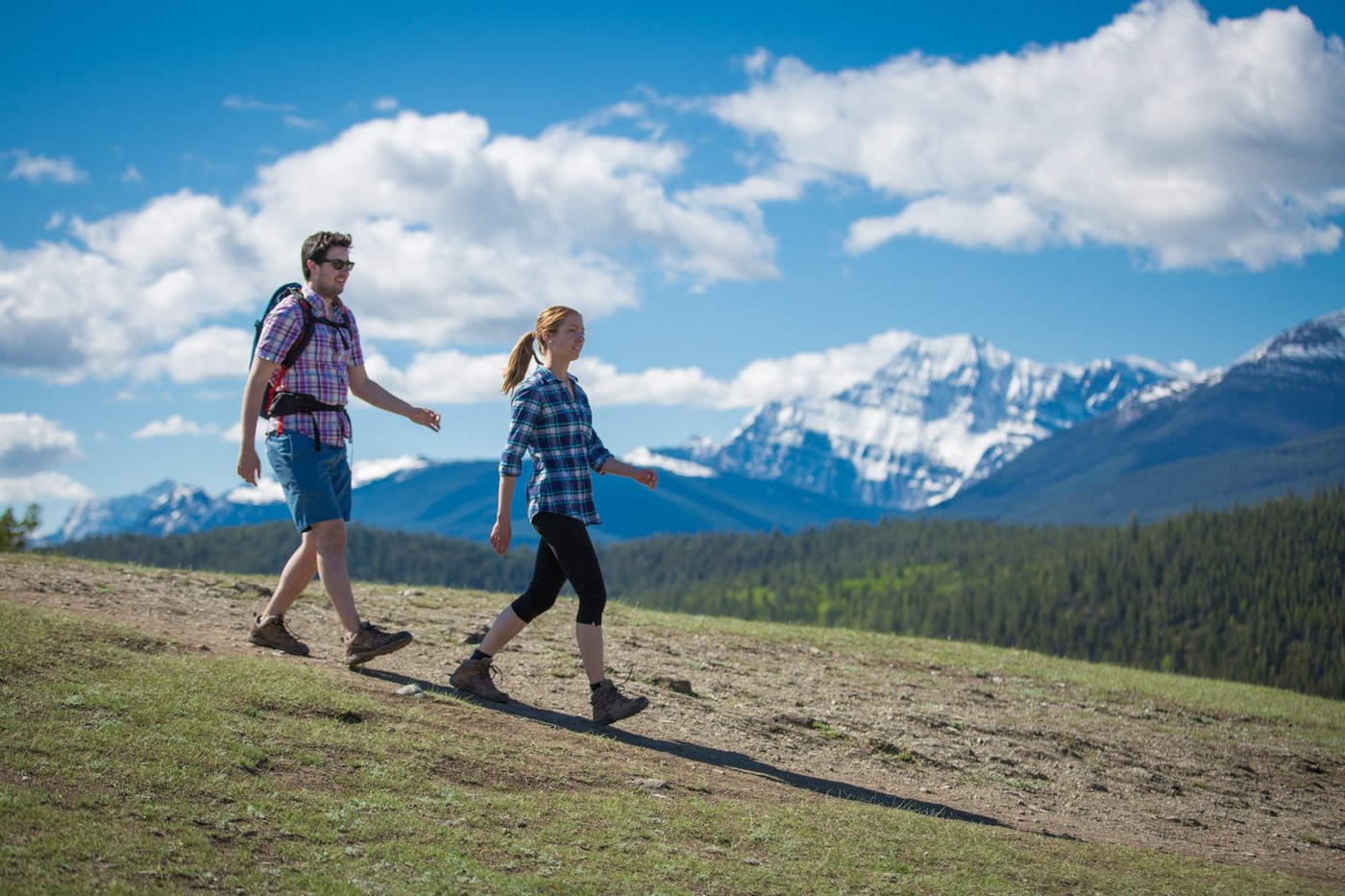 9

Old Fort Point

Directions: 2 km south of Jasper. Take Hwy 93A leaving Jasper, and turn left immediately after crossing Hwy 16.

A classic lookout just beyond the town limits, Old Fort Point is a prominent bedrock hill standing high above the Athabasca River. The trail is steep in places, but it provides an excellent view of Jasper, the river and its surroundings. The quickest route to the big view at the top of the hill is up the stairs that start by the cliff. Photo opportunities abound, from the top of the stairs, to the summit of the valley and Jasper townsite below.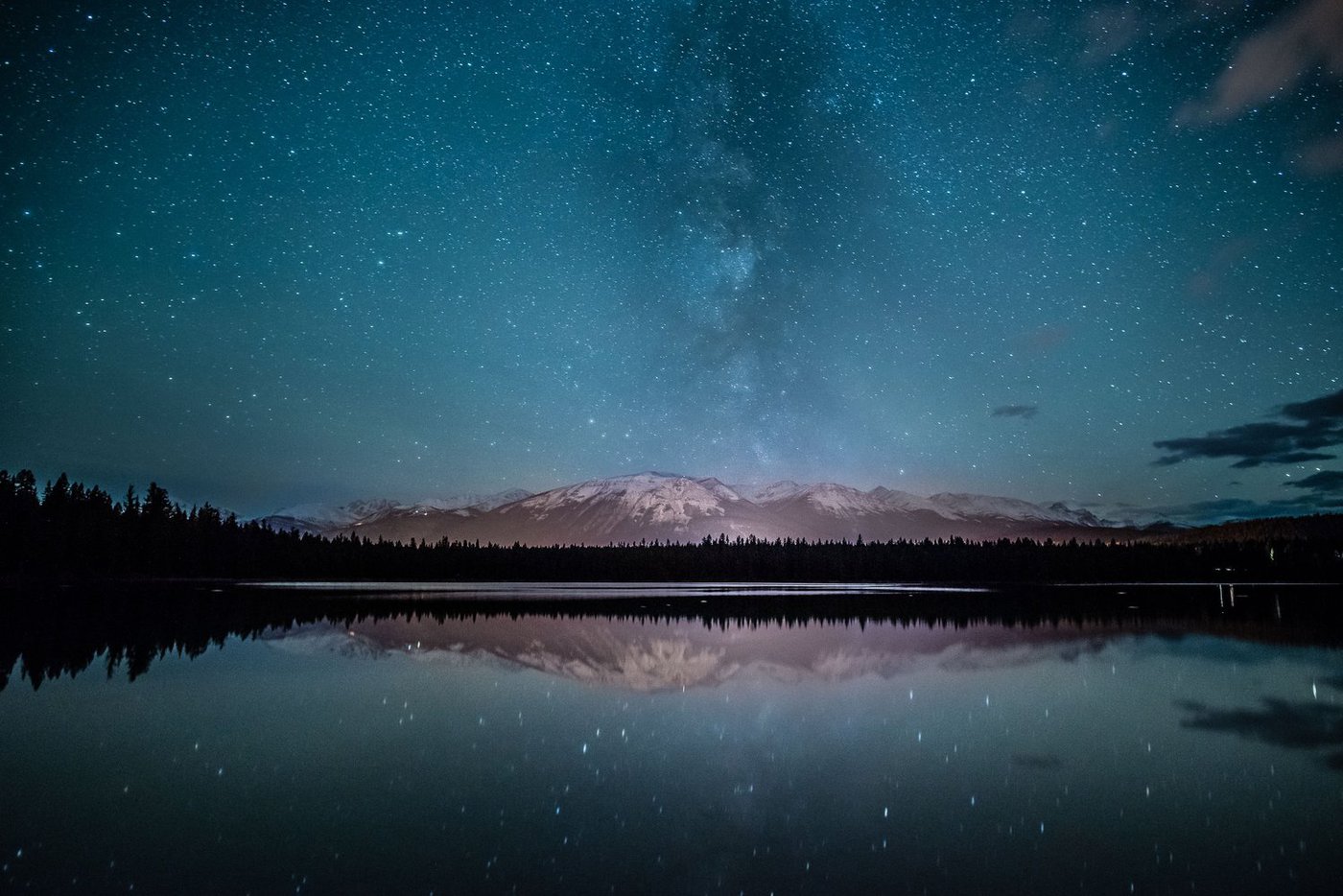 10

Lake Annette

Directions: 6 km from Jasper, off of Maligne Lake Road towards Fairmont Jasper Park Lodge.

A favourite spot for adventure in Jasper, Lake Annette features a day-use area with picnic sites and hiking trails surrounding the stunning lake. From here, you can snap symmetrical shots of Pyramid Mountain rising over the water. If you're here in the summer, you can catch the action of stand up paddle boarders or divers. Astrophotographers take note: Lake Annette is also one of the best stargazing locations in Jasper National Park.