There really is lots to do and see in Jasper during the fall, so whether you're visiting for a weekend or here for Jasper's Dark Sky Festival, be sure to check out all the fall activities.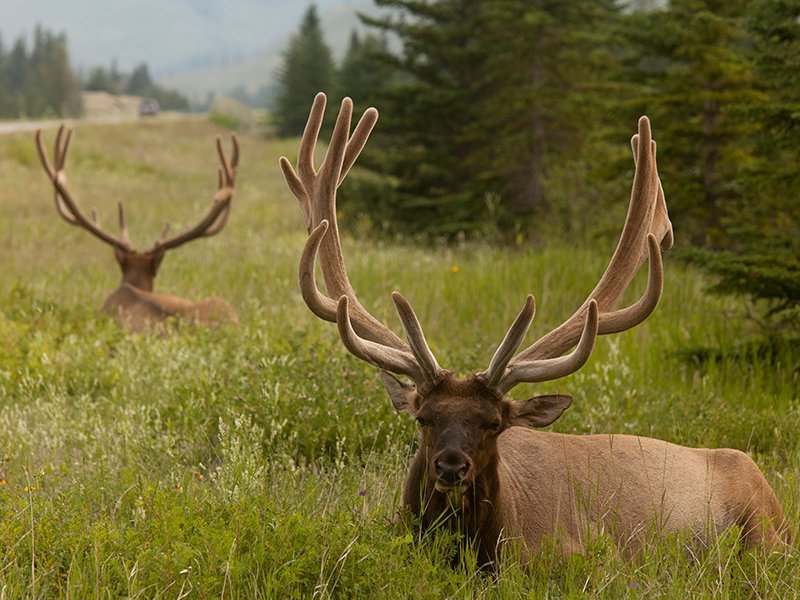 GET WILD!
Generally there are less visitors in the fall than during the peak summer months, which means less hustle and bustle and also more opportunities for wildlife viewing. Many animals move to lower elevations or nearby towns in the fall months for mating rituals and to find food. In the autumn months of September, October and November you can actually see a larger variety of animals than in the summer.
Bighorn sheep are visible year round, but fall is the best time to see the males. The bighorn rams search for mates in early winter and come down from the higher elevations to challenge each other. Their head butt competitions can last for hours and the clash of horns is so forceful it can be heard echoing off the mountains. Some popular spots among bighorn sheep are Miette Hotsprings, the Jasper townsite area, and near Medicine Lake.
It's also common to see Mule deer bucks since their mating season is in the fall, and elk which are rutting. This is when you can see large elk bulls battling each other, just be sure to keep your distance!
Dawn is one of the best times of the day to see wildlife, along with the late afternoon and dusk because this is when many of the animals feed. In October, dawn is much later in the day than in the summer, so it's easy to get out and on the trails in the morning during the ideal viewing times.
For the best and safest opportunities for wildlife viewing, join a guided tour!
VENTURE BEYOND THE PAVEMENT
October is the last chance to get in any summit hikes before the snow really sets in. If you're not up for a strenuous hike, the Jasper SkyTram will be open until Oct 30th. It's an awesome way to get the beautiful summit views of Whistler's Mountain at an elevation of 2,277 metres (7,472 feet).
Just remember if you're doing a hike up high in the mountains to bring some extra warm clothing. We'd also recommend a rain jacket in case a storm blows in and a small flashlight. Don't let those short autumn days catch you off guard!
Even though it may be cool outside on a hike you still need to drink lots of water to stay hydrated. If your water bottle gets really cold just take small sips often and it will help fight off any chills.
Even if the clouds set in during your stay there are lots of lower elevation trails which are warmer and have their own unique features that make them just as beautiful. A few of our low elevation favourites are the Overlander Trail, Maligne Canyon Loop, and Old Fort Point Loop. Be sure to check out the trail conditions before you head out.
If hiking isn't your thing, try canoeing or bike riding. Both activities are a ton of fun even as the temperatures cool!



REFUEL FOR YOUR ADVENTURES
After a day exploring Jasper or enjoying the Jasper Dark Sky Festival, you'll need to refuel. There are a ton of delicious restaurants here in Jasper with something for every appetite.
Here are some of our favourite fall dishes that are guaranteed you warm you up!
FAMOSO
Is there anything better than soup and a sandwich on a cool day? The decadent tomato bisque paired with the Sophia Loren sandwich at Famoso is the perfect combo.
JASPER BREWING COMPANY
A craft beer might be cold going down, but the warming effects kick in fast. We love having a round of Jasper the Bear ales with some of Jasper Brewing Company's delicious comfort food appetizers. The pretzels and cashew spread are both full of perfect carb-y goodness.
EVIL DAVE'S
Anything you try at Evil Dave's is sure to be a hit, but we recommend the El Diablo. The spicy flavours are sure to get rid of the chill in your bones.
TEKARRA RESTAURANT
Have you ever tried boar? Now's the time! Tekarra's wild boar belly is full of amazing full fall flavours, like apple and molasses. Mmm!
COCO'S CAFE
Vegan, vegetarian, celiac-friendly and delicious! Coco's Cafe, a local favourite, serves up amazing eats! Try the "Grownup Grilled Cheese" loaded with assorted cheeses, granny smith apples and onion chutney!

EXPERIENCE JASPER IN OCTOBER
Want to experience the beauty of Jasper in autumn? Why not join the fun at the Jasper Dark Sky Festival? From October 13-22, we're celebrating the skies. Learn more →