Start polishing your crowns because the queens are coming to town. Jasper is celebrating its 10th annual Pride Festival, and we are shaking in our stilettos with excitement. Since it began a decade ago, this grassroots festival in the mountains has grown to national acclaim and shone a light on Jasper's inclusive community.
There's an energy at Jasper Pride Festival that you won't feel anywhere else. Being surrounded by natural beauty in a town that openly and proudly supports local and visiting LGBTQ people year-round is a recipe for making you feel like you're apart of something special.
From our decorated streets and business windows to the rollicking parties with an exclusive Jasper Pride Beer, here's a taste of what to expect from the Pride Festival's milestone year. Find full list of events here.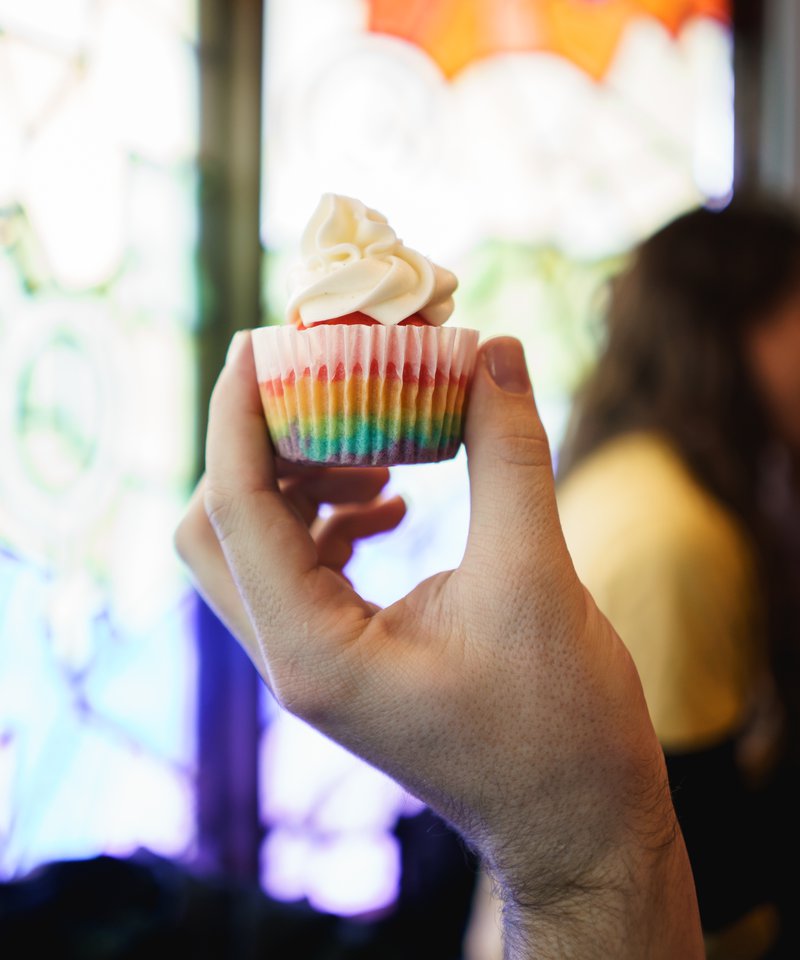 THURSDAY, APRIL 25, 2019
PRIDE FLAG RAISING
12:00 pm - 1:00 pm at the Emergency Services Building
Everyone is welcome to help open the festival with the Jasper mayor, community, the Pride board and local advocacy group OUT Jasper. Last year for the first time the rainbow flag was officially raised at our Fire Hall for International Day against Homophobia.
KICK OFF PARTY
6:30 pm - 9:00 pm at the Whistle Stop Pub
Music, hugs, smiles, laughter, drinks & snacks. This is the perfect way to start your Pride weekend. Join your friends and Jasper locals for an evening of warm hospitality and open hearts. Live music by Good Nature. No minors. *A teen kick off party (for ages 12-18) will be held at the same time at the Jasper Royal Canadian Legion.
THE DIRRTY SHOW
8:00 pm - 10:00 pm at the 4 Peaks Nightclub
Gliding your mind into the gutter one soaring harmony at a time, two sexually empowered women sing of 'Double R-rated' topics that are rarely brought to light and transform them into catchy morsels of melodic hilarity. No minors.
PRIDE DANCE PARTY
11:00 pm - 2:00 am at Downstream Jasper
The Pride festival is full of great opportunities to meet up with old and new friends. No Pride kick-off would be complete without a dance party to wrap up the night! No minors.
FORK & SPOON MINI FOOD FESTIVAL
Available at participating establishments April 25 - 28, 2019
Fork & Spoon is the Jasper Pride Festival Society's mini food festival (and one of our signature fundraisers!). Experience the culinary charm of Jasper while supporting a great cause!
Don't miss the Jasper Pride House, where you can hang out and enjoy complimentary coffee and snacks, purchase event tickets and get official Pride merchandise. For exclusive festival savings, remember to claim your free Jasper Pride Pass.
BEARS, BEERS, BURGERS & BINGO
7:00 pm - 9:00 pm at the Whistle Stop Pub
Join the FAB as our FABulous Drag Queens Toni Lester Van Blam and Ginger Schnapps host a Bingo, Bears Beers & Burgers for Jasper Pride 2019! No minors.
PRIDE COMEDY SHOW - RYAN & AMY SHOW
8:00 pm - 10:00 pm at the Jasper Royal Canadian Legion
$15 in advance | $20 at door
Back by popular demand! The Ryan & Amy Show has toured North America for nearly a decade and are regulars in the Just For Laughs North West Comedy Festival. With over 100 videos online and over 5 million views, these Canadian Comedy Award finalists are not to be missed. No minors.
PRIDE LIVE MUSIC - KATE REID
8:00 pm- 10:00 pm at Champs Lounge, Sawridge Inn and Conference Centre
$10 in advance | $20 at door
Slam poetry meets folk music meets LGBTQ-themed tunes in Toronto-based singer-songwriter Kate Reid. She is funny, passionate, queer as a three-dollar bill, and she's sure to entertain. No minors.
PRIDE LIVE MUSIC - JAY BOWCOTT
9:00 pm- 11:00 pm at the Whistle Stop Pub
Relax and enjoy live music by Alberta artist Jay Bowcott at the Whistle Stop Pub! No minors.
PRIDE BURLESQUE & DANCE PARTY
10:00 pm - 2:00 am at Downstream Jasper
Back by popular demand, this late show is for the night owls, revelers, and for those who simply want to party. Performances by The House of Hush Burlesque and DJ Thomas Culture are sure to heat up the party and get you movin on the dance floor! No minors.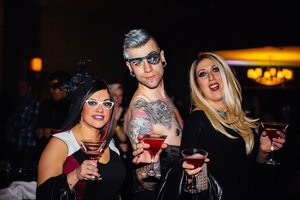 LINE DANCING WORKSHOP
11:00 am - 12:30 pm at Jasper Royal Canadian Legion Branch 31
Calling all two left footers! Come on out to the free beginners Queer Country Line Dance workshop, but don't worry about not being a good dancer - we'll all fumble our way together to a variety of music genres.
PROUD & FREE YOGA
11:15 am - 12:15 pm at Jasper Wellness Yoga Studio
$20
Celebrate being authentically you through an explorative class of Movement + Breath. Instructor Kat Vena will guide this pride class to balance out your weekend of fun in the Rockies celebrating Pride!
PRIDE ON THE HILL – SKI PARTY AND FUN RUN!
11:30 am at Marmot Basin Ski Resort
Join us for a fun-filled day on the slopes of Marmot Basin with costumes, a pride-coloured Fun Run with a DJ and BBQ at Mid-Chalet. We encourage you to dress-up in your most fun colours and costumes and be sure to bring many Pride flags with you! Valid lift pass required.
SIGNATURE PRIDE PARTY: PROUD PEAKS NATIONAL DERBY
7:00 pm - 1:00 am at the Jasper Activity Centre
$30 prior to April 15 | $40 from Apr 16-27
We all know that the races are a blast, but when it comes down to it, it's less about the horses and all about the fashion. Source your best derby-inspired outfit as we celebrate the Proud Peaks National Derby at this year's Signature Pride Event. The races are coming to Jasper! Get your vintage hats and patterned suits ready. Inspired by the Kentucky Derby, Royal Ascot, Melbourne Cup & more.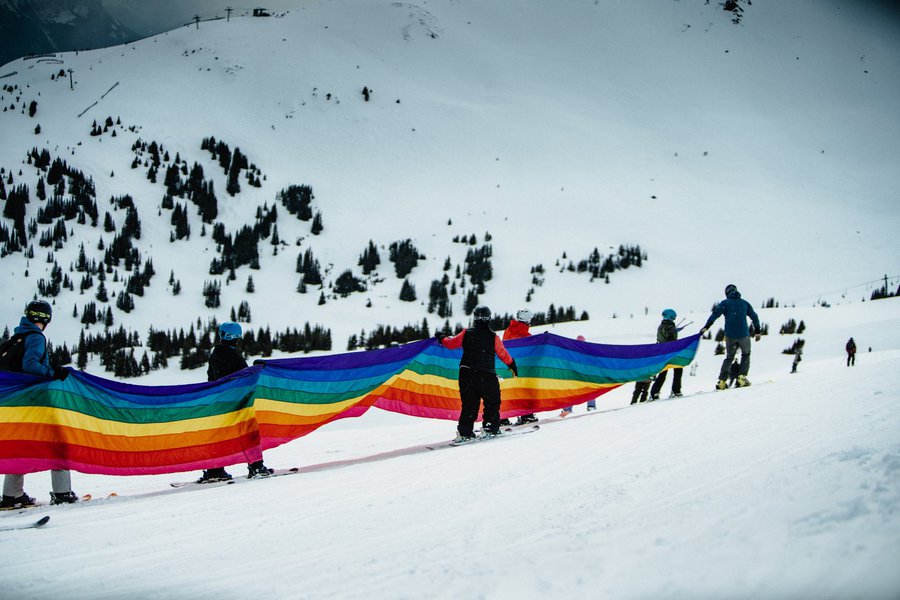 PRIDE BRUNCH & GSA FUNDRAISER
11:00 am - 1:00 pm at Crimson Hotel
$30
As your Jasper Pride experience draws to a close, join us for a tasty brunch buffet! This event is donating proceeds to the Gay-Straight Alliance and youth events and programming. Sip a mimosa and say goodbye to your old and new Jasper Pride friends while enjoying live music.