Grab a blanket, some snacks, and a tub of sunscreen (we're guessing isolation has made this your palest spring yet) because we're fast approaching picnic season in the mountains.
Whether you pack your own snacks, order your regular dish to-go or take advantage of the perfect-for-picnic options at a few local eateries, a meal al fresco is a great way to enjoy great food while social distancing. Don't know about you, but we're about ready to take a break from our own cooking.
1

Old Fort Point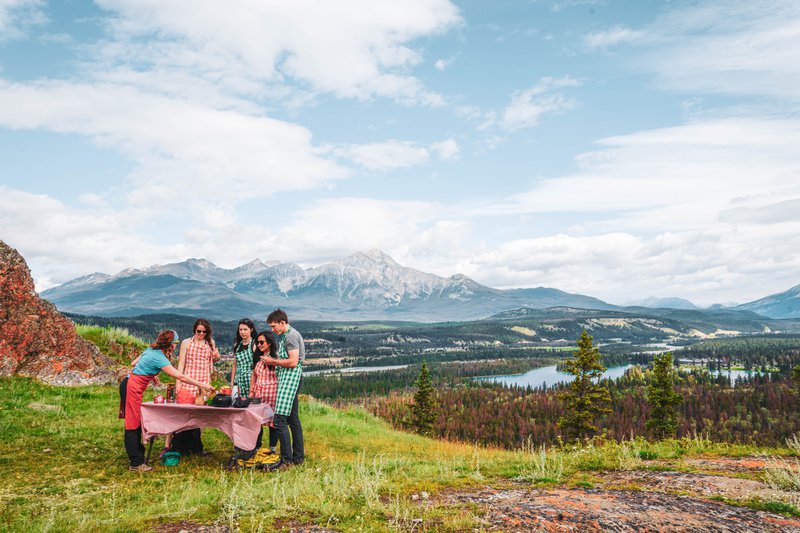 Distance from town: 1.6 kilometres
A short but steep hike will take you past a historic marker to a panoramic view of the Athabasca River, Jasper townsite and surrounding mountain ranges. At the base of the trail are two picnic tables with toilet facilities. For a backcountry culinary adventure, book the Peak-Nic experience with Jasper Food Tours.
2

Pyramid Picnic Sites/ Beach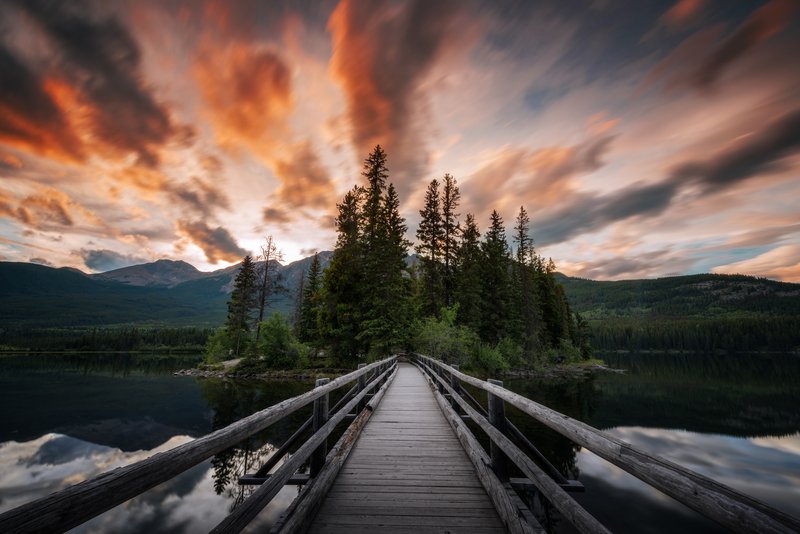 Distance from town: 6 kilometres
With its iconic bridge and views of Pyramid Mountain, Pyramid Island is a beautiful spot to have a picnic. Bonus: there are multiple benches scattered around the small island.
3

Maligne Lake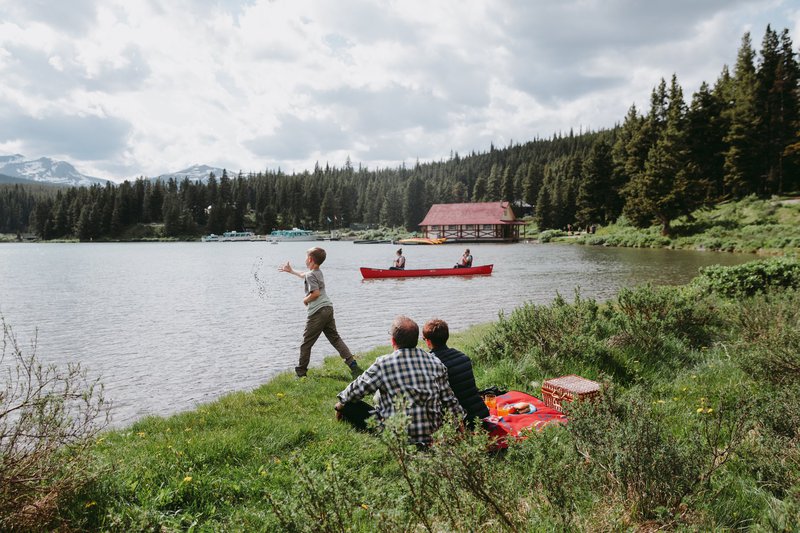 Distance from town: 48 kilometres
There's picnic tables aplenty at this beautiful lake, as well as multiple restaurants, an interpretive-signed trail and canoe/kayak rentals. Before or after your picnic, hop on the Pursuit Boat Cruise to see Spirit Island. Want a picnic spot a little closer to Jasper ? Medicine Lake is about halfway between town and Maligne Lake and is also stunning. The Beaver Lake Picnic Area is another spot along the way that's equipped with multiple picnic tables and toilet facilities.
4

Jasper Lake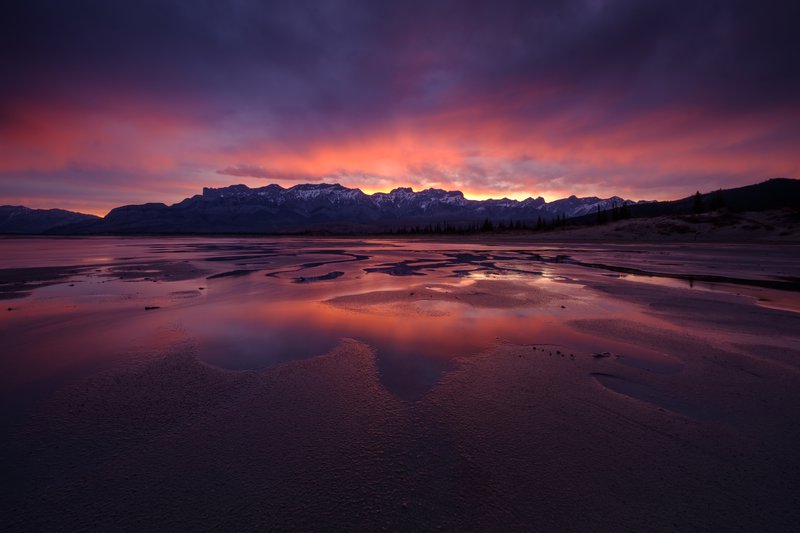 Distance from town: 30 kilometres
This unique lake is actually part of the Athabasca River, but the waterway gets so wide and shallow through this section that it's possible to wade almost to the middle before water hits your waist. There's a narrow beach and newly built toilet facilities.
5

Tekarra Lookout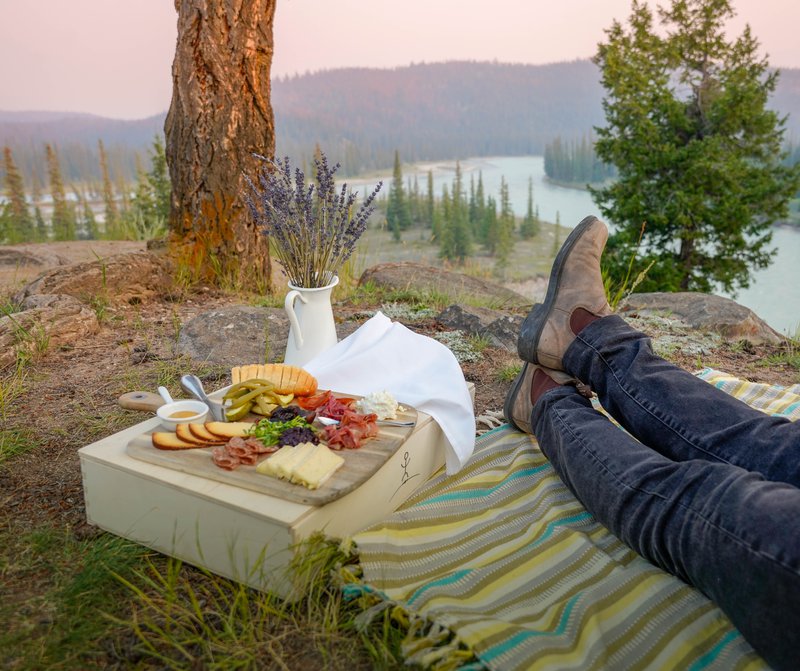 Distance from town: 1 kilometre
Dining inside the Tekarra Restaurant's cabin-style eatery is an option (as is the lovely patio) but as far as views go it's hard to beat their picnic offering. Grab an Adirondack chair or lay a blanket on the nearby ridge overlooking the spot where the Miette River meets the Athabasca and enjoy a charcuterie board or cocktail (the area is fully licensed!).
6

Lake Annette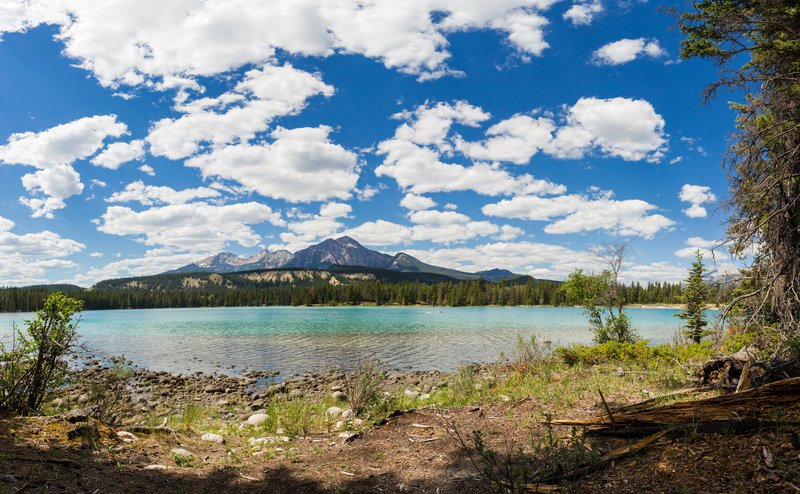 Distance from town: 6 kilometres
Don't forget to bring your beach gear to this beloved local hangout! There are picnic tables, fire boxes, a playground, cooking shelter, changing rooms and an overall chill, family-friendly vibe. Note that the road to access Lake Annette will be closed until June 1, 2020.
7

Lac Beauvert/ Fairmont Jasper Park Lodge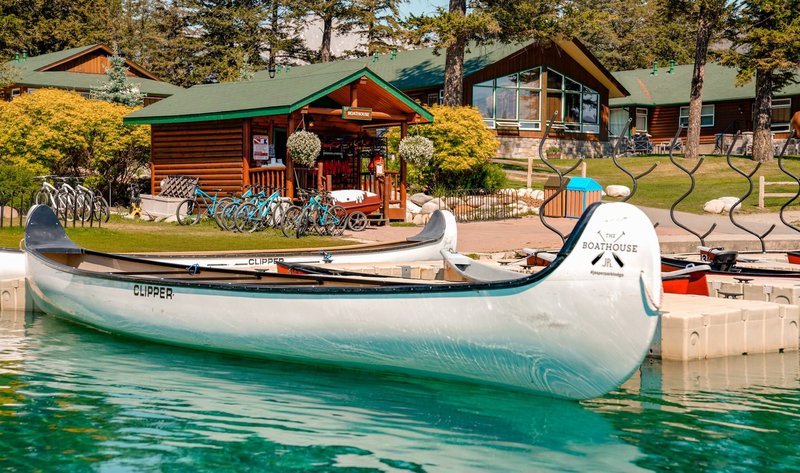 Distance from town: 6 kilometres
The grounds of the Fairmont Jasper Park Lodge hold a wonderland of options; it's easy to spend a full day there. Among the seven on-site restaurants is a café with to-go lunches, and outdoor seating grants comfort while you take in the outstanding views. If you're a guest of the Fairmont Jasper Park Lodge, you can also order room service in the form of a picnic or BBQ.
8

Maligne Canyon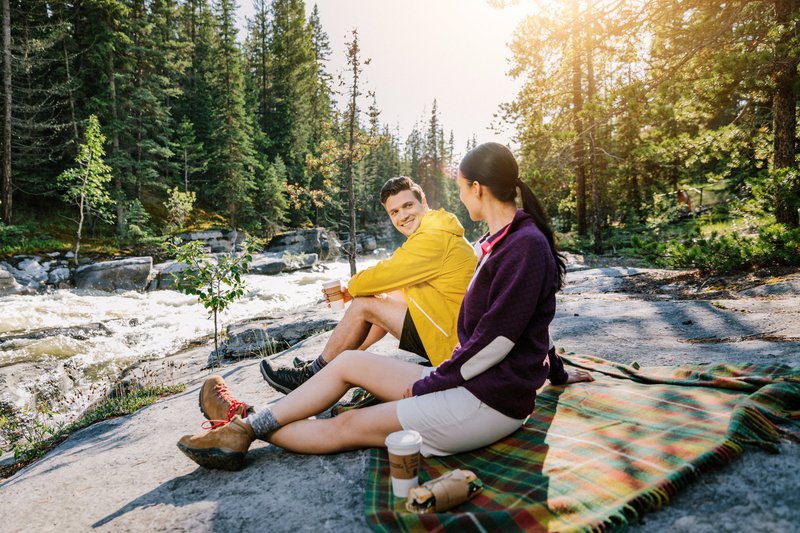 Distance from town: 9 kilometres
This stunning canyon has multiple spots to stop for a bite. Grab a meal to-go from the Maligne Canyon Wilderness Kitchen and enjoy it on the restaurant's large patio or at the picnic tables at the canyon's Sixth Bridge or Fifth Bridge.
9

Jasper Information Centre Lawn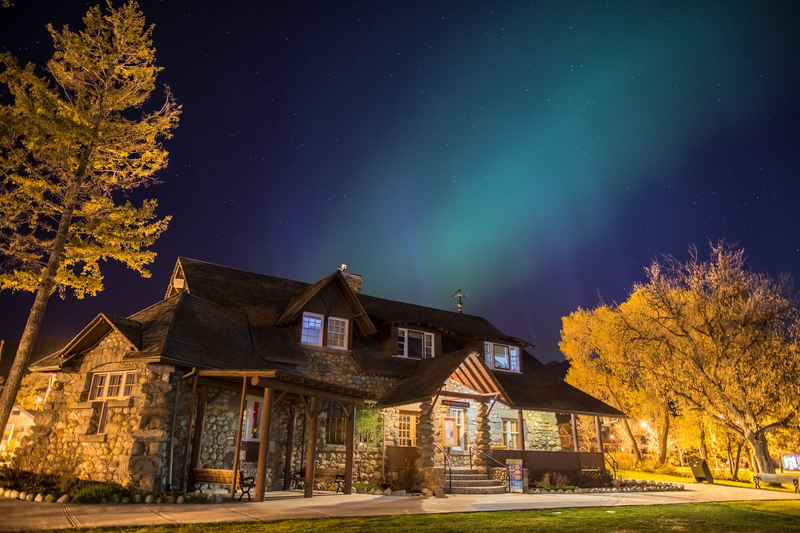 Distance from town: 0 kilometres
No car, no problem. Grab take-out from one of Jasper's great restaurants and then pick a spot on the large lawn surrounding the historic stone building located at the heart of downtown. Note that the information desks themselves are closed until further notice due to Covid-19.
10

Jasper SkyTram/ Whistlers Summit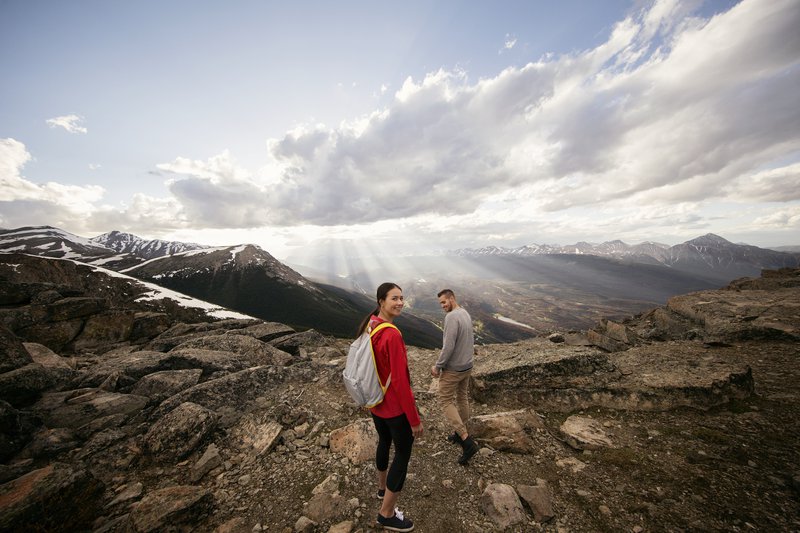 Distance from town: 7 kilometres (+ 7 minute tram ride)
This one definitely wins the 'highest elevation yet still easily accessible' picnic spot category. Use the Jasper SkyTram to get to the top of Whistlers Mountain; there's a greater chance of windy conditions than down in the valley, but if it's a calm day and you've got a hunger for panoramic views then you'd have a hard time finding a more scenic picnic spot. At least one that doesn't require a sizeable pre-picnic trek.
11

Athabasca Falls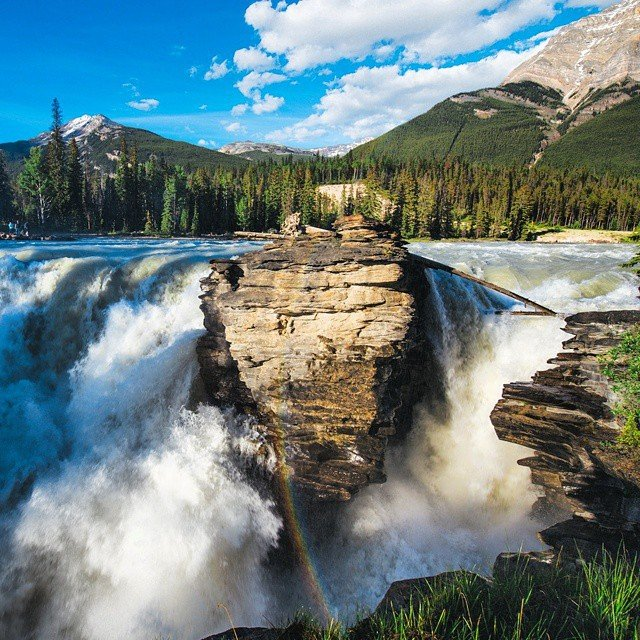 Distance from town: 32 kilometres
There's picnic tables, a shelter area, toilet facilities and an interpretive exhibit at this famed location. Caution: mist from the falls covers surrounding rocks with a thin, slippery film of water. For your own safety, do not cross the railings.
12

Columbia Icefields Centre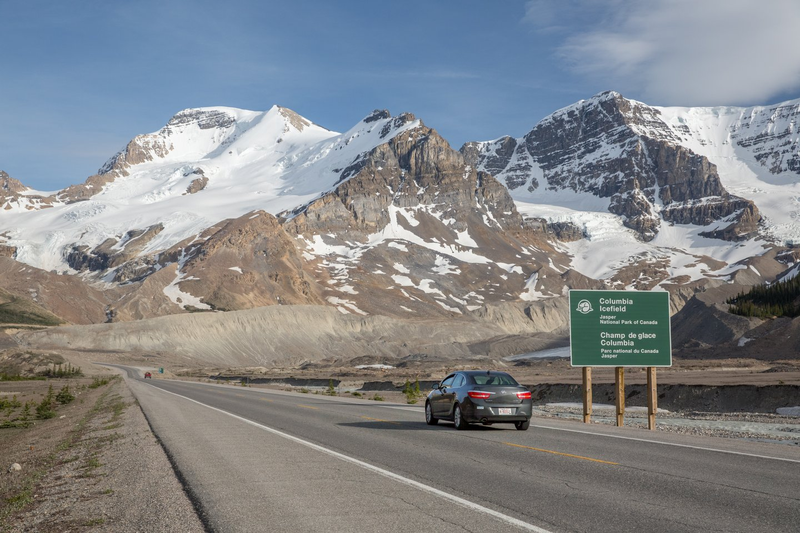 Distance from town: 103 kilometres
It might be wise to bring a sweater or jacket for your picnic at this location. Although it's super scenic, the Centre is located at a higher elevation than the town of Jasper and is thus often a few degrees chillier. But the jaw-dropping views of the Athabasca Glacier are worth it.