For all the jaw-dropping, awe-inspiring, world-renowned hikes there are in Jasper – and believe us, there are a lot – there's a network of less-trafficked beauties just waiting to be discovered. Have the trail to yourself and venture beyond the ordinary with these hidden gems.
1. Beaver Lake and Summit Lake
Length: 9.4 kilometre return
Location: Use the Jacques Lake trailhead, near Medicine Lake
If you don't have the time or inclination to camp at Jacques Lake, day-hikers should still be interested in the first half of the trail, which meanders a narrow valley between the Colin and Queen Elizabeth mountain ranges and passes two beautiful and scenic lakes. Also a great cross-country ski destination in winter.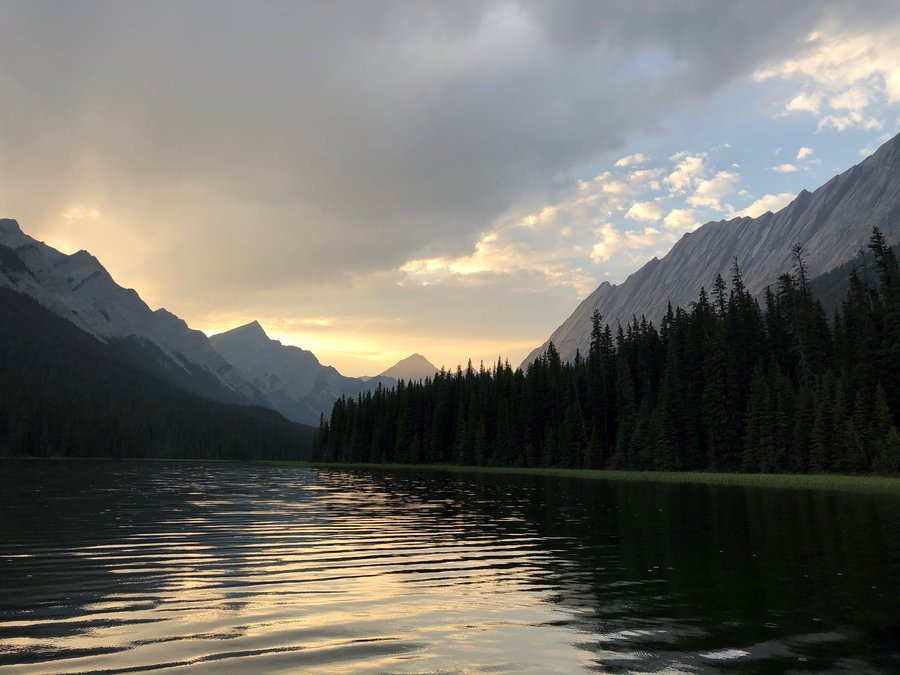 Length: 7.7 kilometre return
Location: 14 kilometres south of Jasper on the Icefields Parkway
Most people go to Valley of the Five Lakes in this area, but consider shifting the family plans toward this nearby out-and-back trail. Mostly flat and easy to follow, you'll wander through the forest for most of it, before culminating in a charming little peaceful lake with a backdrop of mountains. FYI, Wabasso means rabbit in the Stoney First Nation language!

Length: 1 kilometre return
Location: Use the Tonquin's Astoria trailhead, near the top of Cavell Road
Short hike, big payoff. This easy walk quickly reaches a stunning view of reflective Cavell Lake beneath one of Jasper's most famous peaks. Beyond this point, the famous Tonquin Valley hike stretches into the wilderness.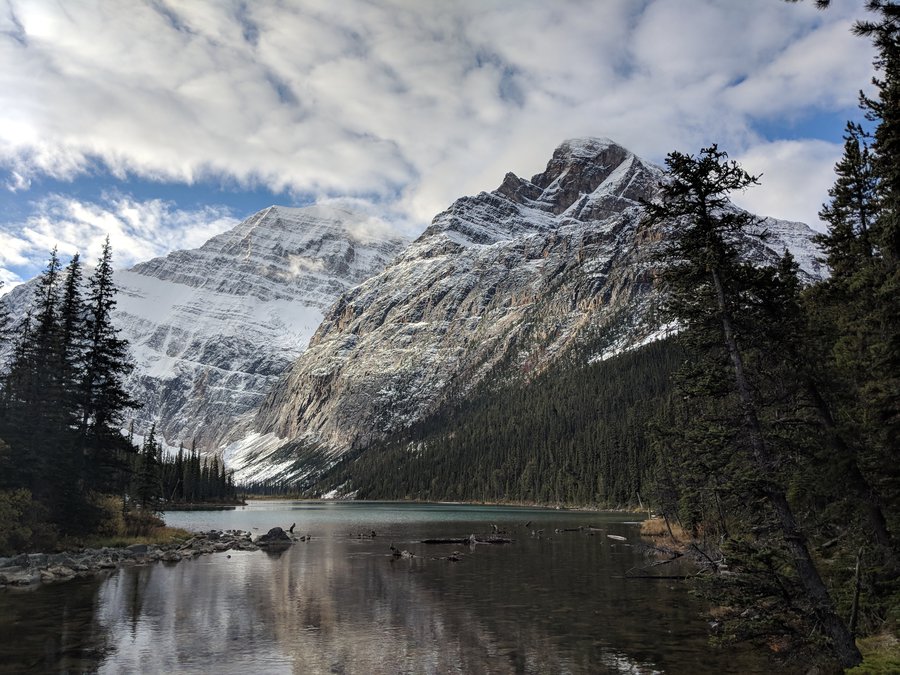 4. Dorothy, Virl and Christine Lakes

Length: 8.6 kilometre return
Location: 11.5 km west of Jasper, just off Highway 16.
See three beautiful lakes as well as the Miette River on this hike. The last lake on the journey, Christine, is often said to be worth the extra distance. Note that the trail crosses the railroad tracks. It is a marked crossing, but hikers should take care.
Length: varies
Location: Depart from town, or find trailheads on Pyramid Lake
To the northwest of town, a lake-dotted terrace rises above Jasper, and hosts many networks of easily accessible trails. Various small but worthy lakes abound, like Marjorie, Hibernia, Saturday Night, Minnow. These are also away from the commercial horse trails, which can occasionally be a little rougher. Explore the many options with this handy map.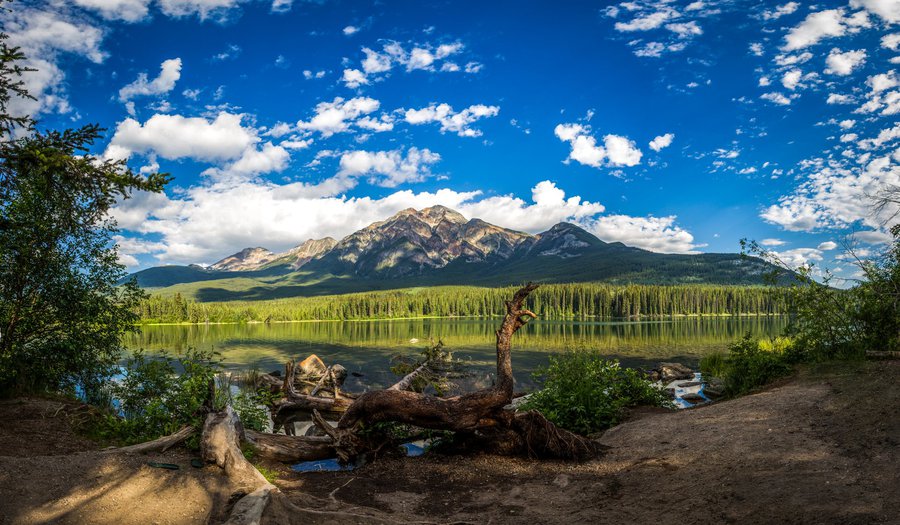 Length: 4 kilometres return
Location: 55 kilometres south of Jasper on the Icefields Parkway
The Upper Sunwapta Falls, with its gorgeous viewpoint and proximity to the trailhead, can hardly be considered a hidden gem. But surprisingly few people opt to follow the trail past this initial wow, which means a lot of people miss out on the beauty and majesty of the lower Sunwapta Falls.
Length: 12.6 km return
Location: Use the Sunwapta Falls trailhead
This spot is an overnight backcountry campground but can also be done as a day hike. With very little elevation gain and a wide, bikeable trail, getting there is easy albeit not the most scenic. But the payoff of the destination is worth it; have lunch at the picnic tables overlooking the river and surrounding mountains.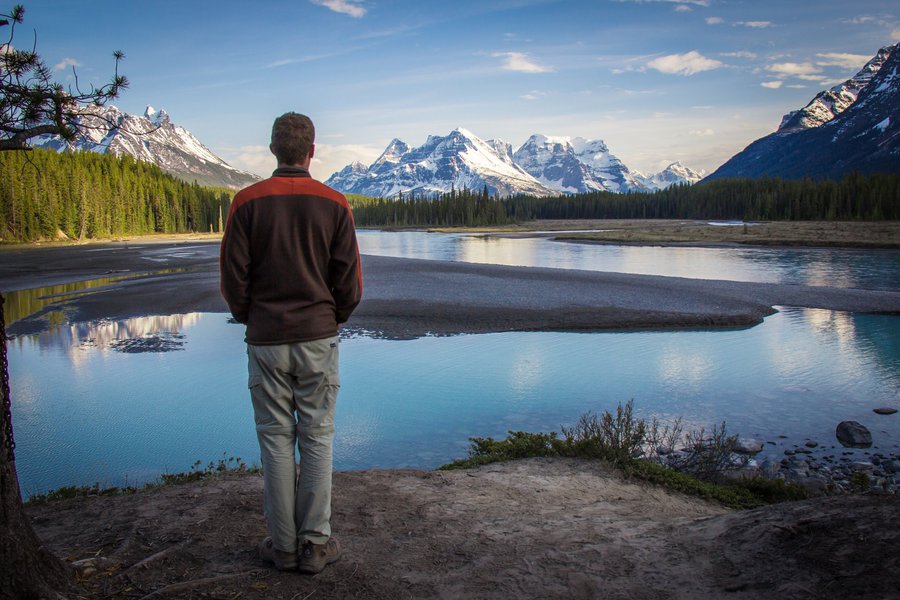 8. Jasper House viewpoint
Length: 1.6 kilometres
Location: 35 kilometres east of Jasper, on the Yellowhead Highway
Though the trading post is long gone, Jasper House was once the principle stopping spot for fur traders in the area. A quick walk takes you to viewpoint overlooking the Athabasca River, with interpretive signage explaining the historical significance of the area.

9. Old Fort Point, Extended
Length: 4+ kilometres (depending how far you wish to follow Trail 9)
Location: Just southeast of town, on Old Fort Point Road.
Old Fort Point is a short, steep hike close to town with great payoff. But if you continue past the popular turnaround point and follow Trail 9C to where it meets Trail 9 before turning back to Old Fort Point, you'll be rewarded with a more substantial and isolated excursion.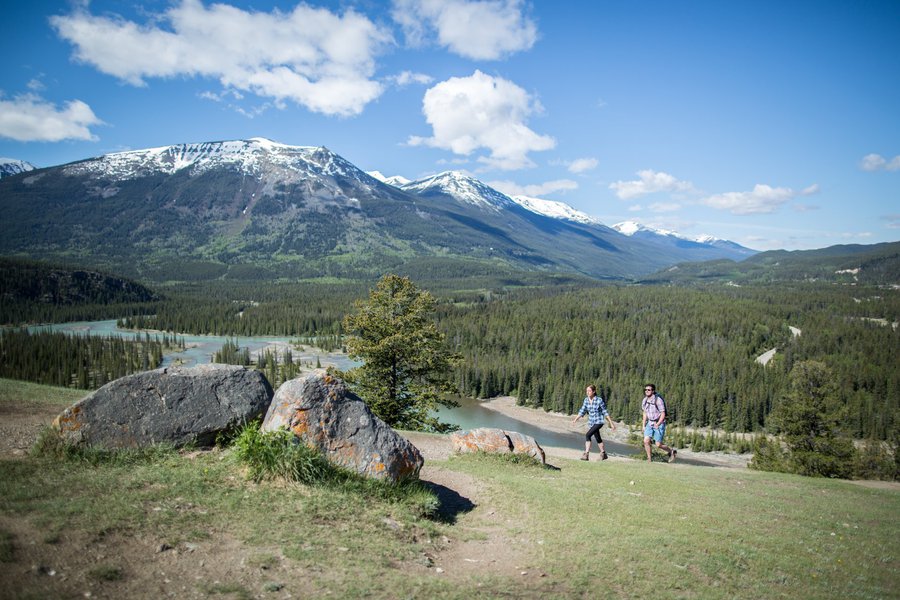 10. Mona and Lorraine Lakes
Length: 5.2 kilometre return
Location: Trailhead is near Maligne Lake, at the start of the Skyline Trail
The Skyline Trail is another of Jasper's most amazing multi-day hikes, but day-hikers can zip a small piece of it to see the lovely Lorraine Lake and even more impressive Mona Lake. Enjoy the quiet after Maligne Lake's hubbub, and keep eyes peeled for wildlife.