Until March 7, 2021, Alberta residents can book a stay between February 19 – April 30, 2021 for half off the best available rate at the Fairmont Jasper Park Lodge.
This iconic Great Canadian Lodge is more than just a luxurious place to lay your head at night — it's an experience that creates lasting memories surrounded by nature and wildlife. From quaint cedar chalets to exquisite Signature Cabins that have hosted royalty, the Fairmont Jasper Park Lodge has a wide variety of booking options on its 700 acres of pristine lakeside property. And if you book soon, you can stay at this dreamy lodge for a massive discount. Don't miss this limited-time offer!
Please note that rates are based on double occupancy and do not include any applicable taxes and fees. This rate is for residents of Alberta only – proof of residency will be required upon check-in. Rate is subject to hotel availability. Blackout dates may apply during holidays and weekends and are subject to change without notice. Book here!
The Fairmont Jasper Park Lodge has seemingly endless amenities and fun pursuits to entertain guests, and although COVID-19 protocols prevent a few activities from operating, there's still plenty to supply a restful, memorable escape to the mountains. Here's what you can do right now at the Canada's ultimate luxury cabin escape.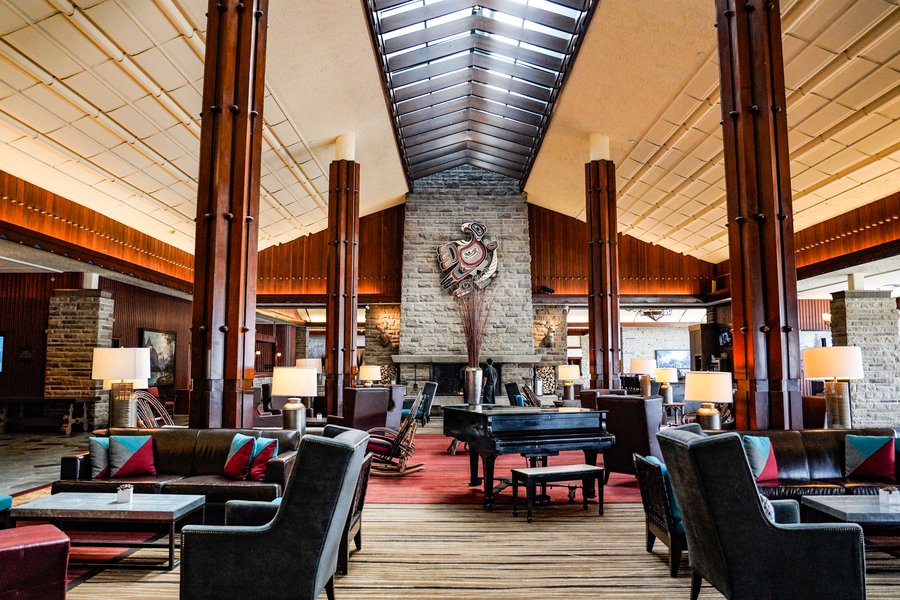 SKATE AT THE MILDRED LAKE ICE PARK
Surrounded by 360 degrees of Rocky Mountain Views, join us for a skate around our groomed ovals or enjoy a tracked loop for cross country skiing. Skates and skis can be rented from the Winter Activity Centre (located at the Golf Clubhouse; Monday - Thursday | 10am - 4pm | Friday - Sunday | 10am – 6pm). Skate sharpening services are also available. Note: Ice conditions change day-to-day at this time of year. Please speak with a member of our team for daily condition updates and information.
SNOWSHOES & FAT TIRE BIKES
Explore the area on snowshoes, or try your hand at one of Canada's fastest growing winter sports - fat tire biking. Either way, there's a beautiful selection of trails that start right here at JPL. Rentals are available at the Winter Activity Centre and you'll find trail suggestions in Fairmont's Winter Adventure Guide.
THE SPA AT JASPER PARK LODGE
DAILY | 10AM - 7PM
The grandeur of Jasper does more than simply take your breath away: It inspires you to slow your pace. To breathe deeply. To reflect on the amazing artistry of nature. This reflection underscores every treatment offered at The Spa. Please note, in accordance with the restrictions put in place by the Government of Alberta, the Fitness Centre and Health Club (including outdoor pool and hot tub) are temporarily closed. In room spa kits are also available.
IN ROOM WELLNESS
In partnership with Three Sages, enjoy a carefully curated selection of wellness experiences from the comfort of your guest room. Classes can be accessed by pressing the menu button on your TV remote and then selecting the ALL Be Well category. Classes focus on yoga, stretching, mindful breath, mindfulness and sleep. Yoga mats are available for your use.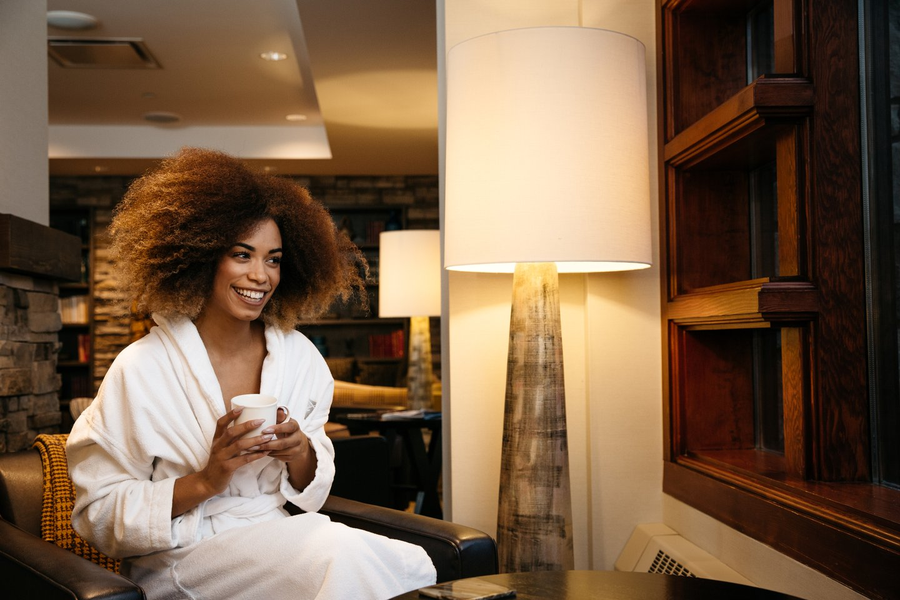 AUDIO GUIDED WALKS
Download the RunGo App and explore at your own pace with voice directions provided based on your location. These routes are made exclusively for Fairmont Jasper Park Lodge and serve as a virtual guided tour. Winter footwear is recommended when exploring the trails.
DIGITAL SCAVENGER HUNT
Grab your camera and get ready to follow the clues! Follow the clue sheets and text your answers and photos to 587 788 3333 - you'll be entered into a draw for prizes! Be sure to tag @FairmontJPL and use #JasperParkLodge.
ENTER THE PHOTO CONTEST
Weekly prizes are awarded for the best photos of the Parks Canada Red Chairs or the six bridges of Maligne Canyon. Speak with Concierge for more information and details on how to enter! Tag @FairmontJPL and use #JasperParkLodge if you post your adventures on social media.
THE PLANETARIUM AT JPL
Join astronomy experts at Fairmont Jasper Park Lodge for a stargazing experience through the largest and most powerful telescope in the Rockies! You'll also have the chance to look at the latest 4K "instant-replays" of live views from the telescope and get up close with a meteorite.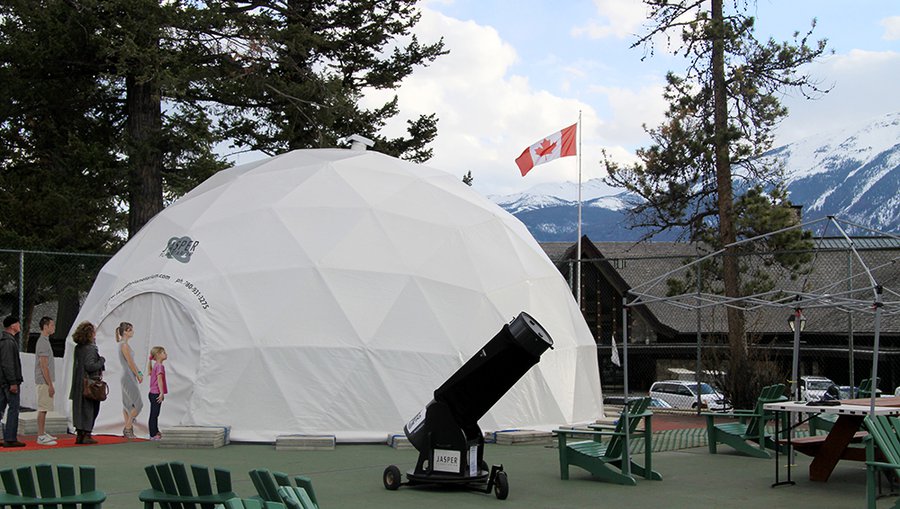 MOUNTAIN GALLERIES
Mountain Galleries offers a sophisticated collection of contemporary Canadian Art, including paintings of our beautiful landscapes, unique museum quality glass, clay, stone and bronze sculptures as well as hand crafted silver and gold jewelry.
SHOP
Get gifts, souvenirs, specialty items and more at the various shopping options at the Fairmont Jasper Park Lodge. The Fairmont Store Spa & Boutique showcases the latest in men's and women's clothing collections from top Canadian and International designers. Browse their collection of gifts, souvenirs, Fairmont bedding and robes. Rocky Mountain Flannel is the place to get cozy clothing. Fitzhugh's Fine Foods offers a curated selection of gourmet snacks, grocery staples, beer and wine, specialty culinary items and souvenirs. Mountain Galleries has the best fine art around. The Winter Activity Centre has much more than rentals; browse a great selection of adventure-ready clothing for summer or winter, name-brand golf attire, small gifts and fun souvenirs.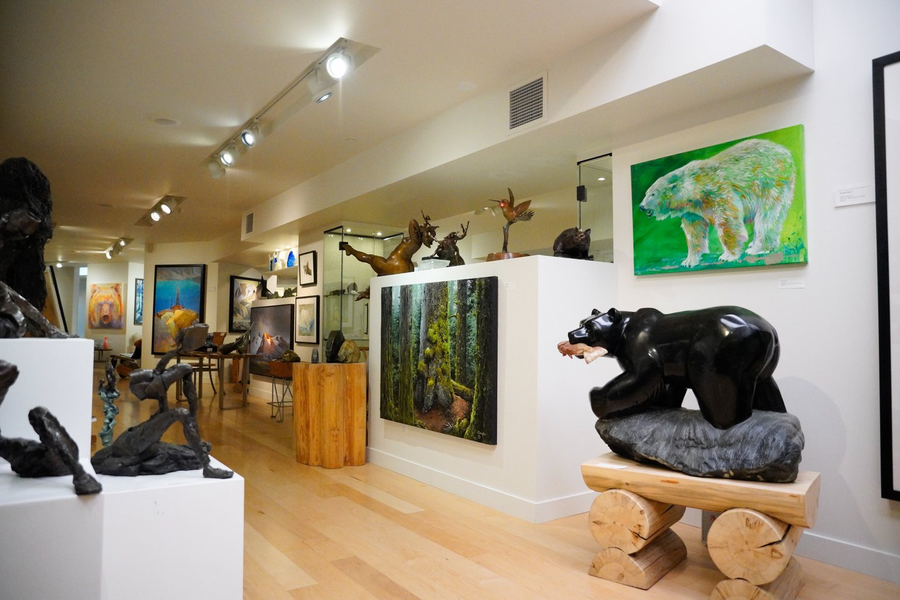 DINING OPTIONS
Please note that some government-mandated restrictions will be in place for in-restaurant dining.
ORSO TRATTORIA
Thursday - Saturday 5:00 PM - 9:00 PM | Sunday Brunch 9:30 AM - 1:00 PM
Casual, Italian fare with fresh, regional ingredients and beautiful views of Lac Beauvert. During Sunday brunch, dig into a rotating selection of seasonal dishes along the lines of Eggs Benedict and lemon ricotta and Nutella pancakes.
THE GREAT HALL GASTROPUB
Breakfast 7:00 AM - 11:00 AM | Lunch & Dinner 11:00 AM - 10:00 PM
Enjoy a classic lodge setting with modern Canadian gastropub fare at the heart of Fairmont Jasper Park Lodge. The Great Hall offers an extensive selection of wine, craft beers and cocktails alongside sweeping views of Lac Beauvert and a large fireplace.
THE EMERALD LOUNGE
Daily | 11:00 AM - 10:00 PM
Unwind next to the grand fireplace or take in the stunning views of Lac Beauvert and Whistler's Mountain from a table closer to the windows. This relaxed location serves a selection of local craft beers, an extensive wine list and creative cocktails masterfully prepared by our bartenders.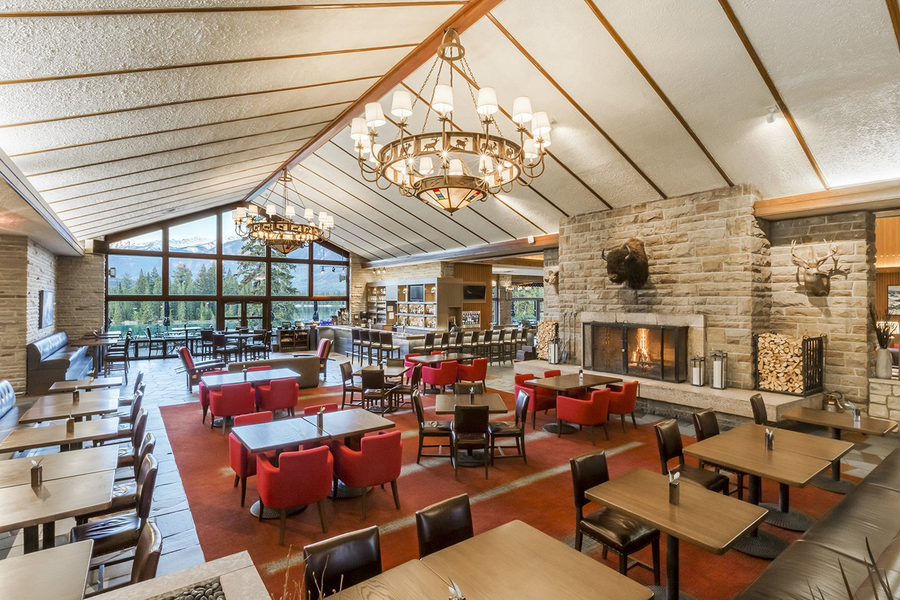 EM TO GO
Daily | 7:00 AM - 2:00 PM
For the days when you just can't wait to get out into the mountains, this little cafe specializes in the highest quality espresso, coffee and specialty beverages. Or pick up a selection of tasty take-away items that are perfect for a quick bite.
IN ROOM DINING
Daily | 7:00 AM - 11:00 PM
Enjoy a meal without having to leave the comfort of your guest room. For your safety and the safety of the employees, please note that servers will not be able to enter your guest room upon delivering your order.
WINTER PICNICS
Order a gourmet picnic lunch and enjoy a spread of savory favourites and sweet delicacies. Perfect to take with you for a day of adventure - whether it's hitting the ski hill at Marmot Basin or exploring Jasper National Park on a hike recommended by the Concierge Team.
PICNICS BBQ PACKAGES FOR LUXURY SIGNATURE CABINS
Each of the Luxury Signature Cabins comes complete with a patio BBQ, so take advantage of this unique amenity by grilling a fabulous meal for your whole family! Choose your BBQ Package from a selection of local and internationally inspired cuisines and they'll deliver all of the goods, packed and vacuumed sealed, ready for you to throw on the BBQ.
OKA SUSHI
Tuesday - Saturday | 4:00 PM - 9:00 PM
Oka Sushi is famous for its tantalizing combinations made from the freshest ingredients, much of it brought in regularly from Japan and Vancouver, and carefully prepared à la minute by sushi chef and owner Tatsuhiko Okazaki.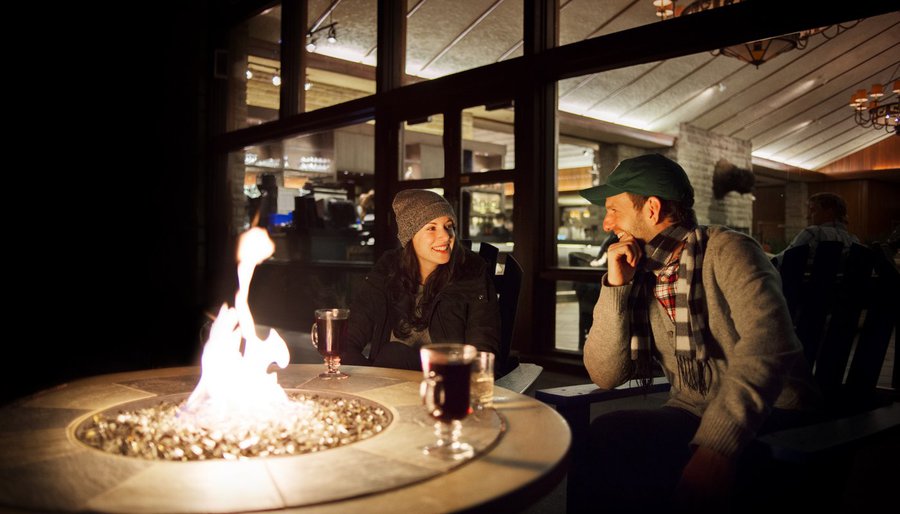 Ready to explore beyond your JPL home-base? Check out the Fairmont Jasper Park Lodge's Winter Adventure Guide for an extensive list of activities and information to help you make the most of your time in Jasper National Park, including wildlife tours, skiing information, ice climbing outings, points of interest and more!