Find Jasper at its most authentic during this annual winter festival, running this year between January 17 and February 2, 2020.
Celebrate winter with everything that makes our chilliest months also our most memorable. Community, laughter, street parties, powdery ski slopes, live music, comfort food and cozy fireplaces. There's never a better time than winter to visit a true mountain town, and Jasper in January invites everyone to celebrate, ski, and feast like a true Jasper local. Your nose might be cold but your heart has never been warmer.
Although there's so much to see and do during Jasper in January, these 15 activities definitely deserve a spot on your itinerary.


After Dark Concert Series
Multiple dates
Free live shows. All festival long. Grab a seat in one of the local watering holes to see acclaimed musicians (past headliners have included Sloan, The Odds and SkiiTour), along with comedians from across the country, and find out why Jasper's après ski scene helped make us the best ski towns in North America. With performances every weekend of the festival there's no shortage of nighttime entertainment. Full line-up and schedule dropping soon!
Jasper in January kick-off party
Jan. 17
Start the festival off with a night of fun filled entertainment. Drink samples, appetizers provided by Cassio's Trattoria and live music! Party begins at 8pm. No Cover. 18+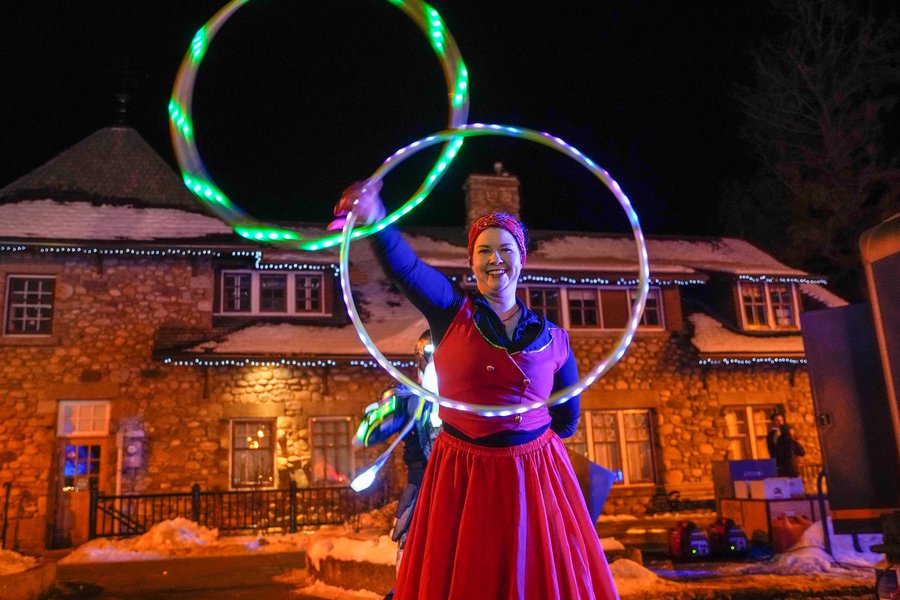 Whiskey, Wine & Hops festival
Jan. 18
Fine wines, spirits and beers, oh my! This boozy evening is the perfect occasion to sample a variety of local and international creations alongside a delicious spread of tapas. Chat with award winning vintners and bring out your inner sommelier with tracking and rating sheets that will help you remember your fav drinks even if your memory is a little vague by the next morning. Tickets are $60 with $6 from every ticket sold donated to the Jasper Museum.
Chasing Light Photo Tour
Multiple dates
Fan of photography? This trip, led by a local professional photographer, is designed to take you and your lens a little further away from the Jasper town site. It's a great way to experience the remote feeling you can get in the Rockies without committing to a deep backcountry excursion, and is being offered at a special Jasper in January rate of $200 (regular price $275). Limit 4 participants.
Pro tip: use code JASINJAN200 to get the special $200 rate!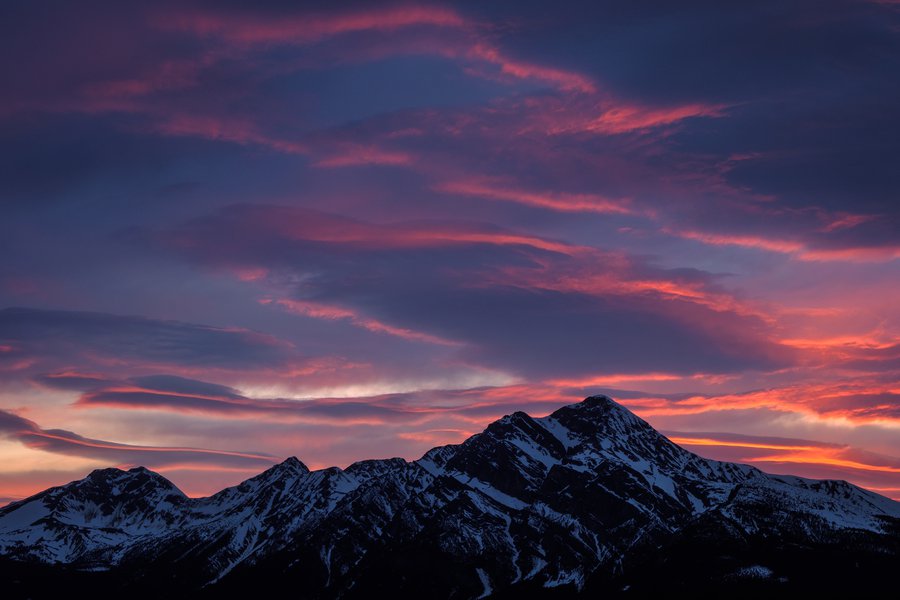 Demo Days
Multiple dates
Had your eye on some top quality ski equipment? Test the best gear for free during Marmot Basin's Demo Days. Multiple brands will be represented, with the latest and greatest up for grabs.
Pyramid Lake Sleigh Ride
Multiple dates
Almost every holiday movie seems to have the classic scene of a horse-drawn winter carriage. Create your own with a 40-minute ride along the magical shore of Pyramid Lake. Matched teams of horses, tuned bells, sleighs with comfortable seats and warm throw blankets make for a fun and cozy memory. Rides every hour on the hour from 11:00 am - 4:00 pm from the dock. Book in advance at 780-883-0900. Adults: $30 Youth age 6-16: $15 Children 5 and under: free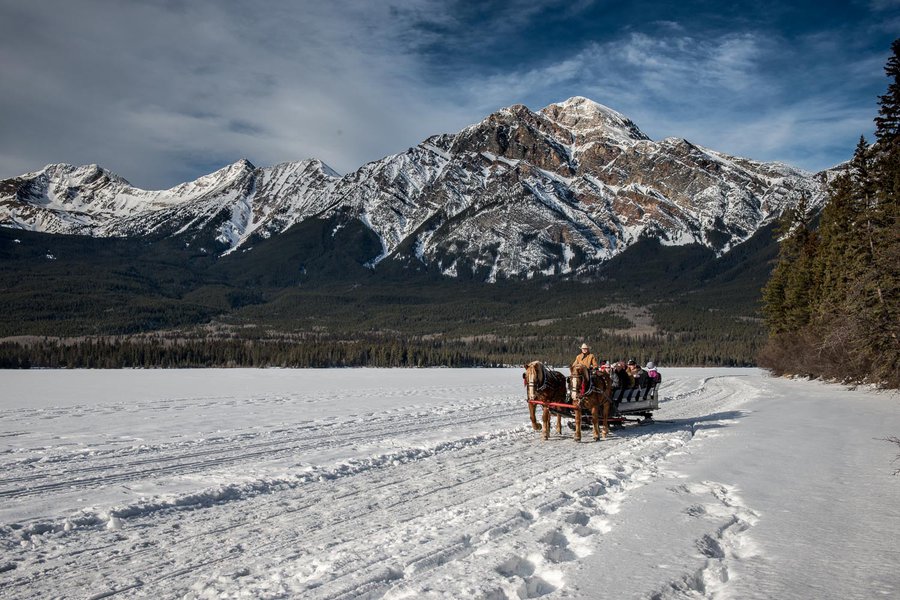 Dogsledding on Pyramid Lake
Jan. 18 & 25
Silently mush across Jasper National Park's frozen Pyramid Lake via Canada's oldest form of winter transport: dog sledding. What better way to capture the majestic panoramic views of the Canadian Rockies than behind a team of enthusiastic and friendly Alaskan Huskies. The friendly folks at Cold Fire Creek Dogsledding will run tours from 11 am to 3 pm. New this year: $100/young family (2 adults, 2 children under eight years old). Rides are about 10 minutes, and can only be paid for in cash as there is no ATM onsite.
Avalanche Awareness
Jan. 18
Brush up on your knowledge of winter safety. There will be various avalanche training and educational sessions including beacon practice, avalanche control work at the ski hill and an overview of why signs are important, including when and how to access the back country from Marmot. Don't miss the explosive control work demonstrations in Marmot's North Chutes.
ATCO Street Party
Jan. 25
An annual favourite, this retro-themed, can't-miss street party features performers, live music featuring headliner DJ The Funk Hunters, food, games and an ice bar (which may just be the best kind of bar). Oh and did we mention it's all free? Don't forget to dress up in your best 80's ski suit and vie for the prize in our costume contest!


Mountain Galleries Presents: Falling for Jasper
Jan. 17 – Feb. 2
Visit this exhibition of new work by leading Canadian artist and local celebrity Karly McDonald. Painting demonstrations will be held throughout. Visit the Mountain Galleries website for full details.
Wine in the Wilderness
Jan. 17
New for 2020, Wine in the Wilderness is a celebration and wine tasting event at Maligne Canyon Wilderness Kitchen. Guests will gather for an intimate evening to sample delicious local and international wines from more than 15 vendors. While sipping on wine, enjoy signature Maligne Canyon Wilderness Kitchen creations along with the musical stylings of Jasper local Peter Cherniawsky beside a roaring fire. Complimentary shuttle from Jasper included. Price: $59.00
Festival of Galaxies
Multiple dates
Join local astronomy experts to find some of the most amazing galaxies in the heavens as part of our Planetarium & Telescope Experience COMBO. From the stunning spiral arms of the Whirlpool Galaxy to the massive core of the Andromeda Galaxy, you'll have the chance to see these 'cities of stars' through the most powerful telescopes in the Rockies. Price: $65 adults, $25 youth (4-17 yrs old).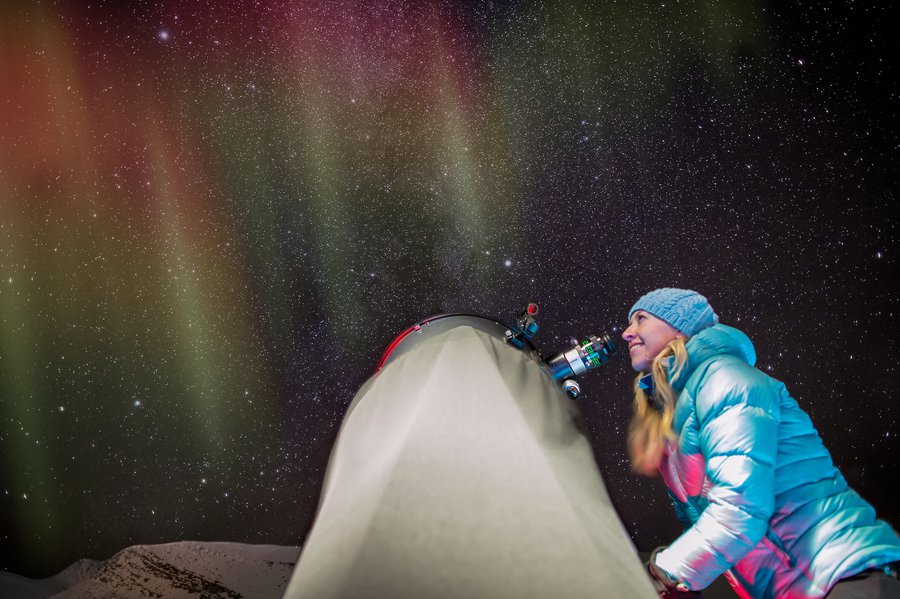 Canadian Ski Council "Never Ever Days"
Multiple dates
Jasper in January is a great time to get a great deal, and the Never Ever Days are the perfect example. Snag a Marmot Basin lift ticket, lesson and rentals for only $25! Great for anyone who's wanting to explore this exhilarating downhill winter sport.
Jasper Beer & Spirits Festival
Jan. 31 – Feb. 2
Escape the cold winter air and fill your mugs with some of the best locally crafted beer. There is no better way to kick off your Super Bowl weekend than becoming a beer expert in one of Canada's largest National Parks.
Ice climbing 101
Jan. 16
This 6 hour tour teaches you the techniques, safety and gear needed to climb a frozen waterfall. All technical equipment is included (boots, crampons, harnesses, axes, helmet), as well as transportation from town to the climbing site and back. Enjoy a special Jasper in January discount of 20% off.